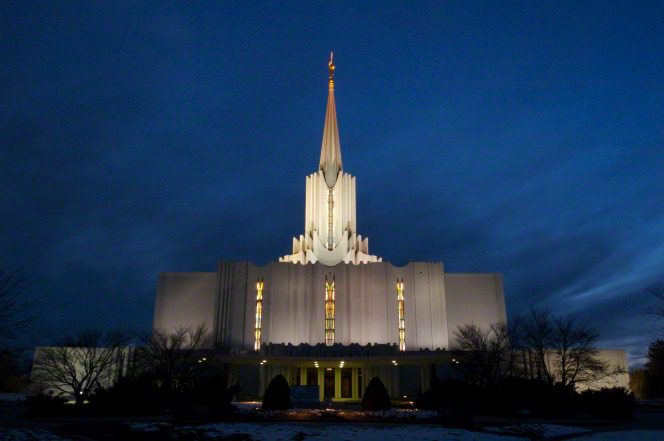 I now offer the third installment of my brief report from the fourth biannual Temple on Mount Zion Conference, which was co-sponsored by Brigham Young University's Department of Asian and Near Eastern Languages and its College of Humanities and by the Interpreter Foundation.  The conference, organized by Professor Stephen Ricks of Brigham Young University, convened today (Saturday) on the BYU campus.
Dr. . Jeffrey M. Bradshaw conducted the afternoon sessions, which began following a lunch break.  Rather to my surprise, our audience grew significantly larger for the first afternoon session; the auditorium was virtually full.
The first speaker after a break for lunch was Professor Ryan Davis, of the BYU Department of Political Science.  The title of his presentation was "Bearing Testimony in Hebrew: A Comparison of Ancient Israelite Temple Worship with Modern Latter-day Saint Testimony Meetings," and it was devoted to an interesting enumeration and discussion of the ancient thank-offering ritual of the temple in Jerusalem and the ways in which contemporary LDS testimony-bearing, prayer, and so forth are parallel and the ways in which they're different—with some suggestions as to historical and other reasons why.
Our second post-lunch speaker was the Egyptologist John Thompson, who serves as the Latter-day Saint chaplain at Harvard University and who directs the LDS Institute of Religion adjacent to Harvard.  He addressed the subject of "The Two Ways in Ancient Egyptian Religion and Israelite Temple Theology," with abundant imagery from ancient Egyptian art.
Stephen Smoot, who recently earned a master's degree in Egyptology from the University of Toronto, was the third speaker after lunch, offering a very fast-paced but intriguing overview of "The Symbolism of the Cupped Hand in Ancient Egypt and Israel: Iconography, Text, and Artifact."  Latter-day Saints who have received their temple endowment will recognize why he is so interested in this subject.
I want to be sure to thank all of the speakers for their contributions, which will be available online reasonably soon and, I hope, accessible eventually in printed form.  I also need to thank Steve Densley, one of the vice presidents of the Interpreter Foundation, who, seeing a need, sprinted into service with the handheld microphone for the question and answer periods after each lecturer and, when we needed it, with lighting and even an attempt to rectify the room temperature.  It's because of generous contributions of energy, as well as of financial support, that the Interpreter Foundation has been such a notable success.