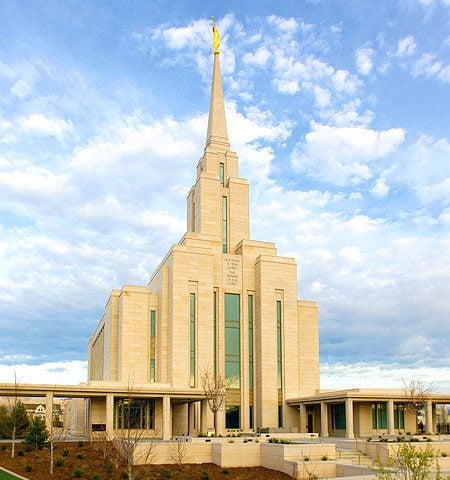 Here is a second installment of my brief report from the fourth biannual Temple on Mount Zion Conference, which is co-sponsored by Brigham Young University's Department of Asian and Near Eastern Languages and its College of Humanities and by the Interpreter Foundation.  The conference, organized by Professor Stephen Ricks of Brigham Young University, convened today (Saturday) on the BYU campus.
Dr. Ricks conducted the morning sessions.
Professor Thomas Wayment, who teaches in the Classics program at BYU, presented on the subject of "Recovering the Language of Purity after the First Revolt."  He laid out ways in which early Christians thought of themselves—their community and even their own bodies—as "temples" in a temple-less period when they didn't even so much as aspire to build a physical temple of their own.
Dr. Matthew Bowen, who teaches at the Hawaii campus of Brigham Young University, was the second speaker of the second morning session.  He offered his presentation under the title "'And They Shall Be Joined Unto Thee': Levi, Levites, Priests, Angels, and the Importance of Joinings in Temple Architecture and Ritual."  It was chock full of interesting biblical references (often invisible in translation) to joining-together, hands, handclasps, and embraces.  Matt Bowen's close readings of scripture are often very stimulating.  The picture of reality afforded by temple architecture and ritual, he argued, is one of being continually encircled by heavenly beings.  (There's a lot to think about in that.)
Dr. Jeffrey M. Bradshaw, a vice president of the Interpreter Foundation, was the concluding speaker of the morning, treating the topic of "Beauty and Truth in Moses 1."  As he typically does, he accompanied his remarks with excellent illustrations, which, we anticipate, will be included in the eventual video presentation of this conference on the Interpreter Foundation website (https://interpreterfoundation.org).
One of the highlights of Jeff's presentation for me was his careful elucidation of the structure of Moses 1, involving attention to a pattern of being in the spirit world, falling to the earth, defeating Satan, calling upon God, enjoying a vision at the veil, and, then, being in the presence of the Lord. (To anybody who is familiar with the "plot" of the temple, that pattern will be immediately recognizable.  For those with ears to hear, I think, there is much to ponder here.)  He even laid out a chapter-length chiasm.
We had a pretty solid audience for these presentations.  The auditorium in which they were given has a capacity of 250.  It wasn't completely full, and I'm not good at estimating such things, but I'm guessing that we had something on the order of 150 people in attendance.  Fortunately, with the videotaping, the insights shared at the conference have the potential of reaching a much larger audience still.