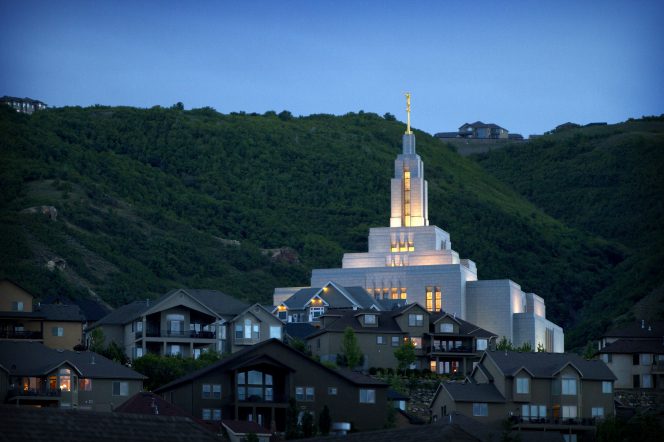 What follows is the first installment of a brief report of the fourth biannual Temple on Mount Zion Conference, co-sponsored by Brigham Young University's Department of Asian and Near Eastern Languages and its College of Humanities—those are my department and college—and by the Interpreter Foundation, which gathered today (Saturday) on the campus of Brigham Young University.
The principal organizer of the conference was my long-time friend and former missionary companion in Switzerland Stephen Ricks.  (He also conducted the morning sessions.)  And I owe a special debt of gratitude to Daniel Smith and to Book of Mormon Central, who kindly stepped forward to videotape the proceedings at the last moment, when a cluster of sudden challenges sidelined the person (my friend and neighbor Tom Pittman) who had been planning to handle that task.  This videotaping will, when its results go up on the Interpreter website, enable people who were unable to attend the conference to view the presentations at their leisure and will make it possible for those who attended to review what was said—and, as is typical of the Interpreter Foundation, at no charge.
The first presentation this morning (Saturday morning) was given by another long-time friend, S. Kent Brown, an emeritus professor in BYU's Department of Ancient Scripture.  (I came to know him shortly after I returned from my mission.  Thereafter, I studied with him in Jerusalem and, immediately following that, my new bride and I spent a year in the small Cairo Branch with him and his family.  In fact, for the first couple of weeks, while we sought an apartment of our own, we actually lived with them in theirs.)
Based on the New Testament accounts but also on the Mishna, Kent offered a reconstruction of "Jesus' First Visit to the Temple," which occurred when he was a young boy.  He took his audience step by step through what Jesus and those with him would have seen and done.  It was very approachable.
The second speaker of the morning was Kerry Muhlestein, a professor of Ancient Scripture at BYU and an Egyptologist, whose presentation was entitled "On Earth When It Was in Heaven: Sacred Time and Its Protection in Egyptian Temples."  (The italics are deliberate.)
Kerry laid out elements of the Egyptian temple that take officiators and worshipers into timelessness or into primordial or sacred time (as opposed to profane time, with profane literally meaning—my contribution here—"before the sanctuary" or "outside the sanctuary."
These two presentations were followed by a fifteen-minute break.