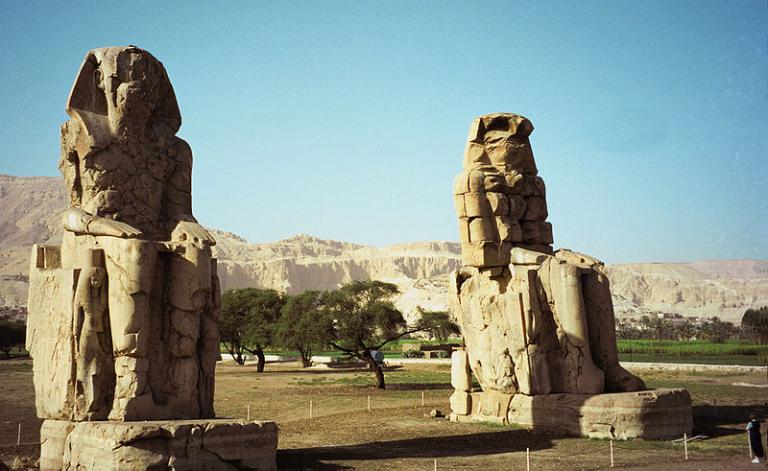 We were up very early on Saturday morning, well before dawn, for a flight from Cairo southward down to Luxor – in other words, from the vicinity of the Old Kingdom capital of Memphis in Lower Egypt down to the New Kingdom capital (sometimes known as Thebes) in Upper Egypt.
We went directly from the Luxor International Airport past the so-called Colossi of Memnon (actually, the two massive statues of Amenhotep III that stood by the entrance to his now largely vanished mortuary temple) to the Valley of the Kings, where we visited the tombs of Merneptah, Ramses IV, and Ramses IX, and where, at extra charge, most if not all of us also visited the famous tomb of Tutankhamun.
Afterwards, we dropped by Tomb 39, where the Joseph Smith Papyri (of Book of Abraham fame) were found, took a look at the spectacular mortuary temple of Queen Hatshepsut, and spent some time looking and shopping in an alabaster factory. Then we boarded our boat, the Radamis, and rested for a while. In the evening, we took a wonderful carriage ride through the back streets of Luxor, passing by the Avenue of the Sphinxes that once connected the temples of Luxor and Karnak and by the beautifully lit Temple of Luxor itself.
On Sunday – it's hard to know which day to call the Sabbath here, since the Cairo Branch meets on Fridays – many of us were up very, very early to watch the sunrise over the west bank of the Nile from a hot air balloon. It's a favorite activity for those who experience it. The views of the Nile and the green fields of sugar cane and alfalfa and the surrounding desert and the great funerary temples of Deir al-Bahri and Medinet Habu and so forth are magnificent.
After a brief breakfast back on the boat, we headed over, first, to the enormous Temple of Karnak and then to the Temple of Luxor. The boat set sail for the south in the afternoon. For part of that time, I held forth on Egypt-related subjects in the ship's bar to a politely attentive audience. Following my remarks, we all went up to the sundeck, where we enjoyed crepes and hot chocolate – the crew had been forewarned about our peculiar drinking habits – while watching the gorgeous landscape of Egypt as the boat passed by. The evening was capped off by watching from the sundeck as the Radamis went through the locks at Esna.
I'll probably post more — and post more photos — later. Here on the upper Egyptian Nile, internet access is spotty and frustrating and expensive. That it exists at all, though, is astonishing. Even the pharaohs' wifi access was pathetic by today's standard.
Posted from Kom Ombo, Egypt