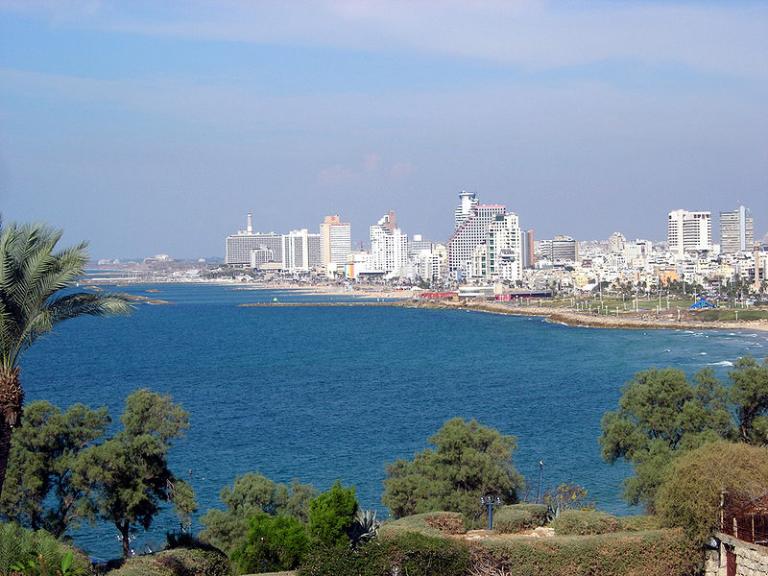 For some reason, the hauntingly beautiful melody of Israel's national anthem, Hatikvah ("The Hope") has been going through my mind over and over again today. Here is a slightly loose translation of the two verses from official two
As long as within our hearts
The Jewish soul sings,
As long as forward to the East
To Zion, looks the eye –
Our hope is not yet lost,
It is two thousand years old,
To be a free people in our land
The land of Zion and Jerusalem.
And here — please skip all of the tuning up and the arrival of the choir and the applause for the conductor, don't let the huge Nestlé banner bother you, and go directly to about 1:15 or 1:20 — is a video of a performance of Hatikvah that was given in Moscow:
The lyrics come from an originally nine-stanza-long Hebrew poem called Tikvatenu ("Our Hope") that was written in 1878 by Naftali Herz Imber, a Jewish poet from the Ukrainian city of Złoczów (today Zolochiv), which was, at that time, under Austrian rule. He had just heard the news of the founding of the Jewish settlement still known today as Petah Tikvah, which is located roughly seven miles east of the modern city of Tel Aviv.
The name Petah Tikvah was taken from the Hebrew of Hosea 2:15, which, in the King James Version of the Bible, reads as follows:
And I will give her her vineyards from thence, and the valley of Achor for a door of hope [petah tikvah, literally "opening of hope"]: and she shall sing there, as in the days of her youth, and as in the day when she came up out of the land of Egypt.
Taken literally, the valley of Achor is a location not far from Jericho, perhaps synonymous with the Wadi Kelt and, thus, not at all near to the modern Petah Tikvah (which is just slightly inland from the Mediterranean). But Achor means "trouble" — see Joshua 7:24-26 for the background — and, in both Isaiah 65:10 and Hosea 2:15, it's used as a metaphor for bad things that the Lord will redeem and turn to good.
All of the politics notwithstanding, to me the melody and lyrics of Hatikvah are a perfect combination of a mournful minor key, acknowledging the painful Jewish past (which, alas, still had its worst days ahead of it in 1878), with lyrics that express the hope of future redemption.