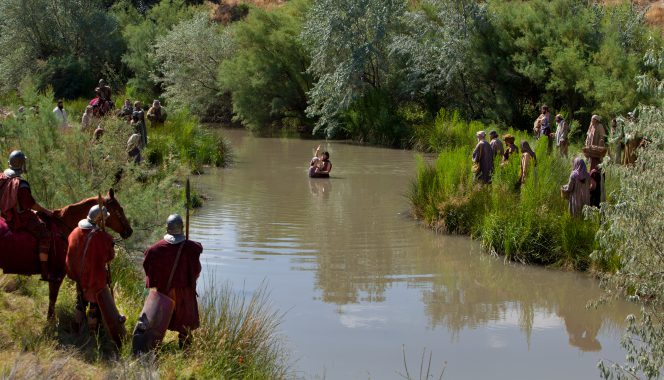 Just a few quick remarks about this passage.
1.
I've already noted the reference to John's having chosen his baptismal site ("at Aenon near Salim," almost certainly on the Jordan River) "because there was much water there" (3:23).  This strongly suggests baptism by immersion rather than by sprinkling.
2.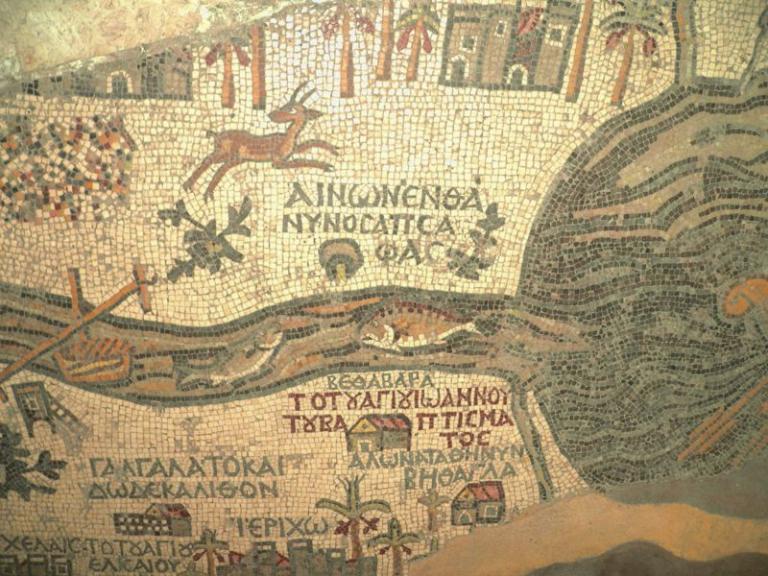 The word Aenon reflects an underlying Aramaic term for a "spring" (similar in Hebrew and Arabic).  The famous Madaba Map in the Hashemite Kingdom of Jordan, which describes it as "Aenon, where Sapsaphas now is," and suggests a location for it:
3.
Note that Jesus is said in 3:26 to have been with John "beyond the Jordan" (πέραν τοῦ Ἰορδάνου) which seems to support the Jordanian claim to have the site on their side of the river.  So, too, does the Madaba Map, shown above:  The large body of water on the right of the image is the Dead Sea.  The Jordan River flows into the northern end of the Dead Sea, which means that the Dead Sea is toward the south.  With that orientation in mind, the site identified as "Aenon" seems to be on the eastern side of the Jordan River — which is to say, in what is today the Hashemite Kingdom of Jordan, not Israel.
4.
The word ἄνωθεν, which is translated as "from above" in 3:31, is the very word that's translated "again" or "anew" (as in "born again") in John 3:1-21.  I told you that it could mean both "again" and "from above."
***
These are simple passages.  In Mark, Jesus "came into Galilee."  In Luke, Jesus "returned . . . into Galilee."  In John, Jesus "departed . . . to Galilee."
The language that interests me, though, is in Matthew:  "Now when he heard that John had been arrested, he withdrew (ἀνεχώρησεν) into Galilee."
That word — from the same Greek verb that gives us the English word anchorite (= "hermit") — suggests a tactical move, designed to avoid being swept up in the government action that ended John's ministry.  After all, Jesus was related to John and had  been associated with John, receiving baptism at his hands.  Moreover, John was pointing to Jesus, and describing himself as Jesus' forerunner.  It would have been reasonable, on those grounds, for the authorities to try to seize Jesus, too.
I presume that Jesus could miraculously have fended off any attempt to arrest or kill him before it was his time to be arrested and crucified.  "No man taketh it from me," John 10:18 represents him as saying about his own life, "but I lay it down of myself. I have power to lay it down, and I have power to take it again."  But there seems little need to invoke miraculous power when simple prudence will do the job.  Not even for the Savior.
"Behold, I send you forth as sheep in the midst of wolves," he told his disciples.  "Be ye therefore wise as serpents, and harmless as doves."  (Matthew 10:16)
So, too, for us.  Giving up smoking can help us to avoid emphysema long before there's an urgent necessity for supernatural healing.  Doing regular homework might spare us the desperate need for last-minute divine intervention on a final exam.  Training children up in the way they should go isn't foolproof — children retain their agency — but it can certainly reduce the percentage of youth who will turn to delinquency, crime, and drug addiction.