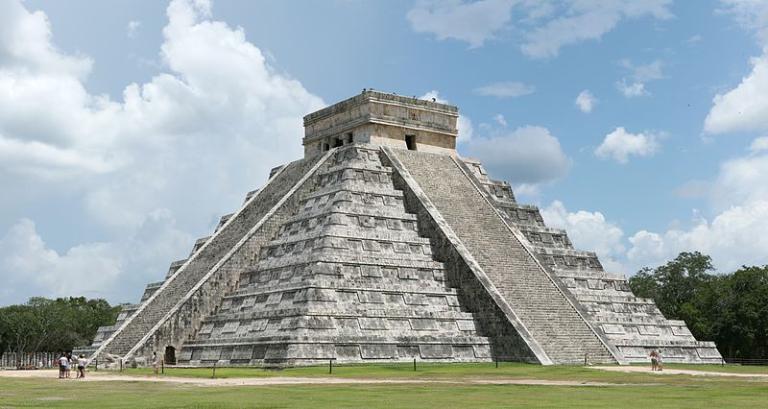 I found this article fascinating on several levels:
"Maya bones bring a lost civilization to life: Trained in both medicine and archaeology, Vera Tiesler has revealed how the human body was deeply woven into the religion, tradition and politics of the Maya world."
I'll mention just one:
The warfare and bloodlust mentioned in the article remind me of the somber words of Mormon to his son Moroni, written sometime shortly before the catastrophic destruction of the Nephites in 385 AD (see Moroni 9:1-5, 7-15) and then the words of Moroni at Mormon 8:1-8, which were written about 400 AD:
1 My beloved son, I write unto you again that ye may know that I am yet alive; but I write somewhat of that which is grievous.
2 For behold, I have had a sore battle with the Lamanites, in which we did not conquer; and Archeantus has fallen by the sword, and also Luram and Emron; yea, and we have lost a great number of our choice men.
3 And now behold, my son, I fear lest the Lamanites shall destroy this people; for they do not repent, and Satan stirreth them up continually to anger one with another.
4 Behold, I am laboring with them continually; and when I speak the word of God with sharpness they tremble and anger against me; and when I use no sharpness they harden their hearts against it; wherefore, I fear lest the Spirit of the Lord hath ceased striving with them.
5 For so exceedingly do they anger that it seemeth me that they have no fear of death; and they have lost their love, one towards another; and they thirst after blood and revenge continually. . . .
7 And now I write somewhat concerning the sufferings of this people. For according to the knowledge which I have received from Amoron, behold, the Lamanites have many prisoners, which they took from the tower of Sherrizah; and there were men, women, and children.
8 And the husbands and fathers of those women and children they have slain; and they feed the women upon the flesh of their husbands, and the children upon the flesh of their fathers; and no water, save a little, do they give unto them.
9 And notwithstanding this great abomination of the Lamanites, it doth not exceed that of our people in Moriantum. For behold, many of the daughters of the Lamanites have they taken prisoners; and after depriving them of that which was most dear and precious above all things, which is chastity and virtue—
10 And after they had done this thing, they did murder them in a most cruel manner, torturing their bodies even unto death; and after they have done this, they devour their flesh like unto wild beasts, because of the hardness of their hearts; and they do it for a token of bravery.
11 O my beloved son, how can a people like this, that are without civilization—
12 (And only a few years have passed away, and they were a civil and a delightsome people)
13 But O my son, how can a people like this, whose delight is in so much abomination—
14 How can we expect that God will stay his hand in judgment against us?
15 Behold, my heart cries: Wo unto this people. Come out in judgment, O God, and hide their sins, and wickedness, and abominations from before thy face!
The destruction of the Nephite nation didn't put an end to the violence and the carnage. In fact, the Nephites may have been a mere footnote in a much larger conflict:
1 Behold I, Moroni, do finish the record of my father, Mormon. Behold, I have but few things to write, which things I have been commanded by my father.
2 And now it came to pass that after the great and tremendous battle at Cumorah, behold, the Nephites who had escaped into the country southward were hunted by the Lamanites, until they were all destroyed.
3 And my father also was killed by them, and I even remain alone to write the sad tale of the destruction of my people. But behold, they are gone, and I fulfil the commandment of my father. And whether they will slay me, I know not.
4 Therefore I will write and hide up the records in the earth; and whither I go it mattereth not.
5 Behold, my father hath made this record, and he hath written the intent thereof. And behold, I would write it also if I had room upon the plates, but I have not; and ore I have none, for I am alone. My father hath been slain in battle, and all my kinsfolk, and I have not friends nor whither to go; and how long the Lord will suffer that I may live I know not.
6 Behold, four hundred years have passed away since the coming of our Lord and Savior.
7 And behold, the Lamanites have hunted my people, the Nephites, down from city to city and from place to place, even until they are no more; and great has been their fall; yea, great and marvelous is the destruction of my people, the Nephites.
8 And behold, it is the hand of the Lord which hath done it. And behold also, the Lamanites are at war one with another; and the whole face of this land is one continual round of murder and bloodshed; and no one knoweth the end of the war.