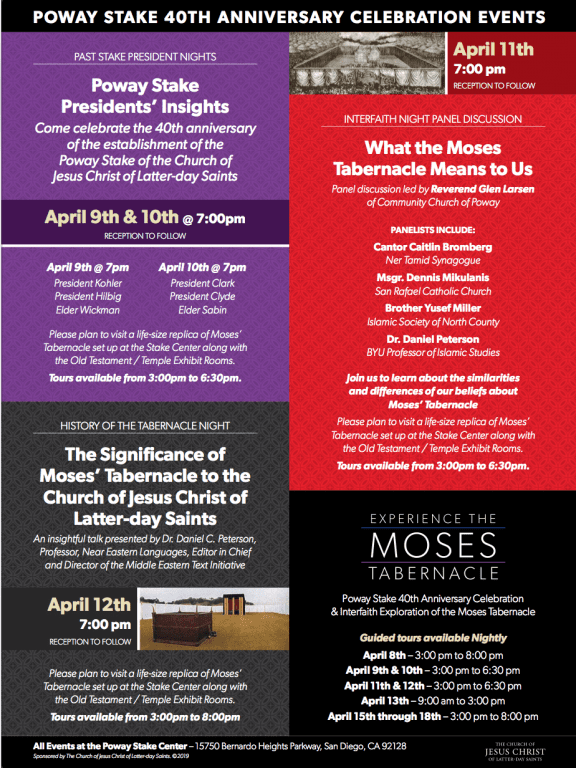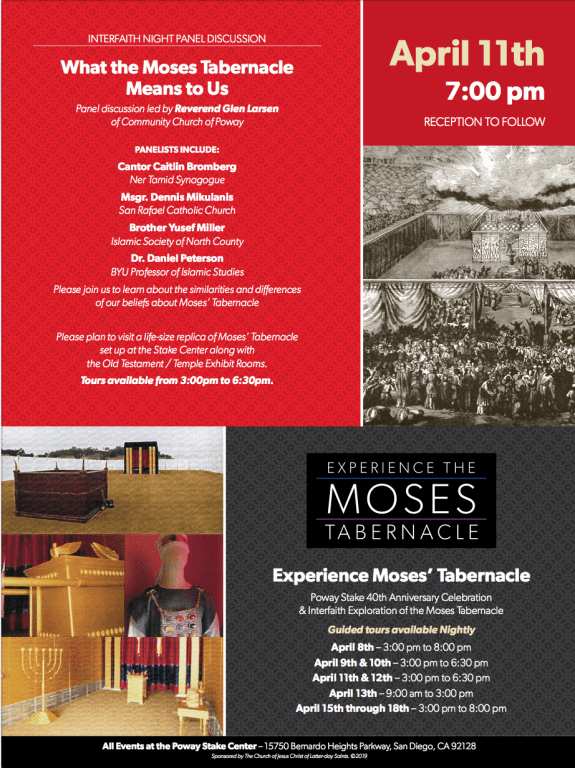 Just in case anybody out there is interested . . .
I will be involved on Thursday, 11 April 2019, in an Interfaith Panel in Poway, California. (For those who may be unfamiliar with Poway, it's located in San Diego County.) The panel, which will run from 7 PM until 8:30 PM, will be moderated by Reverend Glen Larsen, of Poway Community Church, and will be held in the Poway Stake Center at 15750 Bernardo Heights Parkway. In addition to me and Rev. Larsen, the panelists will include representatives of the Jewish, Catholic, and Muslim faiths.
On 12 April 2019, I'll be speaking in the Poway Stake Center on the importance of the Old Testament tabernacle of Moses to the Church of Jesus Christ of Latter-day Saints and its members. That talk will run from 7 PM until 8:15 PM.
On Saturday, 13 April 2019, I'll be speaking at a youth conference in the same area on a related topic.
We are invited to tour and experience a full-scale, curated replica of the Mishkan, the portable sanctuary of the People of Israel described in the Book of Shemot/Exodus! This special exhibit will be installed on the grounds of the Church of Jesus Christ of the Latter-Day Saints of Poway, and is open to the entire San Diego community. Sunday, April 7 is reserved for the Jewish community, and the Hebrew Schools of both Ner Tamid and Adat Shalom will be visiting that day. Any time you visit the exhibit, a self-guided tour of the exhibit from the Jewish perspective will be available.
The Torah account of this sanctuary/tabernacle is sacred to many faith traditions.
Please join us for an Interfaith Panel Discussion and Program
What does Moses' Tabernacle Mean to Us?
Thursday, April 11th, 7:00 PM
Church of Jesus Christ of Latter-Day Saints of Poway
15750 Bernardo Heights Parkway
Representatives of the Christian, Muslim and Jewish tradition will speak
Cantor Caitlin Bromberg will represent the Jewish community
Ella Pearl of Ner Tamid will be singing in the program
If you're in the area of greater San Diego, or are passing through, I hope that you can take advantage of this remarkable opportunity. (Listening to me isn't actually required.)