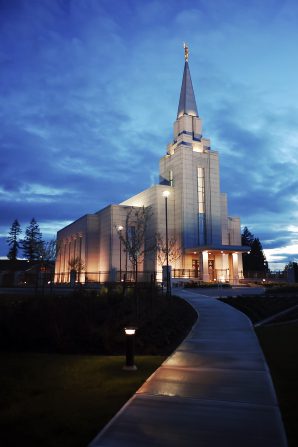 New, on the website of the Interpreter Foundation:
"Feeding the Multitudes": A Video Supplement for Come, Follow Me Lesson 13: "Be Not Afraid"
***
From the track and field website DyeStat:
"Running on Faith — Inside Casey Clinger's Two-Year Mission to Japan"
***
We were out to dinner with a number of valued friends and colleagues tonight — fifteen, in total — all gathered for a tardy celebration of the birthday of Professor Louis C. Midgley, a favorite of those of us who know him.  Good food and good camaraderie.  Some of the best things in life.
Afterwards, visiting with a friend who could not participate tonight, we heard some truly remarkable — even miraculous — autobiographical stories.  I hope that they've been written down!
Sweet is the work, my God, my King,
To praise thy name, give thanks and sing,
To show thy love by morning light,
And talk of all thy truths at night.
***
CNN:  "Why the 'Mormon' church changed its name. (It's about revelation, not rebranding.)"
Some critics are mocking President Nelson because his strong request that we use and emphasize the divinely-revealed name of the Church of Jesus Christ of Latter-day Saints hasn't been received as a God-given diktat by the mainstream media.
It's a fairly silly thing to mock.  I'm sure that President Nelson, a high intelligent and sophisticated man who's been around the block a few times in his nearly ninety-four years, was under no illusion that the press and the broadcast media would kneel to kiss his ring.  And, anyway, the news establishment isn't exactly known for its habit of genuflecting before  conservative religious groups.
But he is right, in my judgment, to try to move the Church itself toward such an emphasis on the name of Jesus Christ — and to hope that that emphasis will have at least some slight effect on our coverage in the media.  And, in fact, there does already seem to have been some shifting:
"Associated Press updates style guide on references to church, Latter-day Saints, term 'Mormon'"
Why does this matter?  Why is it important?
It's important because the terms Mormon and Mormonism, venerable as they have become, tend to obscure the fact that our allegiance is to the Lord Jesus Christ — and thus to permit misunderstandings.  By stressing that we are the Church of Jesus Christ (of Latter-day Saints), we make such misunderstandings less likely to arise and more difficult to sustain.  We shouldn't forget that Mormon and Mormonite began as nicknames, given to us by unsympathetic and often hostile outsiders.
Granted, there are difficulties in making this change.  I've not yet settled, myself, on a fully satisfying substitute for Mormonism.  And life-long habits are hard to break.  But this is a worthwhile effort — and it will remain so even if, as is likely, others commonly continue to refer to us as "Mormons."