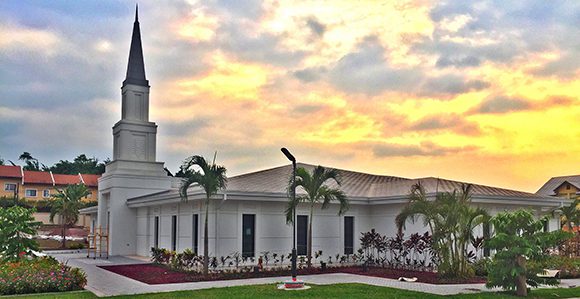 There has, quite understandably, been a huge amount of coverage of the recent dedication of the Rome Italy Temple.  But another temple is about to be dedicated.  This one is in the Congo.  One of the leaders of the Interpreter Foundation is there, and he will be supplying information about the new temple and about the members of the Church whom it will serve.  Here is his first installment:
The Kinshasa DR Congo Temple: A Personal Perspective / Part 1: Preparing for the Kinshasa Temple Open House / 18 March 2019
***
A small group of folks — I honestly don't know who they are — have been slowly and methodically taking the claims of John Dehlin apart.  Here are two recent installments:
https://www.mormonstoriesessays.com/2019/03/15/what-about-the-lemba/
I must admit that I'm enjoying their work.
***
"US News 2020 Rankings: BYU Law and Business moving up in Top 40"
***
Good things are happening, but they're keeping me busy.
Yesterday, from the moment that we arrived home from church until the evening, my wife and I devoted ourselves to reading carefully through the proposed script for the Interpreter Foundation's Witnesses film project as it currently stands.  Our conception of the project is still shifting and will, no doubt, continue to shift right through final editing.  Right now, it seems most likely that the first two hours of the production will be hour-long dramatic films, telling the story of the Three Witnesses.  Those will be followed by an hour-long documentary that will feature some dramatic reenactments.  And a large cloud of "snippets" will be released at the same time or following shortly thereafter, featuring scholarly experts speaking on various subjects and responding to questions raised by the films.
We enjoyed a really good St. Patrick's Day dinner at our kindly neighbors' home, and then I returned for a 3.5-hour meeting of the FairMormon board.  After that, I wrote and submitted a column for this week's Deseret News.
This morning, we met with the producer and director of the Witnesses films for nearly three hours, going through the script with them.  Then I met for two or three hours with a friend and colleague from Brigham Young University, about academic issues.
"Therefore said he unto them, The harvest truly is great, but the labourers are few: pray ye therefore the Lord of the harvest, that he would send forth labourers into his harvest."  (Luke 10:2)