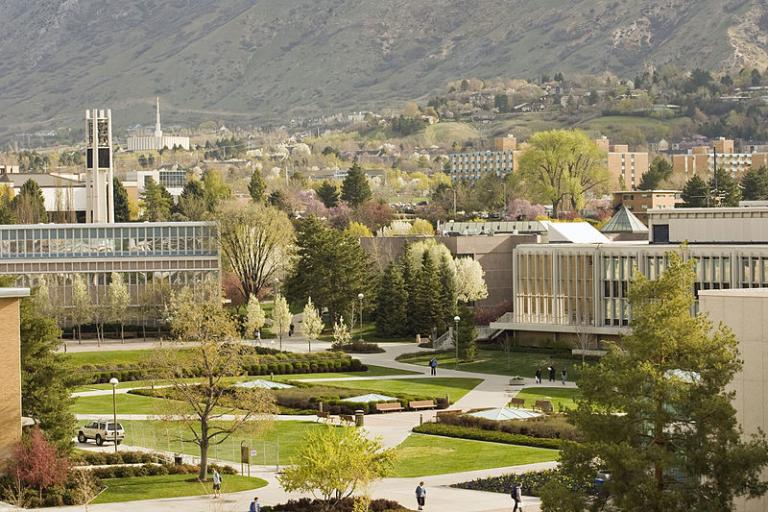 Here's some recent news from Brigham Young University that a few folks out there might find of interest:
"Inspired BYU grad a force against global disease"
"BYU marriage and family therapy program honored nationally for research"
"US News 2020 Rankings: BYU Law and Business moving up in Top 40"
"BYU graphic design student tops national competition at CommandX"
"Four green thumbs: BYU senior wins 4th landscaping championship"
"BYU wins national landscape competition by a landslide"
Plainly, one of the secrets of BYU's success in this area has been to keep me as far away as possible from botany, landscaping, and related fields. My successes with gardening can be counted on one nonexistent hand.
Once in a while, though, I read something on the subject. Here's an item, for example — and from BYU, no less — that some might find interesting:
"This desert plant defies gravity by collecting water upside-down with tiny leaf hairs: In fact, its roots don't even collect water at all. Because, science!"
BYU's Honor Code and its Honor Code Office have been in the news and a focus of controversy in recent weeks. Here's something in that regard that might be helpful:
"Q & A with new director of BYU's Honor Code Office: Kevin Utt answers questions students commonly ask"
Another relatively recent controversy focused on the BYU Police. Here's a helpful item on that topic:
"BYU responds to DPS notice of intent to decertify University Police"
***
President Brigham Young had only eleven days of formal schooling, but in 1850 he founded the University of Deseret, which later became the University of Utah; in 1875, he founded an academy in Provo, Utah, that later became Brigham Young University. Brigham Young College at Logan, Utah, was established in 1877 to train teachers for schools throughout the settlements of the Latter-day Saints. Significantly, he also maintained a family schoolhouse near his home for the last twelve years of his life.
There's a simple quotation from Brigham Young that I've encountered from time to time:
"Education," he said, "is the power to think clearly, the power to act well in the world's work, and the power to appreciate life."
As I've thought about it over the years, I've realized that, for all its simplicity, it's actually a remarkably good definition — or, perhaps better, a remarkably good description — of what is or ought to be included in the concept of "education."
Under "the power to think clearly," I would include such areas as logic, expository writing, fluent reading, grammar, mathematics and statistics, and similar instrumental disciplines.
By "the power to act well in the world's work," I would include a host of fields such as management, engineering, medicine, legal training, and so forth.
And then there is "the power to appreciate life," which would, in my view, include the study of music, art, literature, and many other such areas.