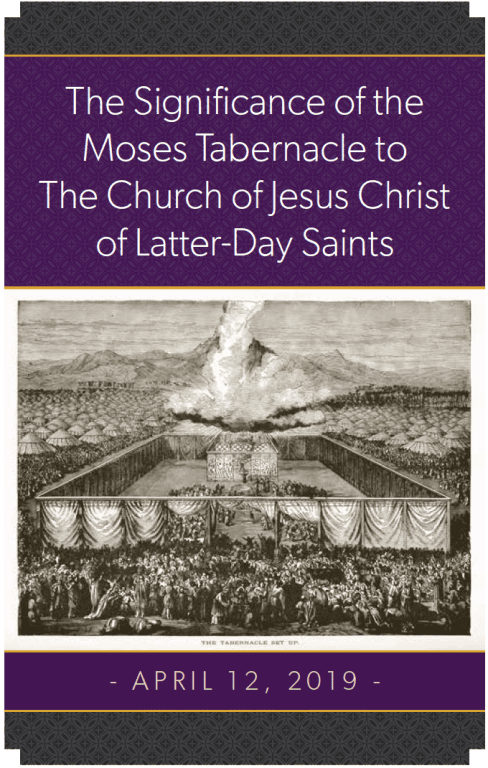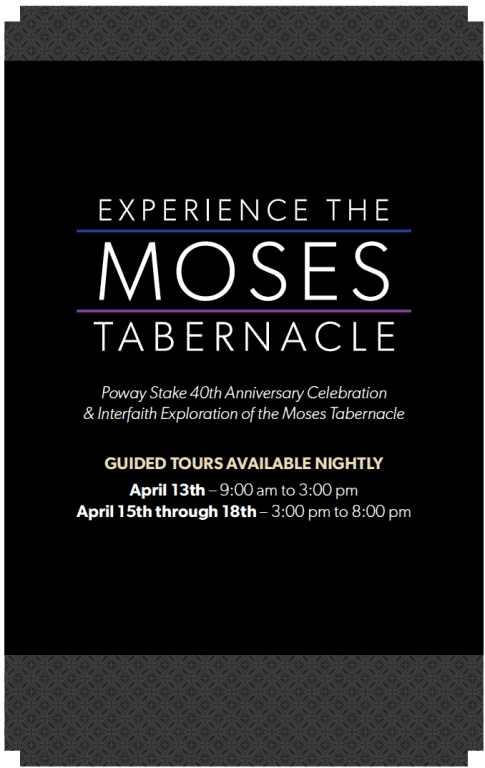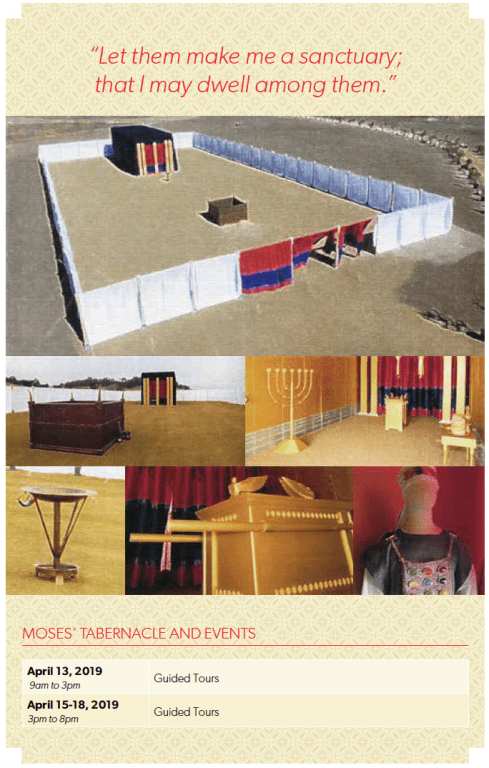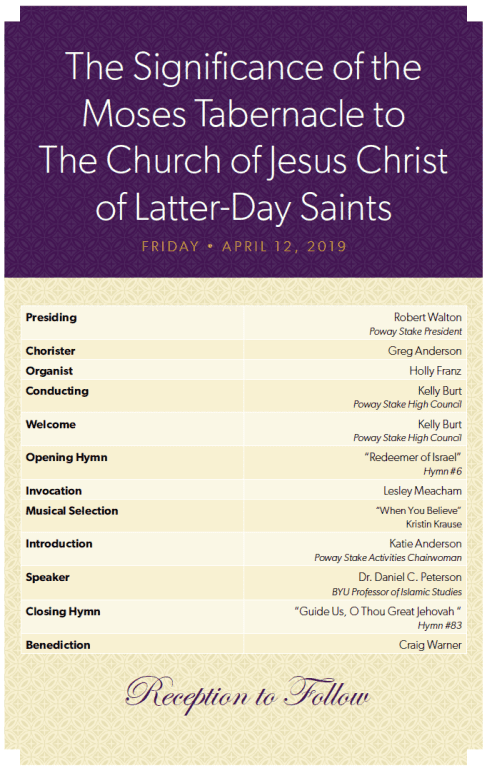 I'm looking forward to this.  All events, I'm told, will take place at the Poway California Stake Center, 15750 Bernardo Heights Parkway, San Diego, California.
In the meanwhile, you might enjoy this brief video about the full-scale replica of the Tabernacle of Moses that was built by the Huntington Beach California Stake of the Church of Jesus Christ of Latter-day Saints for their 2016 Tabernacle Youth Camp:
1 And the Lord spake unto Moses, saying,
2 Speak unto the children of Israel, that they bring me an offering: of every man that giveth it willingly with his heart ye shall take my offering.
3 And this is the offering which ye shall take of them; gold, and silver, and brass,
4 And blue, and purple, and scarlet, and fine linen, and goats' hair,
5 And rams' skins dyed red, and badgers' skins, and shittimwood,
6 Oil for the light, spices for anointing oil, and for sweet incense,
7 Onyx stones, and stones to be set in the ephod, and in the breastplate.
8 And let them make me a sanctuary; that I may dwell among them.  (Exodus 25)
One of my absolute favorite topics with regard to the Restoration is that of the temple.  Coupled with this are ideas of ascent, sacred space, creation, the plan of salvation, and so forth.  I don't quite yet know how I'm going to try to approach my visit to the San Diego area, but I'll certainly try to work some of those ideas into what I have to say there.
***
"Jesus said in modern revelation, "If thou shalt ask, thou shalt receive revelation upon revelation, knowledge upon knowledge" (D&C 42:61). Is there joy in learning, however difficult? Yes. All learning can be fulfilling and helpful: skills, talents, problem solving, earning a living. But below that is an undergirding quest. Listen to what He most wants us to learn. The Lord finished His sentence with "that thou mayest know the mysteries and peaceable things–that which bringeth joy, that which bringeth life eternal" (D&C 42:61). Peaceable things? That which bringeth joy? The context of this is the temple. Temples are where all levels of joy combine, where togetherness with Him and with others is hallowed and sealed into families. The temple is a magnifying glass of such learning and of such lasting love. There you see your mission in life in the framework of eternity. There mind and spirit and senses are reawakened to the grandeur of the earth and of its joys. The temple is our most direct access to His mighty intelligence. And I trust the line that He is "more intelligent than they all" (Abraham 3:19). This is the glory of God. This is light and truth.
"In the house of the Lord, it is as if we are in the Panama Canal. The Spirit comes up, as it were, under us and lifts us, and when we leave, we leave on a different ocean. But at the same time we are there, the vessel itself is healed and repaired and recommissioned and floats away prepared for the batterings and the confusions of daily life."
(Truman G. Madsen, "The Joy of the Lord is Your Strength," BYU Devotional Address, November 2000)