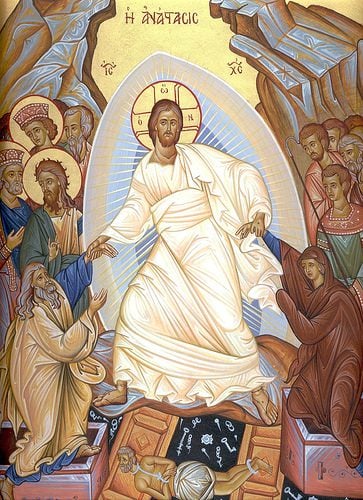 We at the Interpreter Foundation began the practice a few years ago of publishing personal essays or personal messages at Christmas and at Easter, from various authors.
"The First Easter" (S. Kent Brown)
"The Crucifixion as a Mockery, Witness, and Warning of the Judgment" (George L. Mitton)
Here are the prior Easter messages that the Interpreter Foundation has published:
"Easters: The Eternal Atoning Sacrifice Testifies of the Everlasting Redeeming Savior"  (Alan C. Ashton)
"The Healing and Exalting Powers of Christ Weave Together at Easter" (Ann Madsen)
"Why Did You Choose Me?"  (Joseph Grenny)
"Three Streams of Gratitude for Jesus"  (Mitt Romney)
We who are associated with the Interpreter Foundation wish you an absolutely wonderful and faith-promoting Easter weekend, filled with love and joy.
***
I myself published the Easter column below in the Deseret News for 5 April 2012:
One of the most memorable experiences of my mission in Switzerland came when the aunt of the Basel Ward mission leader died. Though not a member of the LDS Church, she had asked her nephew to speak at her funeral.
A young returned missionary, he arranged for a quartet of elders to sing at the service, held in the cemetery chapel. I never served in Basel, but I was included in the quartet. That's why I was there.
The chapel was large, drafty and cold, with a high ceiling. Its grim stone walls were draped in black cloth.
The first speaker at the service was a clergyman — a cemetery chaplain, I suppose. Through no fault of his own, of course, he didn't know the woman who had died, but his repeated references to "unsere liebe Verstorbene" ("our dear deceased one") did little to warm the chapel up or to personalize the proceedings. After reading an initial reference to our friend's aunt, I don't believe that he mentioned her name again.
Far worse, though, was the substance of his sermon, which, I presume, he had delivered at many such events. As I've always recalled it, he spent most of his time describing how the "chill hand of death" had "reached out and plucked our dear deceased one from among us." There was, to the best of my memory, nothing at all about resurrection or everlasting life, nothing about hope for the future. It was deeply depressing.
We were up next. The nephew had requested that we sing "O My Father," and, perhaps rather impishly, wanted to emphasize the words about a mother in heaven. So, on that verse, three of us hummed while my companion recited the lyrics.
Finally, it was the turn of the Basel mission leader to speak.
He smiled. He was humorous. He shared amusing anecdotes about his aunt. He described the happy reunion that, finally delivered from pain and illness, she was enjoying with departed friends and relatives. He bore joyful testimony of eternal life and resurrection. I don't remember whether or not he quoted the precise verse, but he certainly assured his (largely non-Mormon) audience that "that same sociality which exists among us here will exist among us there, only it will be coupled with eternal glory, which glory we do not now enjoy" (D&C 130:2).
When he concluded, we four missionaries weren't alone in responding with a hearty "amen." Several of the non-Mormon Swiss did, too.
The contrast between the two sermons and their different approaches to the question of death couldn't have been more stark. And it was obvious that the clergyman knew it: He was strikingly unfriendly afterward.
I relate this story, though, not to attack a pastor of another faith (whose name, if I ever knew it, I've long forgotten), nor even to criticize his particular theology. I recount it in order to highlight the joyous and powerful news of the gospel, illustrated and made possible by the events of Easter.
The Gospel of John records Mary Magdalene's meeting with the newly risen Savior near his garden tomb: "Jesus saith unto her, Touch me not; for I am not yet ascended to my Father" (20:17).
I've heard lessons, sermons and class comments seeking to explain why Mary was forbidden to touch the resurrected Lord.
But she wasn't. 
The King James Bible misrepresents the original Greek, which actually has Christ telling Mary, "Don't cling to me," or, as the Joseph Smith Translation puts it, "Hold me not." And, in fact, the Greek verb implies that she was already clinging to him; in Greek, the Savior doesn't tell her not to hold on to him but to stop doing so.
Filled with sheer, overwhelming happiness, Mary had thrown her arms around the Master in an exuberant embrace. But he needed to leave. That's all. Nothing mysterious, but something very wonderful nonetheless: "Weeping may endure for a night," says the Psalmist (30:5), "but joy cometh in the morning."
"O death," wrote the apostle Paul in 1 Corinthians 15:55, "where is thy sting? O grave, where is thy victory?"
This is the glorious message of Easter: Death doesn't win. It doesn't have the final say.
"And God shall wipe away all tears from their eyes," testified John the Revelator, "and there shall be no more death, neither sorrow, nor crying, neither shall there be any more pain: for the former things are passed away" (Revelation 21:4).