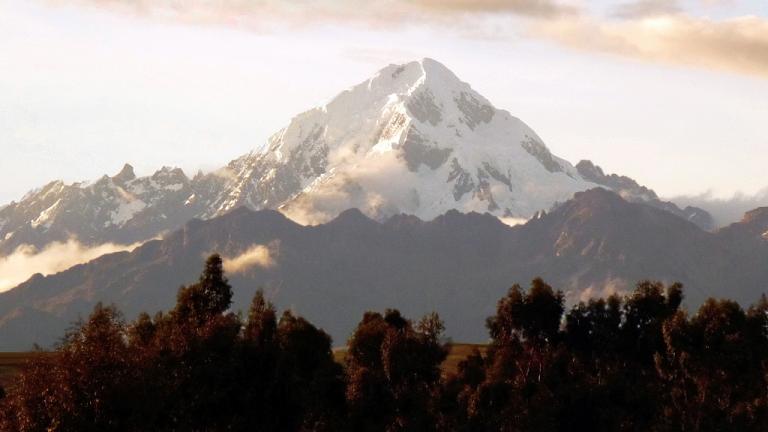 We began the morning by attending sacrament meeting at the Urubamba Branch of the Church of Jesus Christ of Latter-day Saints.  They meet in a moderately sized and very well maintained building right in the center of the town.
It was good to be with the Saints.  They badly needed an organist, though.  The opening hymn was confusing as to rhythm and off key, and there were points at which almost nobody was singing.  Fortunately, one of our group (a graduate of the prestigious Eastman School of Music, and the wife of another such graduate) volunteered to play the organ for the remainder of the meeting, and things improved considerably — vastly — as a result.
From there, we drove to the remarkable salt pools at Maras, which evidently date back into the fifteenth century — which is to say, into Inca times.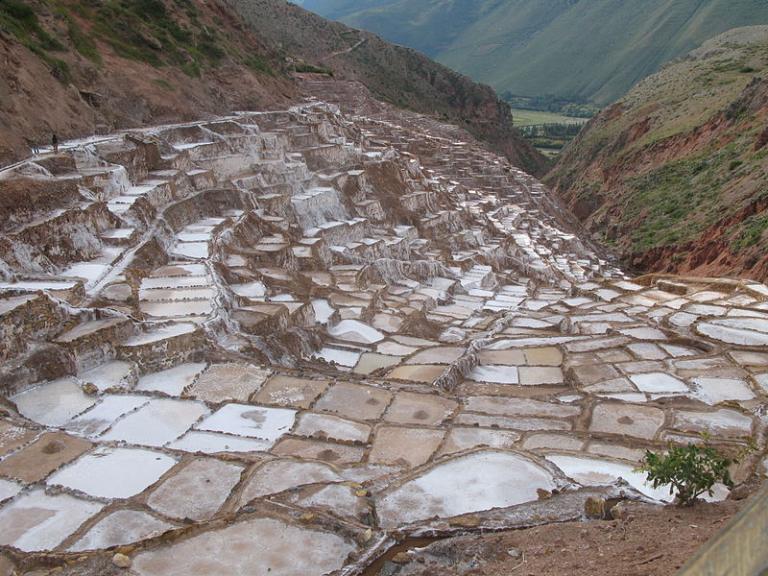 A small salty creek flows up out of a spring, obviously carrying salt from some huge deposit in the mountain behind it that hasn't yet been located.  Its water is allowed to settle in small pools, where the liquid evaporates and the salt is recovered.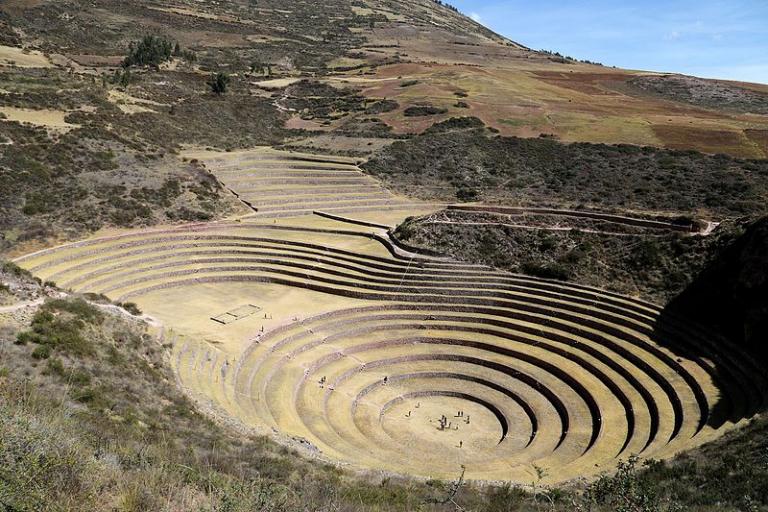 From Maras, we drove on to Moray, a huge complex of terraces and a very elegant site that is now thought to have been a kind of Inca agricultural experiment facility.  (Some folks have, evidently, seriously proposed that it was a landing area for ancient space craft.  Obviously untrue, of course, but I can easily see why the thought would occur to somebody.)  Research indicates that the topsoil on each of the terraces comes from a distinct location, often transported a considerable distance.  Fortunately, the Spaniards didn't destroy it.  (It offered no gold or silver.)  So it looks almost pristine.
In the distance beyond it looms the impressive peak called Veronica (but also variously known as Huacrahuilki ["horn pass"], Huacay Huilcay, Wayna Willka, Waqaywillka, Urubamba ["spider's plain"], and Padre Eterno).
It's winter here in the Andes, but the weather has been perfect.  Sunny and reasonably warm during the days, but cool (light coat or sweater) weather at night.
Posted from Cusco, Peru