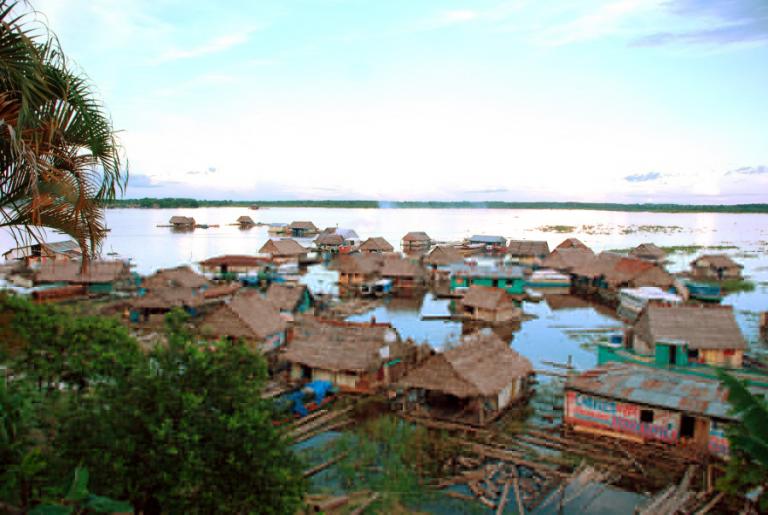 We were up fairly early this morning to fly from Lima to what claims to be the largest isolated city in the world — which is to say the largest city on earth that cannot be reached by road.  It must be reached, if it's reached at all, either by boat or by airplane.  And, although Iquitos is a Peruvian city, it's linked more naturally by boat  — via the Amazon River — to Brazil than to Peru.
The season is winter here, but that doesn't stop the weather from being both hot and humid, as well as very green.  We're surrounded by the Amazon rainforest.
There are plenty of motorized vehicles on the roads — our little group, for example, had a passenger van — but the vast majority of them are either motorcycles or, much more commonly, three-wheeled autocarros or autotaxis, modified from motorcycles, which are called the "mosquitos of Iquitos."  According to Wikipedia, the large conurbation centered on the city proper — consisting of the four districts Iquitos, Punchana, Belén, and San Juan Bautista — contains roughly half a million inhabitants.  Our local guide, perhaps thinking of a rather different area, puts that figure at approximately 900,000.  In any event, surrounding communities aren't connected to the city of Iquitos by paved roads.  Rather, the rivers — the Amazon and its tributaries — are the roads.
We had a large and excellent lunch after our arrival.  (So we — my wife and I — skipped dinner.)  Mine included a very good local fish called paiche, which is evidently one of the largest freshwater fish in the world.  It has a meaty texture that some people compare to steak.  I also had lots of fried plaintain in two different forms –my Cuban daughter in law would surely be happy at that! — and fried manioc (commonly known, too, as cassava or yucca), which came in the form of really delicious fries.  Manioc is apparently the main source of carbohydrates for the peoples of the Amazon region, serving the role held elsewhere by potatoes.
This afternoon, we visited a small but interesting museum dedicated to the prehistory and the life cycle of the Indians, the indigenous peoples, of the Amazon rainforest.  After that, we spent time on a steam boat that survives from the nineteenth-century rubber industry and that is now moored as a floating museum.
Iquitos and the surrounding area is the setting for the 1982 German film Fitzcarraldo, written and directed by Werner Herzog and starring Klaus Kinski (whereon hangs a tale told by the Wikipedia article to which I've just linked).  I need to see that film again now.  It rests on a true story about one of the local rubber barons (not to be confused with a "robber baron").
Posted from Iquitos, Peru