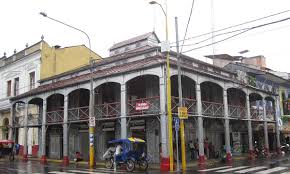 One of the places pointed out to us here in the city of Iquitos, in the Amazon rainforest area of northeastern Peru, was La Casa de Fierro (the "Iron House"), located on the major city square between Próspero and Putumayo streets.  It is a large iron house that was built during the rubber boom that occurred at the end of the nineteenth century.  Its walls, ceiling, and balcony are plastered in rectangular sheets of iron and it is said to be the first prefabricated house in the Americas.
When I first spotted it as we were walking to lunch this afternoon, I remarked that that particular building surely had a history behind it and that I would be interested in knowing what that history might be.
Our local guide, who seems on the whole to be quite good, told us that the house was designed by the French architect Gustave Eiffel, who never came here and who is by far most famous for his later "Eiffel Tower" in Paris.  But there is, alas, apparently no evidence for this popular belief — and some skeptics point out that the building doesn't even seem to reflect Eiffel's architectural style
Another and perhaps more plausible claim is that the building was constructed in Belgium and that a rubber baron — not to be confused with a "robber baron" — bought it at the International Exposition of Paris in 1889.  It was then dismantled and was brought in pieces to Iquitos (the metal sheets were carried by hundreds of men through the jungle), and assembled there in 1890.  This would be plausible enough to me, since I know that King Ludwig II, the so-called "Mad King of Bavaria" who also built the famous Neuschwanstein Castle, did exactly that with the "Moroccan house" that now stands on the grounds of his Linderhof Castle.  This house was built in Morocco for the International Exhibition that was held in Vienna in 1873. The king bought the house in 1878 and had it rebuilt on the grounds of Linderhof.  The guides there say that he and his pals would dress in "Arabian" garb, come out to the house, and listen to readings from the Thousand and One Nights, which had been newly discovered in the West at the time and which were very much in vogue in Europe.
A quite different story of the origin of La Casa de Fierro is  apparently told in Mario Vargas Llosa's comic novel Captain Pantoja and the Special Service (Pantaleón y las visitadoras), which I have yet to read.
Posted from Iquitos, Peru