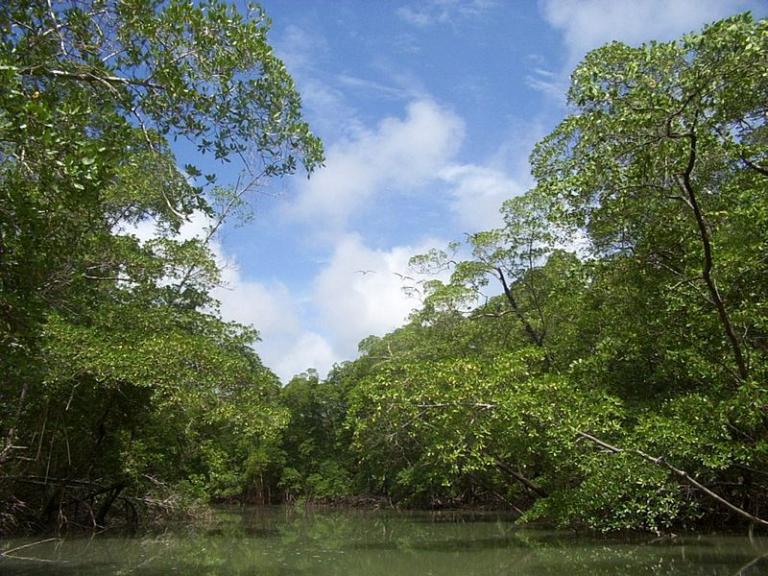 We were up really early this morning for a 5 AM boat trip back to Iquitos.
When we were first out on the water, the river was dark, but the moon was shining through a partly cloudy sky.  It was quite beautiful.  And also, rather surprisingly, even a bit cool as we hurtled along at a fairly high speed upstream,  Later, as the sun began to rise, the sky to the east became golden over the forest, as did the tranquil water of the slowly-flowing river.
The ride took us about forty-five minutes or so, and then we rode in a van to the airport for an uneventful flight to Lima, where we met a lady from Australia who is just joining our tour today.
Unfortunately, our morning flight from Lima to Cusco was cancelled several days ago, as we already knew.  So we've been obliged to sit here in the Lima airport for hours – eventually, it will have been seven — waiting for our afternoon flight up into the Andes.  With a limit of one hour of internet service,
I'm not, on the whole, a wildly enthusiastic fan of airlines.
Imagine if you were to go to, say, Wonderburger Supreme and order a double bacon cheeseburger with fries, only to be told, after they've taken your money, that you'll be given a single-patty El Cheapo burger instead, after seven hours.  And, by the way, no fries and no refund.  In the meantime, you should sit on the curb and wait.
I've had more flight delays than I can count over the course of my traveling life, and more than a few flight cancellations.  (Such cancellations are especially fun when you've been in the airport since early morning, suffering through multiple half-hour postponements.)  You need to be in Gotham City for a 7 PM lecture?  You bought a ticket for a flight to Gotham arriving that afternoon at 1 PM?  You think that that will allow you enough time?  Really?  We'll get you there the following morning at 11:35 AM.  And you paid extra to fly business class?  Ha!  The joke's on you!  Take the middle seat back on row 123 and be satisfied.  And no, there won't be a refund.
Oh well.  There's nothing to be done.  But I can now say, with authority, that the ham and cheese empanadas at Delicass, a café in the Lima airport, are very, very good.  "Como en casa," says their sign.  But I don't think that I've ever had one that good at home.  The ground beef empanada is also very good.  My wife didn't like it as well, but I absolutely did.  And my wife has made a beef empanada that was its equal.  (She's watching over my shoulder.)
Written in Lima, Peru
Posted from Cusco, Peru