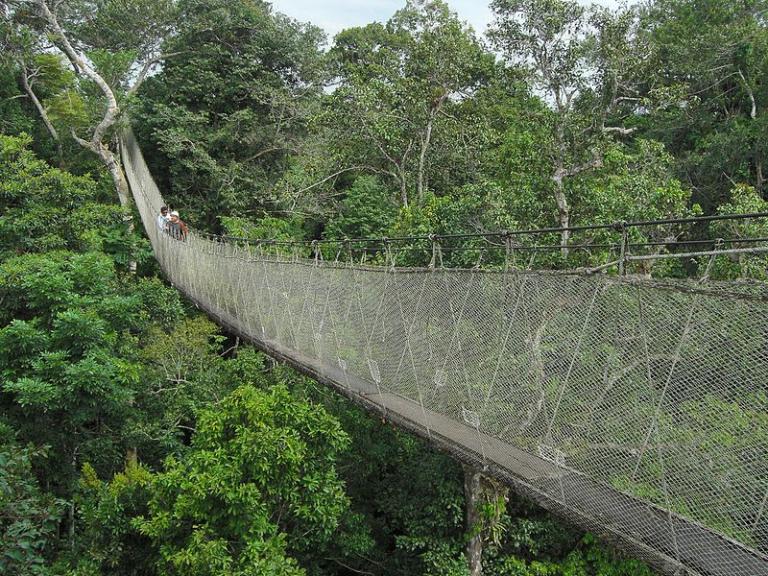 On Tuesday morning, we were up very early and out on the River – the Amazon, that is – cruising briefly to Indiana, which really is called after the state of that name in the United States. Apparently, the fellow who owned the ranch that formed the nucleus of the town graduated from medical school in Indianapolis and eventually moved back to the States, leaving a sizeable endowment from his land holdings for the support of schools in the area. We have a retired coronary surgeon in our group who grew up in Indiana and who received his medical training there, and he's become really intrigued with the story and the connection.
At Indiana, we boarded a number of the little three-wheeled autocarras and crossed overland to the Napo River where we embarked in yet another boat for a much longer ride to a lodge deep in the jungle. We had a good breakfast there, and then we headed by boat still deeper into the jungle and up a tiny little creek to an ethnobotanical preserve.
We hiked out further into the rainforest and then climbed up onto a platform for a lengthy "canopy walk" high up in the trees. We walked on a series of "rope bridges" connecting fourteen platforms, which gave us a magnificent view down into the rainforest below and, at a couple of places, out across the forest.
Fortunately, although the rain occasionally came down pretty heavily, we were largely able to stay out of it – and were pretty well equipped when we couldn't.
At one point, we had a lot of fun watching a group of squirrel monkeys eating bananas. Sometimes, although there were plenty of bananas available for all of them, they spent most of their energy fighting one another to gain or retain possession of a particular piece of banana. (Surely there must be a moral, or a sacrament meeting talk, in there somewhere.)
In the afternoon, at the ethnobotanical preserve, the shaman who maintains the gardens spoke to us (in pretty good English!) about the medicinal uses of various rainforest plants, and actually treated several of our group. I got a kick out of him. He is the son of a mother from one tribe and of a father from another, so he speaks two very distinct tribal languages, as well as Spanish (and English). He's quite familiar with a number of conventional western medicines, and so forth, but also gave all of us an elaborate blessing in which he called upon the spirits of the forest to remove all of the "bad energy" from our lives. It involved lengthy chanting, "censing" us with smoldering leaves, spreading a fragrant oil on our hands, and etc. and etc. I may never die.
Written in the Peruvian Amazon
Posted from Cusco, Peru