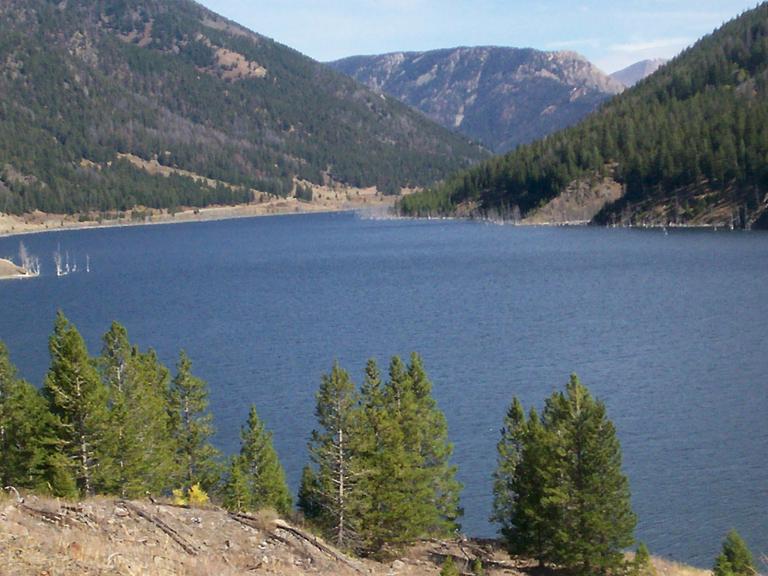 Tonight, in the company of the two other couples who are with us on this trip, we had some of the best steak and some of the best shrimp cocktail that I can recall.  We enjoyed them at Casagranda's Steakhouse, at 801 South Utah Avenue here in Butte.  I recommend this restaurant to anybody who might find himself or herself in the area.  And the prices were reasonable.
We returned to our hotel room in time to catch a live stream of the Norwegian singer Sissel performing with the Tabernacle Choir at Temple Square in honor of Pioneer Day.  She's a favorite, and I was feeling sad that we had been unable to catch the concert in person.  So being able to watch it online was a pleasant surprise.  Here's an article on her current visit to Utah that appeared on the Church's website on Friday:
"Sissel Joins Tabernacle Choir for Pioneer Day Performances: Norwegian-born vocalist sings in Conference Center"
Driving up today, I found myself  wishing, yet again, that I knew more about geology and, most particularly, about the geology of the landscape through which we were passing.  I'm always fascinated by southeastern Idaho's lava fields, for example.
We came up today through Malad and Pocatello and Idaho Falls, Idaho, but then took a detour from the most direct route in order to go over and have a look at southwestern Montana's Earthquake Lake — or, as it is sometimes called, Quake Lake.
Roughly 190 feet (58 m) deep and 6 miles (9.7 km) long today, Earthquake Lake was created after a 1959 earthquake.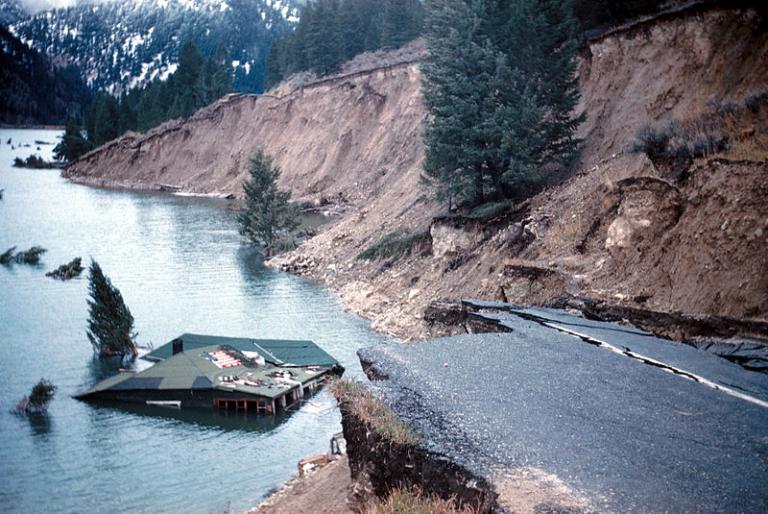 The Hebgen Lake earthquake (also known as the Yellowstone earthquake) occurred  at 11:37 PM, local time, on 17 August 1959.  Measuring 7.2 on the Moment magnitude scale — which ranks it roughly on par with the 1906 San Francisco earthquake as one of the most powerful quakes ever recorded in North America, behind the 1964 Good Friday earthquake in Alaska, which came in at a stunning 9.2 — the Hebgen Lake event caused a huge landslide whose effects remain clearly visible today, almost exactly sixty years later.  Eighty million tons of rock slid into the narrow canyon of the Madison River at approximately 100 miles per hour, creating hurricane-force winds of roughly the same speed.  Those winds were strong enough, in their own right, to send cars flying.
The slide blocked the flow of the Madison River, resulting in the creation of Earthquake Lake.
The Hebgen Lake temblor caused eleven million dollars in damage (equivalent, in current values, to nearly 100 million dollars, which is remarkable for an area so remote and sparsely populated).
More terribly, it killed at least 28 people.  Among them were five members of a single family who were swept away.  Only the mother and a daughter survived.
It's impossible not to be awed and humbled by such power and by the fragility of human life.
Posted from Butte, Montana
P. S.  The information above is pretty generic and publicly available and comes from online sources and from having just looked at displays in the Earthquake Lake Visitors Center.  I do not claim to have drawn it from my own seismological researches and archival study.  I simply visited the site, found the event interesting, and thought that I would share something about it with readers who may not have been to the place within the past few hours.