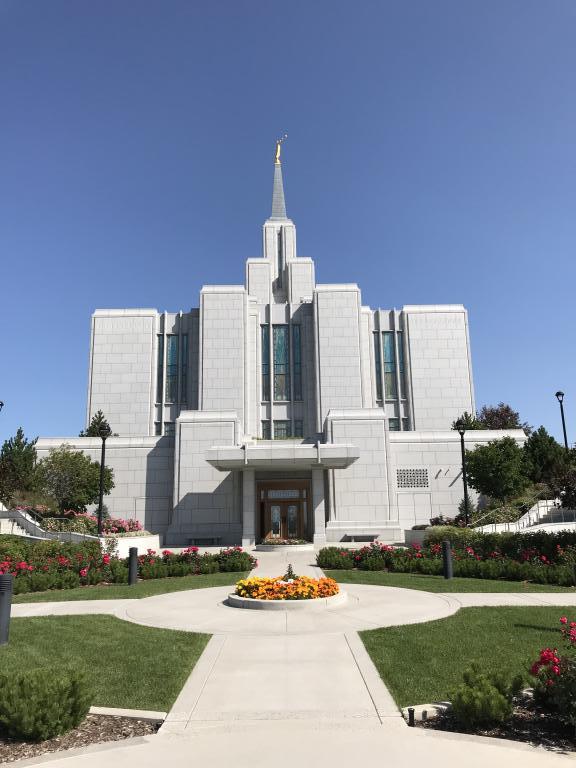 Taking our friends to the Calgary airport earlier today, we first stopped by the Calgary Alberta Temple, which is not far distant from airport terminals. (We saw it on its ridge from the Trans-Canada Highway while taking our other friends to the airport on Saturday evening.)
I had seen photographs of Calgary's temple before, but had not previously seen it in person. I was much more impressed than I was expecting to be. Its setting is absolutely magnificent. (Of course, it helped a great deal that today was a magnificent day.) From the temple's elevated location not very far from the ski jump and other facilities constructed for the 1988 Winter Olympics, we could see both the high rise buildings of downtown Calgary to the southeast and the Canadian Rockies to the west. The grounds were immaculately maintained and their flowers were in splendid full bloom, with rich and vivid colors.
1. High on the mountain top
A banner is unfurled.
Ye nations, now look up;
It waves to all the world.
In Deseret's sweet, peaceful land,
On Zion's mount behold it stand!
2. For God remembers still
His promise made of old
That he on Zion's hill
Truth's standard would unfold!
Her light should there attract the gaze
Of all the world in latter days.
3. His house shall there be reared,
His glory to display,
And people shall be heard
In distant lands to say:
We'll now go up and serve the Lord,
Obey his truth, and learn his word.
4. For there we shall be taught
The law that will go forth,
With truth and wisdom fraught,
To govern all the earth.
Forever there his ways we'll tread,
And save ourselves with all our dead.
Unfortunately, it being Monday, the temple was closed. But the good news is that there are now three temples in the province of Alberta alone — in Cardston, in Calgary, and in Edmonton. And, including the already mentioned temples and a further five that now stand outside of this province, there are a total of eight in Canada. The others are Vancouver (British Columbia), Regina (Saskatchewan), Toronto (Ontario), Montréal (Quebec), and Halifax (Nova Scotia). Moreover, a ninth is currently under construction in Winnipeg (Manitoba).
***
"Apostles get First Pitch Honors in the Major Leagues"
Don't miss the two short videos included among the images.
I got a special kick out of the involvement of Jeremy Guthrie. He and his wife were with us in Jerusalem in 2018, before he assumed his duties as a mission president. He's a real character. I expect and I certainly hope that his missionaries love him.
***
The largely non-negative and, to me anyway, surprisingly uncynical experience of a humanist (i.e., non-theistic) writer at this year's penultimate season of the Hill Cumorah Pageant:
"Enjoying an Evening with Jesus"
Posted from Calgary, Alberta, Canada