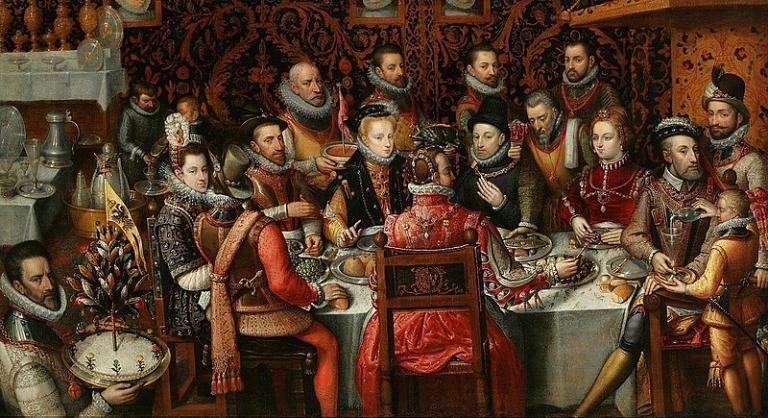 We held our seventh-annual Interpreter Foundation party on Saturday evening. We always hold it — to this point, anyway — on the Saturday immediately following the annual FairMormon conference. We choose that time not only because I announced the launch of the Interpreter Foundation at the beginning of my remarks in the final session of the 2012 FairMormon Conference but because FairMormon draws a lot of people from relatively distant places, and we want to make our party convenient for those who have been invited to it.
Somewhat more than a hundred volunteers, donors, authors, and other guests gathered for a simple dinner, part of which was generously catered by Magleby's and part of which was created by my long-suffering and wonderful wife. Afterwards, they heard brief reports from Ed Snow, our fundraiser, from Russell Richins, the producer of our Witnesses film project, and from Royal Skousen, whose magisterial Book of Mormon critical text project will shortly produce two more massive books. Those reports were followed by a presentation from Elder Bruce C. Hafen and Sister Marie K. Hafen based upon their recent book Faith is Not Blind and connected with their just-launched website devoted to its subject.
I hope that everybody there had a good time. (The annual birthday dinner is pretty much the sole reward that our volunteers and authors receive for, in many cases, quite a bit of time and effort, and the most tangible expression of gratitude that our donors receive. And many, unable to attend, don't even get that.)
I'm inexpressibly grateful for the service, the labor, the money, the time, the effort, the talents, that so many have contributed in order to help the Interpreter Foundation become what it has become.
This past week marked the 368th consecutive Friday on which Interpreter: A Journal of Latter-day Saint Faith and Scholarship has published at least one article. And the journal is only one facet of what the Interpreter Foundation does. (The weekly Interpreter Radio Show is another facet, of course — I've just been listening to tonight's installment, featuring Terry Hutchinson, John Gee, and Kevin Christensen — but it still represents only a portion of what's going on. Not bad for a group that was established 369.5 weeks ago with literally no money, no formal organization, no charter or bylaws, no bank account, no officers, no employees, no legal status. Nothing.
Incidentally, I should mention that I'm specifically grateful, at this particular moment, for the generous support of Cruise Lady: Latter-day Adventures for the Interpreter Radio Show. And I hope that they will prosper for their generosity.