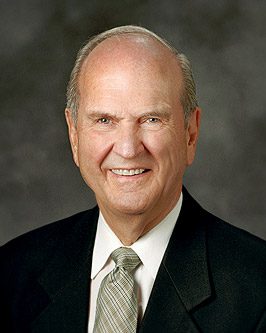 President Russell M. Nelson has published an article entitled "Your Body: A Magnificent Gift to Cherish," in the Liahona for August 2019.
He is not only the president of the Church of Jesus Christ of Latter-day Saints and, according to the belief of orthodox Latter-day Saints, an apostle, a prophet, a seer, and a revelator, but he is also, as it happens, the holder of both a medical doctorate (from the University of Utah) and a Ph.D. (from the University of Minnesota).
After completing his degrees and serving a two-year term of duty in the U.S. Army Medical Corps during the Korean War — during which time he was stationed in Korea, in Japan, and at Walter Reed Army Medical Center in Washington, D.C. — Dr. Nelson went to Boston for a year of further work and surgical training at Harvard Medical School's Massachusetts General Hospital.
He then proceeded to have a distinguished career as a heart surgeon based at the medical school of the University of Utah. He holds honorary professorships at three Chinese universities, for instance, and served as president of the Society for Vascular Surgery, as a director of the American Board of Thoracic Surgery, as chairman of the Council on Cardiovascular Surgery for the American Heart Association, and as president of the Utah State Medical Association.
My point with all of this is simply to say that President Nelson has presumably reflected a bit on the nature of the human body and on its religious or spiritual significance, and that, although the article to which I link above is a very simple one, it's interesting to have such an article from an apostle and a prophet and, in particular, from an apostle and prophet with the specific background that this particular one has.
***
In other health- or body-related news that might be of particular interest to Latter-day Saints:
"1-2 caffeinated drinks not linked with higher risk of migraines; 3+ may trigger them"
"BYU researchers dig up ways to improve Utah Lake: Researchers at BYU examined the sediment content of Utah Lake and its connection to toxic cyanobacteria"
Here's a 2017 article from the Journal of Religion and Health by two researchers at the University of Seville in Spain:
"Health Impacts of Religious Practices and Beliefs Associated with The Church of Jesus Christ of Latter-Day Saints"
Abstract
The aim of the study is to discuss the relationship between lifestyle marked by The Church of Jesus Christ of Latter-day Saints and health. PubMed, CINAHL, PsycINFO, WOS y Scopus were the databases used for this literature review, with these descriptors: "Mormons", "mormons religion", "health". Inclusion criteria were articles with full text available, published between 2005 and 2016, in English or Spanish language. Results show that following the restrictive Mormon doctrine generates beneficial effects for the health. Habits related to toxics and food, as well as social support, from family and Mormon community are an important basis for good health. On the other hand, not following the prescriptions or leaving the group, opposed sexual identities or not fulfilling the roles associated with women are associated with worse mental and physical health.