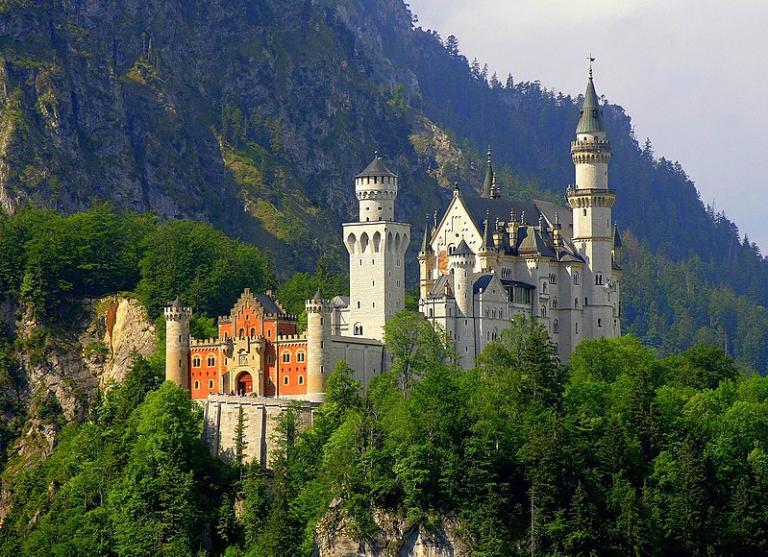 He was more than a decade older than I, and we're only half-brothers.  (His father left our mother a widow, and then, years later, she married my father.)  Yet we were exceptionally close.  At least, I think we were; I have no other siblings with which to compare him.
He would have been seventy-seven years old today.  That's hard for me to imagine.  Of course, for that matter, it's difficult for me to imagine him as a near-octogenarian, too.
My brother, Kenneth D. Walters — I never, ever, thought of him as a half-brother — passed away suddenly in March of 2012, leaving a hole in my heart that remains acutely painful still.
On a day when I'm thinking of him even more than I usually do, I share just one story about him that continues to make me smile:
I'm deeply grateful that, after years of trying to make it work, I was able to take my brother to my beloved Switzerland and to the Alpine area more generally.  In fact, he enjoyed that first trip so much that we then did it again a second time.
One evening, on one of those trips — if I'm not misremembering, it was on a weekend, which means that many things were closed down — we were driving from Salzburg, Austria, over to Füssen, near the famous German castle of Neuschwanstein in Bavaria.  We were running low on fuel, so he pulled in to a service station to fill up the tank of our small van.
When we were finished, we drove down the road a few hundred yards until our van shuddered to a sudden and initially baffling stop.
It turned out that he had put gasoline in the tank of our diesel vehicle.  This was slightly strange because, at home, he drove a diesel SUV.  And this car was clearly marked, in English:  "Diesel fuel only."  It was just, he later reflected, that our rental van drove so smoothly and quietly that he somehow thought that it was a gasoline vehicle.
Anyway, it was a quiet evening in a small Bavarian village.  There were no mechanics nearby.  There were no vacancies in the local inn.  Everything — there wasn't much — was closed.  It was growing dark.  We were stuck.
Finally, we reached a mechanic's shop that was open, and they sent a flatbed tow-truck to retrieve us and the vehicle and bring us all to their place.  We rode backwards in the van as it rode on the flatbed truck.  It was somewhat humbling.  I sat next to Kenneth.  I kept chuckling and making wisecracks.  (I could afford to do that, because we had found a way out of the mess and, once it was fixed, we could travel on to our reserved lodging in Füssen.)
The thought that kept occurring to me was that, for once, I had not been the one who did this.  It's the kind of thing that I would do, but, in fact, I hadn't done it.  I'm the impractical, theoretical, useless-for-daily tasks dreamer.  The little brother whom he had been caring for and helping out since I was small.  Kenneth was the practical, competent one who had taken over the family construction business.
While we were there at the mechanic's, having the engine pumped and cleaned out, the two guys there and I carried on an enjoyable conversation.  They told me that such incidents were surprisingly common.  We shared several anecdotes about dumb drivers and unbelievable on-road stupidity.  Several times, a word that sounded like ih-dee-OTE was spoken amid smiles and laughter.  My brother, who had no German, would demand "What was that?"  And I would reply "Nothing.  Nothing at all."
I held this story over my brother until he died.  He always looked sheepish when I would remind him of it.  I looked forward to holding it over him for many years to come.  It was such an absolutely spectacular reversal of our normal roles.
I miss him very deeply.