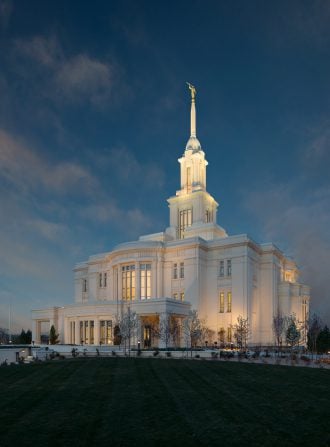 Tonight, in the women's session of the 2019 semi-annual General Conference of the Church — and I think that the place and time of the announcement is not insignificant — President Russell M. Nelson announced new temples for
Bacolod, Philippines
Cobán, Guatemala
Freetown, Sierra Leone
Port Moresby, Papua, New Guinea
Bentonville, Arkansas
McAllen, Texas
Taylorsville, Utah
And Orem, Utah!
I confess that that last one really caught me by surprise.
Moreover, a friend suggests an intriguing possible site in Orem, which really doesn't have a lot of available open space left.  It turns out that there is a large tract of Church-owned land essentially within walking distance of my home, with an old and currently unused chapel sitting on just one portion of it.  That would be astonishing.  I mean, we're also literally just around the corner from the site of Utah Valley University's future art museum.  This is becoming a pretty cool neighborhood — and a temple wouldn't exactly ruin it.
***
I once had the dream of doing an endowment session in every temple of the Church of Jesus Christ of Latter-day Saints.
And then the Church began its modern period of intensive temple-building.  I remember one day when President Gordon B. Hinckley and President Boyd K. Packer each dedicated a temple on the same morning.  I recall screaming out in frustration, "Stop!  I can't keep up with this!"
More recently, my goal has been to attend a session in every temple in Utah.
Now I'm thinking that I may have to content myself with performing an endowment in every temple in Utah County.
Sigh.
***
This is a few days old, but some of you may still be craving more material to stuff into your already bulging Christopher Hitchen's Memorial "How Religion Poisons Everything" File:
"Latter-day Saint Charities reaffirms commitment to U.N. World Food Programme as famine crises deepen"
***
From the indispensable Jeff Lindsay:
"The Book of Mormon's Ties to the Northern Kingdom of Israel: New Research from Dr. Richley Crapo"
***
From Ireland's Robert Boylan:
"Blake Ostler, Re-vision-ing the Mormon Concept of Deity"
***
I'm pleased to see this:
"LDS Church's Young Women theme now to refer to 'Heavenly Parents'"
***
A nice article from the Philadelphia Inquirer:
"Bryce Harper's faith is 'icing on the cake' for Church of Jesus Christ of Latter-day Saints in Philly"
***
Finally, do any of you recognize "Master Skywalker" here?
"Star Wars General Conference Parody Trailer"