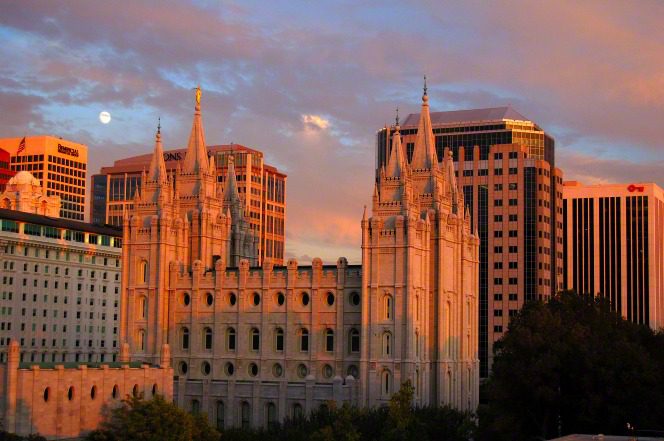 I was struck by the beginning of President Dallin H. Oaks's remarks in this morning's opening sesson of the semi-annual conference of the Church of Jesus Chirst of Latter-day Saints.
As he has, I've had people — almost all of them women — come to me, once or twice in considerable anguish of soul, asking about life in the world to come.  Are women doomed to everlastingly subordinate status?  Is eternity always to be about men?  What about women who are second wives?  Will they be plural wives in the life to come?  How can this possibility ever be fair to women?  Doesn't it relegate them to permanently second-class status?
President Oaks reminded his hearers today that we know relatively little about what the spirit world will be like, and cautioned against relying too much on speculation or becoming concerned about what are at most speculative hypotheses.  He also called attention to at least two basic principles that strike me, too, as very, very important;
First, he advised us to trust that God loves all his children, and that he wills the very best for all of them.
Second, he called attention to a passage of scripture that he says has been of considerable importance to him, personally, when he's faced times of difficulty or perplexity:  "Trust in the Lord with all thine heart; and lean not unto thine own understanding" (Proverbs 3:5).
I add another scriptural verse that I myself have used when faced with the kind of questions to which I referred above:
"Eye hath not seen, nor ear heard, neither have entered into the heart of man, the things which God hath prepared for them that love him" (1 Corinthians 2:9).
If we have faith in the promises of God, if we have confidence that he genuinely is our loving Father, that verse, it seems to me, should settle our minds.  (If we don't trust the promises of God, of course, if we doubt that he really is a benevolent Father, then we have a very different and far more fundamental problem to resolve.)  Even if we know relatively little about precise conditions in the life to come, we can know that they will be wonderful beyond our current capacity to imagine.  For those who have been faithful, those who have striven to do right and to do good, there will be no disappointment, no pain, no sorrow, no injustice.
I remember a story from my own experience, many years ago, before my mission.  It was also before the dedication of the Provo Utah Temple.
Some of us, students, got together to drive down to the beautiful nineteenth-century Manti Utah Temple.  One young woman, a relatively recent convert, came with us.  While we were performing endowments, she was to receive baptisms for the dead.
Afterwards, she was in tears.  Tears of relief and happiness.  It turns out that, having had little background in the Church, and having heard of vicarious ordinances "for the dead," she had expected something dark, macabre, ghoulish, "Gothic," in the temple.  Instead, it was warm, loving, and full of light.  In fact, the temple workers, learning that she was new to the Church and that this was her first time at the temple, paid special attention to her.  She was almost giddy with joy.
I strongly believe that the faithful but worried women that I have encountered will have the same experience, only far more glorious and grand and joyous and eternal, as they cross the threshold of the world to come.