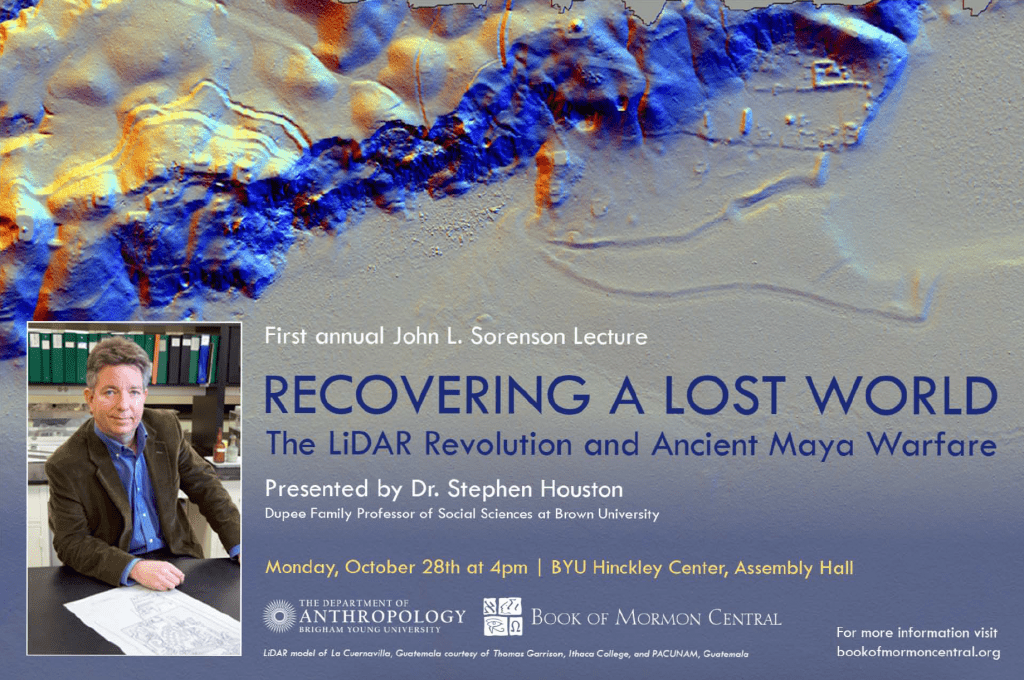 From Book of Mormon Central, regarding a lecture to be given on the Brigham Young University campus on Monday, 28 October 2019:
"Dr. Stephen Houston Speaking on Mayan Warfare at BYU"
Although he is not and has never been a Latter-day Saint, Professor Houston taught at BYU from 1994-2004, before joining the faculty at Brown University. I had occasional interactions with him during that time, and I was privileged to look over one or two Mesoamerican sites with him while I made a brief visit to Mexico and Guatemala many years ago. He is an extraordinary scholar and a very decent fellow.
I hope that some of you will be able to attend his presentation of the inaugural John L. Sorenson Lecture, for which the chosen title is "Recovering a Lost World: The LiDAR Revolution and Ancient Maya Warfare." I myself will, unfortunately, be unable to attend.
***
I like to be of help, and so, whenever I see a story that some of my readers might be able to include in their Christopher Hitchens Memorial "How Religion Poisons Everything" File, I share it. Here's one such:
"Latter-day Saint leaders lend support in humanitarian effort and meet government leaders in Texas and Arizona: When 48,000 asylum seekers needed help, a coalition of 40 churches, including The Church of Jesus Christ of Latter-day Saints, came to their aid."
And here is an overlapping story:
"Apostles of Jesus Christ Minister in Southwest United States: Elder Rasband visits Arizona, Elder Soares travels to Texas"
I saw some discussion a few days ago about supposed anti-Catholicism among current Latter-day Saints and their leaders, so the account of Elder Soares's visit to Texas was especially welcome.
***
There is an explicit Latter-day Saint connection here, but I have resolved not to comment. I simply pass on links to two articles that I believe some of this blog's readers will find interesting:
"Trump's Court Artist: Jon McNaughton once painted landscapes and religious scenes. Now he's focused on reverently depicting the Trump era for future generations."
"Might even 'Trump's Court Artist' (per The Atlantic) have a sense of humor?"
And here is another LDS-related art story. A rather curious one:
"A Massive Sculpture of an African American Last Supper, Hidden for Years, Has Been Discovered in Columbia Heights: Joy Zinoman found quite a surprise when work began on Studio Acting Conservatory's new building."
***
Finally, here's a link to a book review by Stephen Smoot. I expect that some out there will find this worthwhile and will perhaps want to go on, as I hope to do, to read the book itself:
"Review: New Book Explores How the Book of Mormon Counters Anti-Semitism"