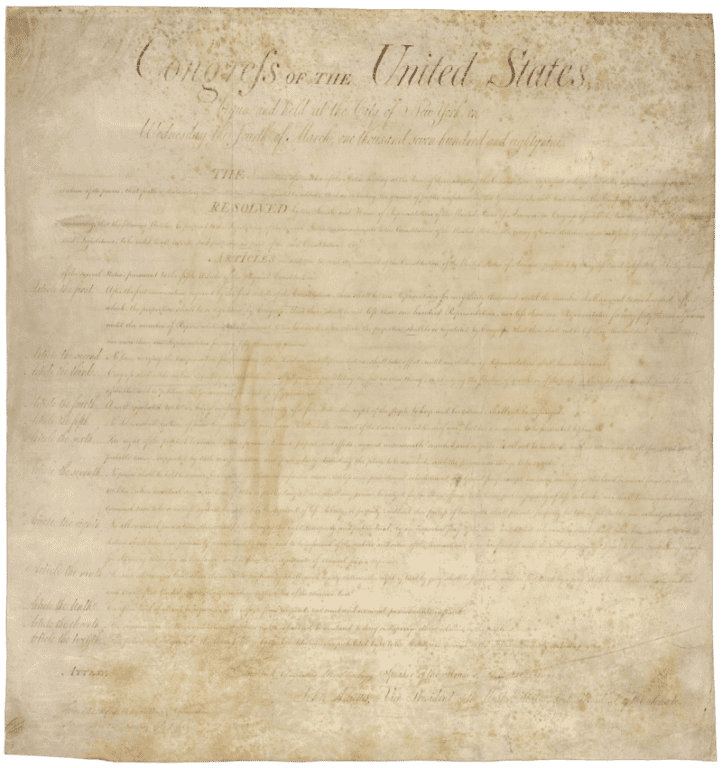 Incredibly — to me, anyway — the freedoms guaranteed to Americans under the First Amendment to the Constitution of the United States are coming under attack in certain quarters.  People who value those freedoms should be aware of the attack, and on guard against it.  Hence, this compilation of relevant links:
First off, a stunning video, simultaneously funny and appalling and slightly more than 2.5 minutes long, in which . . .
"Yale students sign 'petition' to repeal the first amendment"
***
And now to a specific, more recent incident:
Religion News Service:  "At LGBTQ forum, Democratic candidates talk God — a lot"
National Review: "CNN's Anti-Religious Town Hall: Billed an "equality" town hall, the CNN event was anything but."
Deseret News:  "During LGBTQ rights town hall, top Democrats call for limits on religious freedom"
"Top Democratic candidates fail to address concerns of religious conservatives during LGBTQ rights town hall on CNN"
Here's the great and almost invariably worth-reading conservative commentator George Will (himself an atheist-leaning agnostic, religiously speaking, and a vocal opponent of Donald Trump), in a really good column:
National Review:  "Progressives Are All Too Willing to Cut Constitutional Corners: They despise and bully adversaries and practice theatrical but selective indignation about attacks on fundamental American principles."
National Review:  "Beto Proposes to Oppress Church with State"
CATO Institute:  "O'Rourke: Churches That Don't Support Rights Should Lose Exemption"
The New Republic:  "Beto O'Rourke Is Out Over His Skis: Desperate to stand out, he has proposed perhaps the worst idea of the Democratic primary."
National Review:  "Sasse Condemns Beto O'Rourke's 'Bigoted' Call to Strip Churches of Tax Exempt Status"
National Review:  "Moderate NY Dem Max Rose Bashes O'Rourke's Policy Extremism: 'I Don't Think Losing Is Cool'"
This one is pretty funny:
National Review:  "O'Rourke's America: Imagine one vast airport that you cannot leave."
The Friendly Atheist:  "Beto O'Rourke Wants Anti-Gay Churches to Lose Their Tax Exemptions. He's Wrong."
The Atlantic:  "Democrats Are Going to Regret Beto's Stance on Conservative Churches"
"The candidate seems not to realize that eliminating tax exemptions for certain religious institutions would be catastrophic."
This one takes the discussion in a perhaps unexpected direction:
The Washington Examiner:  "Beto's Muslim ban"
Fox News:  "Sen. Thom Tillis: Democrats threaten our freedom of religion – Beto O'Rourke leads assault"
National Review:  "Religious Liberty, Nondiscrimination, and the Left"
KSL.com:  "Sen. Mike Lee to presidential hopeful Beto O'Rourke: 'Take it back'"
Deseret News:  "Democrat Ben McAdams: I stand with Mike Lee — 'Beto, take it back'"
"The former Texas congressman wants to revoke the tax-exempt status of some religious institutions because of their beliefs. That's discrimination."
As Senator Mike Lee (R-UT) tweeted in response to Mr. O'Rourke's anti-Constitutional demagoguery, "In Beto O'Rourke's America, who will decide which disfavored religious beliefs will prompt retaliation by government?"
Of course, at this point in time, the typically quite ridiculous Beto O'Rourke stands only a slightly greater chance of winning the White House than I do, and that may merely be because I'm not currently running.  Still, the audience applauded when O'Rourke called for lifting the tax-exempt status of churches and other institutions that fail to share his views.
This is the very thing that, during the long march toward redefining marriage, we were assured would not happen. Never.  Ever.   The government would not punish churches, temples, synagogue, mosques, or gurdwaras that declined to celebrate same-sex marriages.  Are Beto O'Rourke and his fans the canary in the coal mine?  The harbingers of things to come?
***
Finally, in a somewhat more general vein:
National Review:  "Culture with Kat Timpf: Free Speech Isn't Dangerous, But Restricting It Is"
"A recent New York Times piece argues that Americans' free-speech rights are literally endangering us. Kat Timpf explains why they actually keep us safe."
National Review:  "Free Speech Isn't Dangerous, but Minimizing It Is"
National Review:  "In His Defense of Free Expression, Mark Zuckerberg Spoke an Important Truth"
The Washington Times:  "Protecting religious liberty: Religious liberty is critical for believers and nonbelievers alike"