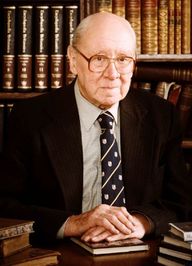 Here's a pretty succinct paragraph from W. Montgomery Watt — Scottish historian, orientalist, Anglican priest, premiere biographer of Muhammad, prolific Islamicist, and Professor of Arabic and Islamic Studies at the University of Edinburgh — on the founder of Islam:
"His readiness to undergo persecutions for his beliefs, the high moral character of the men who believed in him and looked up to him as leader, and the greatness of his ultimate achievement – all argue his fundamental integrity. To suppose Muhammad an impostor raises more problems than it solves. Moreover, none of the great figures of history is so poorly appreciated in the West as Muhammad."
I admire the work of W. Montgomery Watt enormously, and recommend it highly. In the meantime, among the many biographies of Muhammad that are available and on the market, there's this one, which may not be the absolute worst:
Founding not only a world religion but also an empire and a civilization, the prophet Muhammad was undoubtedly one of the most influential men in history. Amid the swirl of current judgments regarding Muslims and their religion, this book by Daniel Peterson offers a concise, objective, accessible biography of the first Muslim.
Blending the texts of traditional sources into an engaging narrative, Peterson begins with the impoverished and orphaned childhood of Muhammad, highlighting his evident strength of will, character, and resourcefulness. Peterson then moves through the prophet's life, detailing Muhammad's visions and revelations and examining the beginning of a religion that continues to affect the entire world in dramatic ways. Respectful and readable, Muhammad, Prophet of God opens a clear window on the life and influence of the founder of Islam.
I hadn't looked at the relevant Amazon.com page for several years before today, and I was shocked to see that there are now twenty four reviews, which are overwhelmingly . . . well, positive. As to the three negative reviews: (1) I don't know how to reply to someone who simply pronounces himself "Disappointed," with no further explanation. (2) Surprisingly, to myself as well as to anybody else, I didn't choose the title (or the subtitle). I first saw it when the book went on sale, earlier than I had anticipated. (3) The weird review from "MTYKK" is simply inexplicable. He demands "freedom of speech" and then calls for the suppression of my book, he grossly misrepresents the contents of my book, and he falsely claims that Khaleel Mohammed was tricked into writing the book's foreword. (See Professor Mohammed's own reply to MTYKK, which is appended directly to MTYKK's critique.)
Anyway, I have it on reasonably reliable authority that the book isn't terrible.