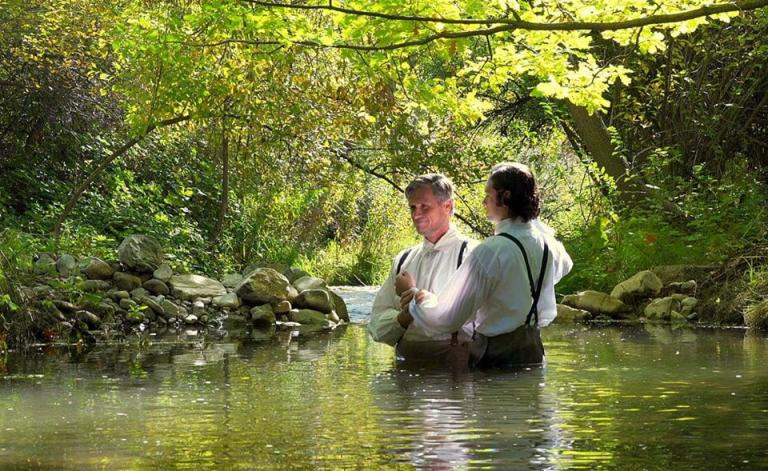 On this Thanksgiving Day, I'm grateful for many things.
Among them, I include those people who have made this year's achievements possible for the Interpreter Foundation.
Tomorrow will mark the 384th consecutive week (out of its 385.5 weeks of existence) that the Interpreter Foundation has published at least one article in Interpreter: A Journal of Latter-day Saint Faith and Scholarship.
The Interpreter Radio Program is on the air between 7 PM and 9 PM every Sunday night. We're gearing up for perhaps as many as three conferences next year. Several new books are in the works. We've begun to post chapters from our prior books online, accessible at no charge. We're serializing a yet-to-be-published book.
Roughly half of the interviews for the documentary portion of the Foundation's Witnesses film project have been recorded, and the vast majority of the shooting for the dramatic portion of that project has been completed. Raising the funds to do this was a daunting task, but we succeeded. And completion of the script and the casting and the filming required a huge amount of labor, but, again, we succeeded. I'm nervous but excited to see how the effort will finally turn out. (Negative reviews, mockery, and derogatory comments are already pouring in from the usual suspects, which, from my perspective, is a healthy sign.)
And so on and so forth.
I'm deeply grateful for all of the authors who have devoted untold hours to creating the articles that we publish. They do so without compensation. I'm deeply grateful for the volunteers who give so very much time and effort so that the Interpreter Foundation can function. There's a great deal of work that needs to be done — editing, source-checking, bookkeeping, financial advising, legal counsel, peer review, copyediting, managing websites, coordinating of proof-reading and peer review, tracking of donations, thanking of donors, preparation of tax returns, and the like — and the vast majority of it is done by unpaid volunteers.
There are, nonetheless, unavoidable expenses. So I want to thank all of those who have given financially — via small gifts or large ones — to make the Interpreter Foundation viable. We literally could not have done what we have done, we could not possibly be planning the things that we're going to do, without their indispensable support. This is a great work, and everybody's help is both essential and appreciated.
Thank you!