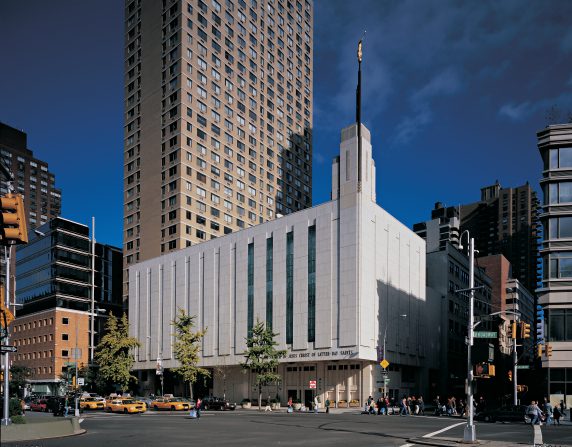 If you haven't watched this yet, please take a couple of minutes to do so:
"The Christ Child: A Nativity Story – Full Trailer"
***
"Church Celebrates Milestone in Vietnam: Official certification granted under the Law on Belief and Religion"
"President and Sister Nelson Embark on Weeklong Southeast Asia Ministry: Elder and Sister Christofferson traveling with prophet to four countries"
***
"How Angel Moroni Statues Protected Temples During Lightning Strikes"
***
"A newsmaking Friday in New York: President Ballard talks Scouts and world peace"
"Apostle Building Bridges of Understanding in New York City: President Ballard visits foreign diplomats and Rabbi Soloveichik"
"Watch: President Ballard Speaks About the Last Sermon His Grandfather Gave as an Apostle"
"The following article was originally published on LDS Living in October 2015.
"In 1884, a mysterious newspaper from England made its way into the hands of President M. Russell Ballard's great-grandfather. That event can only be described as a miracle that would change the family forever."
"The Mysterious Newspaper That Led to a Temple Miracle"
"25 Rare Photos of President Ballard That Will Make You Love Him Even More"
***
We had a meeting of the Interpreter Advisory Council last night at the home of extraordinarily kind and generous neighbors who are themselves members of the Council.  I spoke to the group, as did the chairman of the Council, Larry Ainsworth, as well as Dr. Jeffrey Mark Bradshaw, one of the Interpreter Foundation's four vice presidents; Ed Snow, who is in charge of financial development for the Foundation; and Russell Richins, the producer of our Witnesses film project.  Professor Noel Reynolds, another of the Foundation's vice presidents, was also in attendance.  We showed the two clips that we premiered at the cottage meeting last weekend, one showing Joseph Smith trying to transport the golden plates through a forest while evading local money diggers who wanted to steal them, and the other depicting the first meeting between David Whitmer, who would later become one of the Three Witnesses to the Book of Mormon, and the Prophet Joseph Smith.
This morning, several of us from the Interpreter Foundation and Book of Mormon Central gathered at the home of a long-time friend and relative of friends to hear a presentation by former military pilot and counterintelligence officer on possible images of Christ in Pre-Columbian Mesoamerican iconography, predominantly from the area of the Yucatán Peninsula.  He has devoted years of study and travel to the subject, and what he had to say was very interesting and stimulating.