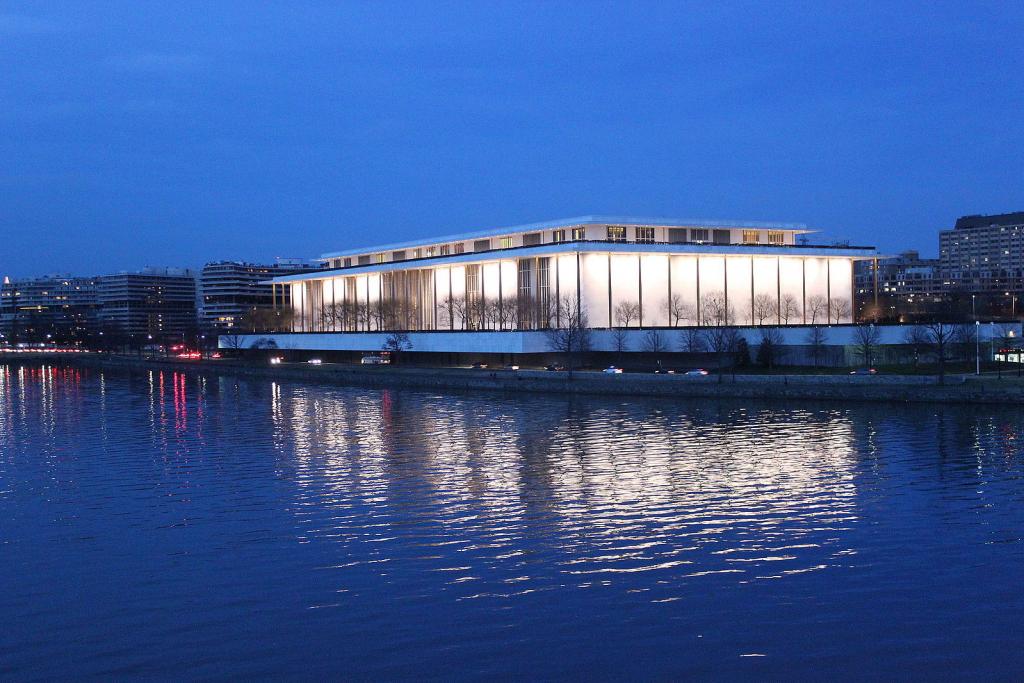 We're just back from the John F. Kennedy Center for the Performing Arts — the Kennedy Center — where we attended a really fine performance of Handel's Messiah with the National Symphony Orchestra and the Washington Chorus, conducted by Sir Andrew Davis.  The soloists were Andriana Chuchman (soprano), Daniela Mack (mezzo-soprano), Alek Shrader (lyric tenor), and Sidney Outlaw (baritone).
I thought the final chorus especially powerful, truly magnificent, in this performance:
Worthy is the Lamb that was slain, and hath redeemed us to God by his blood, to receive power, and riches, and wisdom, and strength, and honour, and glory, and blessing. Blessing and honour, glory and power, be unto Him that sitteth upon the throne, and unto the Lamb, for ever and ever.  [Revelation 5:12-14]  Amen.
***
Funny thing:  Right after the chorus "And the glory of the Lord," Sir Andrew paused to allow latecomers to take their seats.  And there were lots of them.  It took quite a while.  At first, Sir Andrew waited quite formally, facing the orchestra and chorus.  That's pretty much standard classical music etiquette and demeanor — quite impersonal.  Finally, though, he turned around and shruggingly indicated that the audience was in charge, pointing to the seats.  The audience applauded.  He evidently has a sense of humor.  Which is evident in this video from February of 2019:
https://www.classicfm.com/music-news/videos/orchestra-prank-sir-andrew-davis/
***
One of the principal things that allows me to love Handel's Messiah so much is the fact that I actually believe what the lyrics say.  Accordingly, listening to the oratorio is not just an aesthetic experience for me.  It's a spiritual or religious one.  I expect, therefore, that my encounters with Messiah are at least subtly, and quite possibly essentially, different from those for whom it's merely an artistic creation.  But I can't think myself into their reactions (just as they can't really think themselves into mine).  I can't help but think, though, that (all else being equal) an unbeliever's response to Messiah must be a relatively impoverished one, truncated, focused on a narrower spectrum of what's there.
***
I wrote earlier about an Interpreter Foundation conference that will occur on 1-2 May on the BYU campus.  We're trying to figure out whether to go for a larger room or a smaller one.
But I had an idea tonight.  In Dublin in 1741 or 1742, interest in the as-yet unperformed Messiah was so high that tickets were sold for its dress rehearsals.  As a precaution, the Dublin Journal ran advertisements suggesting that concertgoers refrain from wearing swords or hoop skirts, in order to make "room for more company."  Perhaps we should adopt that rule for our conference in May.
Posted from Washington DC