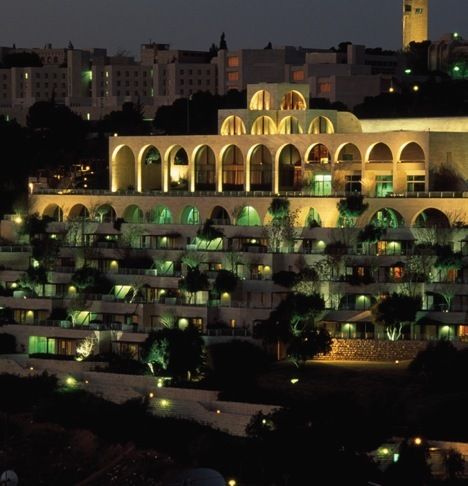 Continued from "Memories of interreligious "trialogue" (II)":
I enjoyed the 1993 Jewish/Christian/Muslim dialogue (or "trialogue") meetings in Graz, Austria, and was pleased to be invited to rejoin the group for its 1994 meetings, to be held in Jerusalem.
One proposal from the "trialogue" leadership, given the Latter-day Saint multibillionaire Jim Sorenson's involvement as an essential backer of the project, was to hold the 1994 meetings in Brigham Young University's Jerusalem Center for Near Eastern Studies.  The Jerusalem Center would be a great venue, with excellent meeting rooms and a magnificent, indeed unexcelled, view of the Old City portion of Jerusalem.  Moreover, building better relationships and better understanding between the three Abrahamic faith traditions is something very much within the spirit and mission of the Center.
However . . .  Some of us had a serious concern:  Several in the "trialogue" group smoked like chimneys.  And smoking is not permitted within the Jerusalem Center or on its grounds.  Nor is coffee available, to say nothing of alcoholic beverages.  We were afraid that they might like their Latter-day Saint hosts at first, but that, at the end of a week of meetings with neither caffeine nor nicotine, and with no soothing spirits to dull the pangs of withdrawal, they would eventually come to resent and hate us.
So we suggested that the first full day of meetings be held at the Jerusalem Center, but no more.  And that was what happened.
We gathered in the designated host hotel on the afternoon and evening before the first scheduled day of "trialogue" meetings.  It was fun to see people again whom I had come to know somewhat the year before, in Graz.  The one participant from the 1993 Graz "trialogue" who still seemed distinctly cold to me was Karl-Joseph Kuschel, of the University of Tübingen in Germany.  I assumed (and I still assume) that it was because I was affiliated with what German-speakers call a Sekte, which pretty much has the connotation and the emotional impact of the English word cult.
The next morning, as we traveled on a chartered bus from our hotel to the BYU Jerusalem Center, I even heard Professor Kuschel expressly complaining just a bit to a couple of colleagues about having to go to the "Mormon University," as it is frequently called (and as it frequently appears on municipal signage) in Jerusalem and throughout Israel.
To be continued.