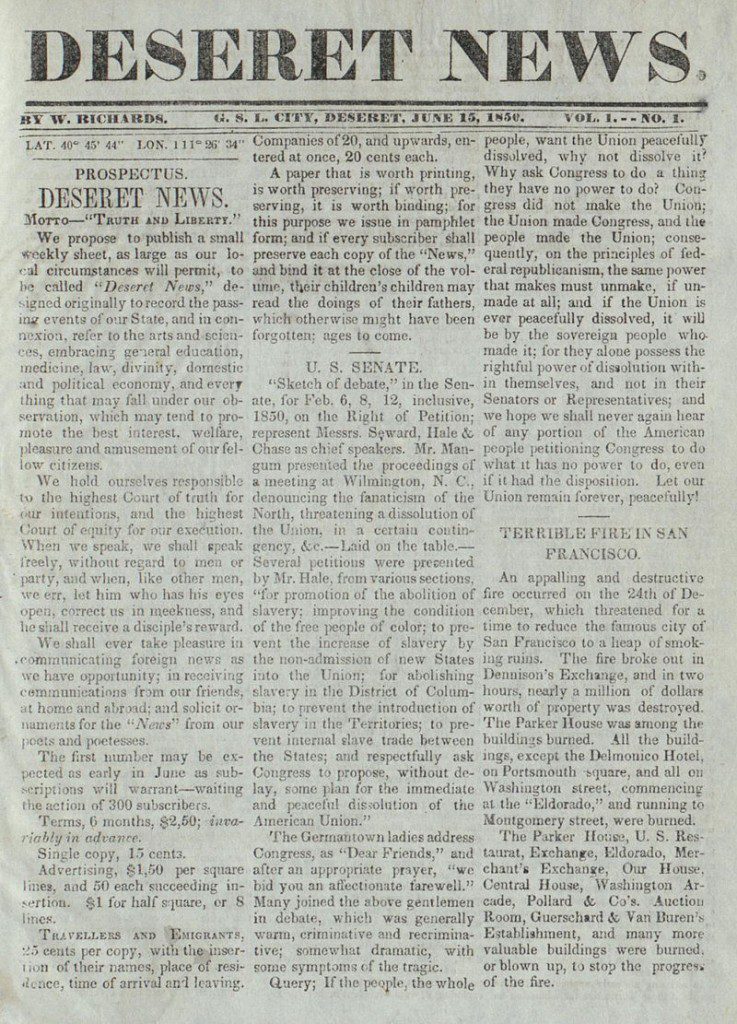 Roughly a decade ago — I would need to check to be precisely sure — the then editor of the Deseret News, Joe Cannon, invited me to write a Latter-day Saint-oriented weekly column for the paper under the series title of Defending the Faith.  A couple of years thereafter, I proposed an additional bi-weekly column on world religions to the Deseret News that I would write with my BYU colleague Bill Hamblin.  They accepted the proposal, so Bill and I wrote that column for very nearly eight years.
The columns provided some additional income.  Not remotely enough to live on, let alone enough to make me rich.  Nice, though.  Academic salaries are decent, but not enormous.
Another aspect of the columns that I appreciated — especially of the solo columns — was that they generated far greater response, on the whole, than anything else I've ever done.  Every week, and sometimes several times in a given week, people would come up to me to express appreciation for what I had written.  That reassured me that I had readers — something that writers tend to like quite a bit.
Gradually, though, the situation deteriorated over the years.  Some time after Joe Cannon left the Deseret News, the paper cut my compensation in half.  (My fellow columnist Orson Scott Card stopped writing for the News at that point; he felt that it was no longer worth his time.  I considered leaving too, but ultimately decided to continue.  I thought the public platform sufficiently important to make up for the drastically reduced compensation.)  Newspapers everywhere have been struggling, financially.
Then, about two years ago, the News cut my solo column from weekly to biweekly.  Then, instead of the column appearing both in the print edition of the Deseret News and in its online edition, it began to appear occasionally in the online edition of LDS Living rather than on the News website.  But not predictably so.  And sometimes after irregular delays.  I seldom if ever knew in advance when or where it would appear.  And, I think not coincidentally, people commented on my columns much more rarely.  It was no longer clear to me that people were reading them.  It was effectively impossible for them to follow what I wrote for the Deseret News.
Now, though, the final curtain has fallen.
I was notified this past Monday evening, 9 December 2019, that the "LDS Living" section of the Deseret News has come to an end, and that my solo column will therefore no longer be published in the newspaper.  Effective immediately.  As a courtesy, the column that I had submitted several hours before I was notified of its cancelation may well appear in a week or two.  Sometime.  And there is still a chance that the online edition of LDS Living will be willing to run my columns.  That has yet to be seen.
However, the Deseret News expressed interest in continuing, for now anyway, with the Hamblin/Peterson column on world religions.
And then Bill Hamblin died on Tuesday morning.
So my future as a part-time columnist is suddenly very much up in the air.  I'm currently looking around to see whether there's some other possible place for the solo column to land.  Perhaps there isn't.  Maybe I'll just give it up.  (I have plenty on my plate.)  And we'll see what happens with the world religions column now that my invaluable friend and colleague Bill Hamblin, with his global interests and his unique insights, has gone on to a much, much better place.
I have to admit that I've grown quite used to doing these regular columns over the past ten years or so.  I've liked it.  I'll miss it if this is the end.  With apologies to Teddy Roosevelt, the columns have provided a "bully pulpit."
Oh well.