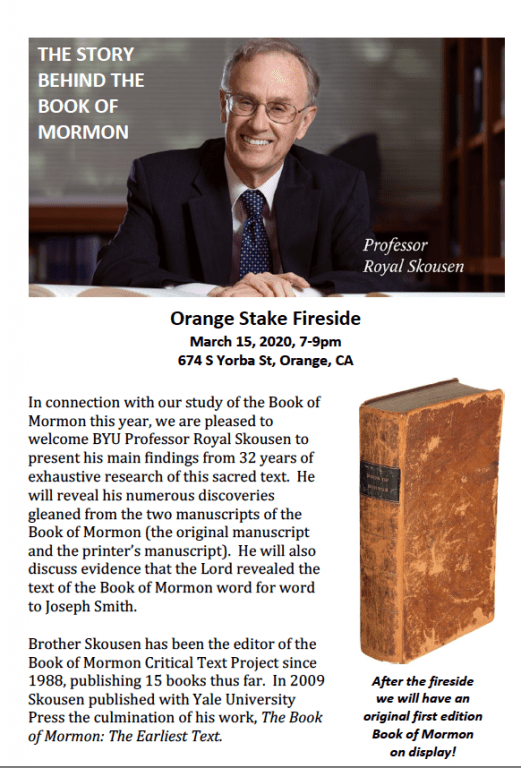 Here is a file that has newly been posted on the website of the Interpreter Foundation:
Interpreter Radio Show — March 1, 2020
The 1 March 2020 broadcast of the Interpreter Radio Show — edited to remove commercial breaks — has been archived and is now available at no charge for your listening pleasure. The hosts for this installment of the weekly program were Neal Rappleye, Jasmine Rappleye, and Hales Swift. In this episode, they discuss current events, items related to the First Vision, Saints vol. 2, and the Pearl of Great Price. Also featured is a roundtable on the upcoming Come, Follow Me Book of Mormon lesson #12 on Jacob 5-7.
***
You might enjoy, and perhaps even profit from, these two items that were recently posted by Pearl of Great Price Central:
"Did Both the Father and the Son Appear to Joseph Smith in the First Vision?"
"The First Vision as a Divine Council Vision"
***
Here's a rather tough entry that appears on the invaluable Neville-Neville Land blog:
"When Heartlanders are unintentionally hilarious"
***
No, I haven't forgotten your Christopher Hitchens Memorial "How Religion Poisons Everything" File. Here are a few items that you might consider adding to your collection:
"Church Donates to Food Pantries in Virginia: Elder Christofferson participates in Richmond event"
"In New York, Elder Christofferson Praises People of Faith for Their Leavening Influence: Apostle also honors a former New York Yankee and announces donations to local food pantries"
"President Eyring Ministers in Idaho: Opens state senate session with prayer"
"Latter-day Saint Charities Receives American Red Cross Partnership Award: Church and Red Cross partnership dates back to late 1800s"
***
Here's a bit of good news:
"It helped launch Renee Fleming's career. Could this BYU singer be next? If 23-year-old Jonah Hoskins is a winner of the prestigious Metropolitan Opera competition on Sunday, he will receive $20,000 and major exposure in the opera world"
And, in fact, he did win:
"Bravo! BYU student claims prestigious opera victory"
***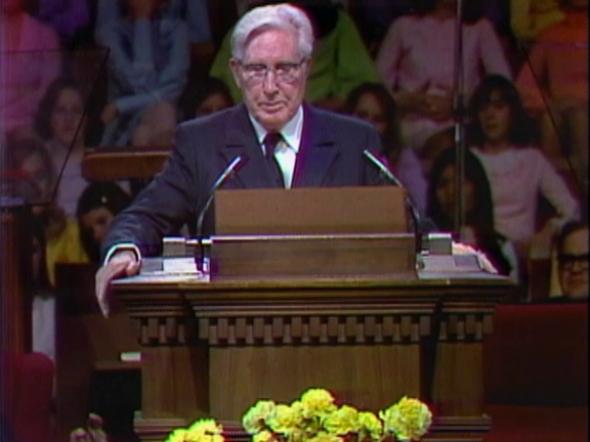 I pass on a little story that, among other places, I've seen in D. Michael Quinn's The Mormon Hierarchy: Extensions of Power. I mention that particular source in order to win some credibility for the story. For some, Dr. Quinn (perhaps alongside the late Grant Palmer) is the only honest historian of Mormonism, and his works have attained something like canonical status.
Having served for nearly a decade as a counselor in the First Presidency (from the time I was consciously aware of such things until nearly my graduation from high school in California, the term The First Presidency flatly meant, in my young mind, the venerable trio of David O. McKay, Hugh B. Brown, and N. Eldon Tanner), the Canadian Hugh B. Brown was released in 1970 and resumed his position in the Quorum of the Twelve Apostles. He was somewhat depressed at his release from the Presidency (typically, once called to that high position, men had remained there for the duration of their lives), as well as in physical decline, and he sought consolation from the Lord. He had an experience that he related to his nephew:
"He said it was not a vision, but the Lord appeared to him, very informal, the same as I was sitting talking to him. The Lord said, 'You have had some difficult times in your life.' Uncle Hugh responded, 'Yes, and your life was more difficult than any of us have had.' In the conversation Uncle Hugh asked when he would be finished here, and the Lord said, 'I don't know and I wouldn't tell you if I did.' Then He said, 'Remain faithful to the end, and everything will be all right.'"