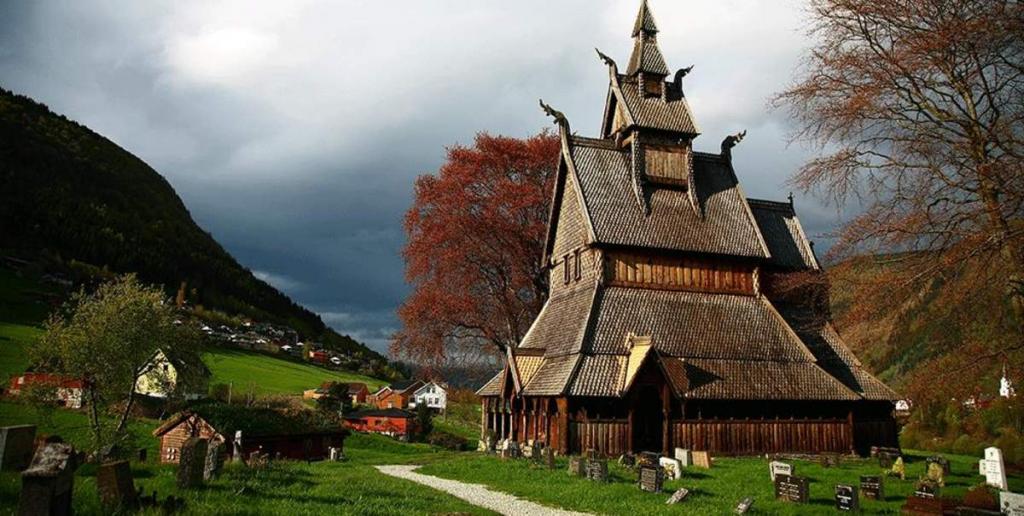 The latest installment of my Deseret News column discusses a few of my very favorite buildings, and I'm unusually pleased at the photographs that my editor at the newspaper, Christine Rappleye, selected to accompany it. I've visited many if not most of these marvelous relics of that earliest Christian period in Norway, still within at most a few generations of the Viking Age:
"These churches in Norway are 800-900 years old and survived the Black Death: There are now a couple dozen wooden stave churches in Norway that, with their unique construction, have stood for centuries"
***
But now we're off yet again to the very un-Norwegian world of Islam and the Middle East, starting, though, with a transitional item that also involves Scandinavia. (Don't even try to figure out my thought processes for this grouping of links.)
Sorry, folks. I'm behind, and I've forgotten who alerted me to this:
"Outrage Greets Danish Lutheran Group's Rewrite of Bible to Omit Word 'Israel'"
I may be mistaken — and, if so, I apologize — but I believe that it was Matthew Wheeler who brought these three interesting articles to my notice:
"The Muslim Sultan Who Helped Ireland During the Great Famine"
"Love your neighbour: Islam, Judaism and Christianity come together over COVID-19"
"Turkey's streak as most generous country in the world continues: Turkey is once again the world's top donor in global humanitarian assistance according to a new report that shows the country spent $8.4 billion last year alone"
I think that he also called this interesting item to my attention:
"How the Muslim world used soap, distilled alcohol and quarantine"
I'm in his debt for my awareness of this article, too, which comes out of Australia (where he lives):
"'Standing together to fight hatred': 'As the Muslim community stood with us during the tragic synagogue attacks in Pittsburgh it's important for the Jewish community to do the same'."
And he definitely alerted me to this wonderfully positive and inspiring story:
"The art of tolerant coexistence: As France deals with the aftermath of religiously motivated attacks, a small butcher's shop in Paris employing both Muslims and Jews offers lessons on good interfaith relations."
I'm obviously quite indebted to Brother Wheeler.
***
Here is an article out of the United Arab Emirates about President Russell M. Nelson's announcement of the forthcoming construction of a temple there:
"Mormons: a guide to the UAE's newest church: There may be fewer than 2,000 Mormons in the UAE, but they will soon have a dedicated temple in Dubai"
***
A late reflection on Easter, appropriate to a time of coronavirus pandemic:
"Roman Authorities Investigating Jesus For Violating Stay-In-Tomb Order"