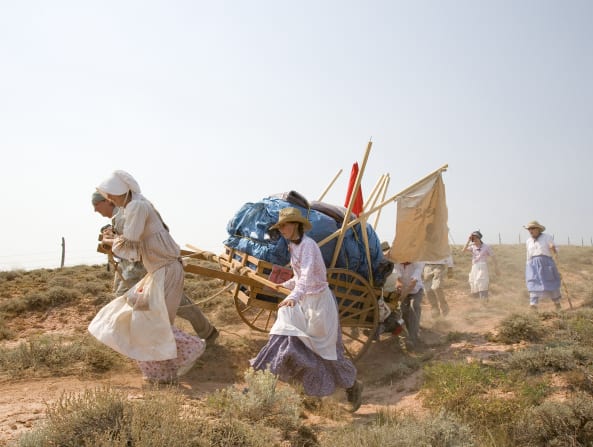 Three new items have appeared on the website of the Interpreter Foundation since yesterday (Friday). We hope that, as you're still somewhat under coronavirus-imposed house arrest, these might entertain and edify you. Of course, if you're a certain kind of critic, they'll probably just convulse you with bitterly angry rage. But that, too, will help to pass the time:
Interpreter Radio Show — May 3, 2020
The 3 May 2020 broadcast of the Interpreter Radio Show featured Neal Rappleye, Jasmine Rappleye, and Hales Swift. In this episode, they discussed Church pageants, pioneer treks, and various types of missionary callings. In the second hour of the show, they engaged in a roundtable conversation on the upcoming Come, Follow Me Book of Mormon lesson #22 on Alma 5-7. As always, all commercial and other interruptions have been removed from this archived recording, and it's available to you at no charge, courtesy of the donors and volunteers connected with the Interpreter Foundation who, by their kindness and generosity, have made all this possible.
Book of Moses Insights #002: Enoch's Prophetic Commission: The Opening of Enoch's Mouth and Eyes (Moses 6:31–32, 35)
"Book of Moses Insights: Book of Moses FAQ"
This collection of frequently asked questions (FAQ) addresses general topics relating to the Book of Moses:
How Did We Get the Book of Moses?
What Kinds of Challenges Was Joseph Smith Facing at the Time He Received Moses 1?
How Was the Book of Moses Translated?
Did Joseph Smith Use Bible Commentaries in His Translation of the Book of Moses?
Is the Book of Moses in "Final" Form?
Does the Book of Moses Restore the Original Text of Genesis?
Did Moses Write the Book of Genesis?
What Can Be Learned from Comparing the Book of Moses to Ancient Texts?
Does the Book of Moses Have a Basis in History?
Is the Book of Moses a Work of Pseudepigrapha?
Is the Book of Moses Compatible With Science?
Is the Book of Moses a Temple Text?
In Summary, What Should We Make of the Book of Moses?
***
Incidentally, I hope and plan to be on the Interpreter Radio Show on Sunday, 31 May 2020, and we'll have Stanford Carmack as our special guest during the first hour of the program. Please listen in. Once again, our weekly radio program, which is typically archived and placed online with a week or less of its broadcast date, is made possible by the generous efforts of volunteers and the kindness of generous donors. I'm grateful to all of them.