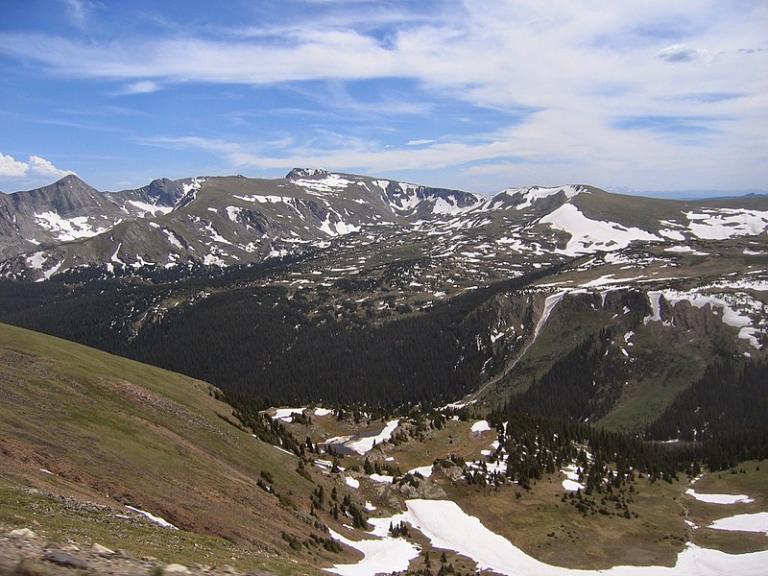 First, I share some news from outer space:
"Rock from Mars heads home after 600,000 year odyssey across space: Tiny piece of meteorite from London's Natural History Museum will be used by rover exploring red planet"
"This is the first picture of a sunlike star with multiple exoplanets: Unlike our solar system, this one has two massive gas giants with far-out orbits"
"The star cluster closest to Earth is in its death throes: Stars in the Hyades are moving so fast it will disintegrate in 30 million years"
***
But now we get down to Earth:
For our final visit to Rocky Mountain National Park during this trip, we entered from the west side, via Grand Lake. Thereafter, the road goes almost unfailingly northward for a long distance, up along the wonderfully named Never Summer Mountains to the west. I don't think that I was previously aware — certainly I didn't remember — that the Never Summers are volcanic in origin and relatively recent (which is to say, about 29 million years old). They are, thus, quite unrelated to the major mountains of the park that lie to their east (which contain rocks in the range of 1.6 billion to 1.8 billion years of age). We headed up to the Alpine Visitor Center and a bit beyond, continuing to the furthest point along the magnificent Trail Ridge Road that we had reached (coming from the east side) a couple of days before. (We even, as it happened, turned around at exactly the same spot where we had turned around previously.). The views were, of course, glorious. We were up somewhere around 12,000 feet above sea level or a bit higher, I believe.
Oddly, we never did see any bighorn sheep during our visits. And we saw no bears. (I never seriously anticipated that we would.). On the other hand, today was a fairly good day for other wildlife. We saw a few isolated deer, scores of elk, and two moose, all pretty close at hand. We saw one group of four quite large bull elk — six-pointers, so far as we and others there could tell — at a bit of a distance just above the continental divide at Milner Pass. As an unexpected bonus, I also caught a glimpse of a red fox very near to where we've been staying here in Breckenridge. It's been good to be (way) out of the house.
Posted from Breckenridge, Colorado