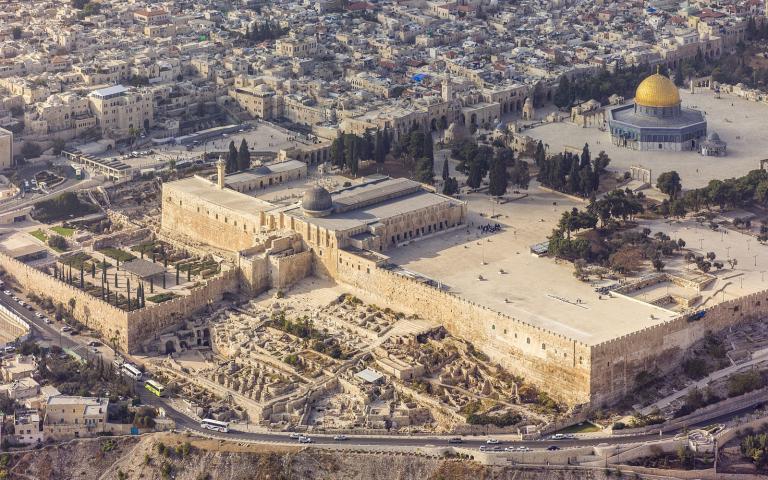 Another article has gone up on the website of the Interpreter Foundation, appearing now in Interpreter: A Journal of Latter-day Saint Faith and Scholarship. This piece was written by one Daniel C. Peterson:
"Temples All the Way Down: Some Notes on the Mi'raj of Muhammad"
Abstract: In this article, Daniel C. Peterson describes the famous "night" journey that Muhammad allegedly made from Arabia to Jerusalem, and from Jerusalem through the heavens and into the presence of God. His ascension through various gates of heaven, passing by the gatekeepers, is compared with biblical and Latter-day Saint teachings. Elements of the dream strongly resemble the biblical description of the Garden of Eden with its two special trees.
[Editor's Note: Part of our book chapter reprint series, this article is reprinted here as a service to the LDS community. Original pagination and page numbers have necessarily changed, otherwise the reprint has the same content as the original.
See Daniel C. Peterson, "Temples All the Way Down: Some Notes on the Mi'raj of Muhammad," in Ancient Temple Worship: Proceedings of The Expound Symposium 14 May 2011, ed. Matthew B. Brown, Jeffrey M. Bradshaw, Stephen D. Ricks, and John S. Thompson (Orem, UT: The Interpreter Foundation; Salt Lake City: Eborn Books, 2014), 195–216. Further information at https://interpreterfoundation.org/books/ancient-temple-worship/.]
Also newly up on the Interpreter Foundation web site:
Interpreter Radio Show — July 5, 2020
The 5 July 2020 installment of the Interpreter Radio Show, featuring Neal Rappleye, Jasmine Rappleye, and Hales Swift has now been archived and made available at no charge on the website of the Interpreter Foundation. The discussion for the first hours of the two-hour program centers on the efforts of the Restored Church to respond to the current COVID-19 pandemic as well as on a survey of recent studies on Joseph Smith's First Vision. This was followed during the second hour by a roundtable on the upcoming Come, Follow Me Book of Mormon lesson #31 on Alma 43-52. For your listening pleasure, this archived recording has been stripped of all commercial and other interruptions.
Posted from Park City, Utah