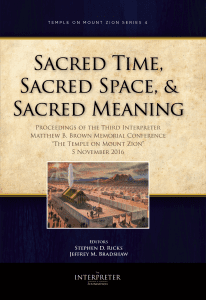 On the website of the Interpreter Foundation, a new item (including an audio download) from the staff at Book of Mormon Central, Jeffrey Bradshaw, and Matthew Bowen:
Book of Moses Insights #14: The Teachings of Enoch: Enoch as a Teacher (Moses 6:51–68)
***
And don't forget about the latest book from the Interpreter Foundation, Sacred Time, Sacred Space, & Sacred Meaning. There are, after all, only 143 shopping days left until Christmas as I write and, every single day that you delay, that number goes down by between .99 and 1.01 days. And be honest with yourself: Aren't there many other holidays even before Christmas? And I'm not just talking birthdays. (Studies consistently show that, in any given year, nearly half of the population will have at least one birthday between early August and late December.). No, no. I'm talking (among many others)
Ganesh Chaturthi
Hawaii Statehood Day
Senior Citizens Day
Jeune genevois
Buß-und Bettag
Lyndon Baines Johnson Day
Carl Garner Federal Lands Cleanup Day
The anniversary of the capture of Atlanta by General Sherman's army
National Grandparents Day
Leif Erikson Day
V-J Day
White Cane Safety Day
Dia de la Independencia
The anniversary of the opening of Walt Disney World in Orlando
Alaska Day
Hawke's Bay Anniversary Day
Festa di Sant'Ambrogio (or, in Italy, virtually any other day)
Nevada Day
Boss's Day
Labour Day
Dia de los Fieles Difuntos
Thanksgiving Day
St. Andrews Day
Pearl Harbor Day
Itsenäisyyspäivä
Have you ever thought about giving copies of Interpreter Foundation books out to trick-or-treaters on Halloween? I'm sure that some of Interpreter's critics have.
***
You're probably aware that Olivia de Havilland recently died in Paris.
Last week, I received a note in that connection from my libertarian economist friend Mark Skousen. I was traveling and then I was catching up from traveling, and I have a whole lot of things on my plate over the next few days. (Thanks to Tom Pittman and to my wife for their invaluable technical help!) So I'm running behind. I hope (and trust) that Mark won't be upset with me for sharing part of his note here now, finally; I think that some of you might find it interesting. :
Can you pass along this story to your colleagues at BYU, since Cleon used to teach there . . .
I thought you'd enjoy this remarkable little known story about the late Olivia de Havilland, the famous actress in Gone With the Wind: http://www.conservativehq.com/node/32972.
The first time my uncle Cleon told me the story in the early 1990s, I thought it should be published, but Cleon insisted that we wait until after she died. As it turned out, Cleon lived to be 93 and died in early 2006, and Olivia lived to be 104.
Now the story is out — I sent it to the New York Times, but they didn't use it in their obituary. But it's an incredible part of her life.
We plan to dedicate a room to Olivia de Havilland at next year's FreedomFest, assuming the imperial governor of Nevada allows us.
And now, an article in National Review supplies some interesting additional information:
"How Olivia de Havilland and Ronald Reagan Beat the Hollywood Communists"