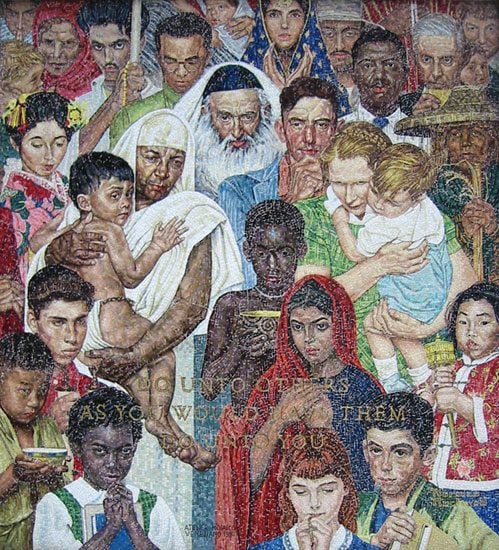 A (massive) new article, this one by David M. Belnap, has just been published in Interpreter: A Journal of Latter-day Saint Faith and Scholarship:
"The Inclusive, Anti-Discrimination Message of the Book of Mormon"
Abstract: Attitudes of superiority lead to societal conflict. The racial interpretation of a few Book of Mormon verses has contributed to these attitudes and conflicts, yet hundreds of inclusive messages are found in more than half of the book's verses. God's message, love, mercy, and justice are for all people. Righteous people did not think themselves above others, nor did they persecute others or start wars. War is tragic and is caused by wickedness. Conspiracies are a great evil. Righteous people were kind in their attitudes and actions, regardless of others' social status or ethnicity. Some Book of Mormon people even gave their lives or put their lives at risk to act kindly, and some of these went from hating others to giving up their lives on behalf of others. The inclusive messages in the Book of Mormon are consistent with the position advocated by current Latter-day Saint leaders condemning all racism and disavowing racist hypotheses such as those derived from a few Book of Mormon verses (i.e., that skin color is related to righteousness). The inclusive messages also are consistent with the view that skin color in the Book of Mormon is not literal but is metaphorical. The Book of Mormon instructs us that the right way to interact is with love and respect, through examples of people respecting and reaching out to others, promises to all people, condemnation of unkindness and anti-Semitism, calls to all people to repent, and emphasizing the flaws of one's own group and not those of others.
***
And, of course, Interpreter has published many past articles that continue to be worthy of attention. I've lately been calling renewed attention to them. Here are five more:
Gary P. Gillum, "Written to the Lamanites: Understanding the Book of Mormon through Native Culture and Religion"
Abstract: Latter-day Saints have always been encouraged to seek the truth wherever it can be found. With the Book of Mormon being written especially to the Lamanites, we can assume that the more we know about Lamanite and Native American culture, the more we can understand, appreciate and gain insights as we read that inspired scripture. In this article the writer has compared examples from Native American culture and history to what we read in the Book of Mormon and experience as members of The Church of Jesus Christ of Latter-day Saints. Most importantly, as we read through the eyes of a Native American, we can appreciate the divinity and authenticity of the Book of Mormon, since Joseph Smith could not have known Native American culture and history in the way it is described herein.
John W. Welch, "Toward a Mormon Jurisprudence"
Preface: The following article was published in the Regent University Law Review in the first number of its 2008-2009 volume, pages 79-103. The article is reprinted here by permission without any substantive modifications. Because law reviews are not easily available on the Web or elsewhere to most readers, I am pleased to give wider exposure to this first foray into the idea of a Mormon jurisprudence. Regent University is an Evangelical Christian institution.
This article grew mainly out of a talk that was delivered on February 14, 2004, to the first national meeting of the student chapters of the J. Reuben Clark Law Society, held at Harvard Law School. Four years later, on February 13, 2008, Scott Adams, a third-year member of the law review at Regent University Law School contacted me and said that he was hoping to "put something together on Mormonism and the law," to see if the law review might publish it. Scott rightly indicated that, according to his research, "no one has ever attempted to tackle the ambitious project of considering Mormonism, in general, and analyzing its potential implications on law (for example, how might an LDS judge see the law, as opposed to a Catholic)." Scott was thinking about writing a paper himself on natural law from an LDS perspective. I responded by suggesting that he contact Cole Durham, Francis Beckwith, and Nate Oman; and I offered to send him a copy of my Harvard speech, expressing interest in publishing that paper as a companion piece with his.
As it would soon turn out, the editor-in-chief and board of the Regent law review were very eager to publish my piece, especially if it could appear with another article presenting an [Page 50]"opposing viewpoint." They suggested a member of their faculty, and after brief deliberations, all was agreed. In the end, however, no opposing or additional articles were forthcoming, and so this article was published on its own. I thank Scott and his fellow students for their help in checking and enriching the footnotes. They also had hopes that this publication would build good relationships between Evangelicals and future LDS students, which I too hope has occurred.
This essay tries to identify what a "Mormon" jurisprudence would, and would not, look like. Beyond its immediate relevance to legal thought, this article might have broader applications in helping LDS scholars in other disciplines to think about, for example, what a Mormon theory of literary criticism might look like, or what would be distinctive about a Mormon approach to political theory or to any other discipline. I believe that any such Mormon academic approach (1) would be solidly rooted in all LDS scripture, (2) would be inclusivistic, privileging fullness and openness over closure and completeness, and (3) would be fundamentally pluralistic and not reductionistic.
Obviously, this piece is just a beginning. There is much more to be done here. I have continued to work along these lines for the past decade and have published other things growing out of this paper, for example, a talk about rights and duties given at Stanford Law School, published in the Clark Memorandum (Fall, 2010), 26, http://www.jrcls.org/publications/clark_memo/issues/cmF10.pdf, and my Maeser lecture at Brigham Young University, available at http://byustudies.byu.edu/PDFLibrary/50.3WelchThy-08f4ba7e-d3a2-444f-bc8c-0ce842c12fc4.pdf.
I would hope next to articulate the specific implications of these ideas with respect to legal attitudes toward statutory construction, judicial activism, the spirit and letter of the law, justice and mercy, equality and freedom, pacifism and justifiable use of force, corrections and forms of punishment, degrees of fiduciary duties, types of contracts, the foundations of family [Page 51]law, the principles of constitutional law, and many other topics. This development would utilize historical, scriptural, logical, ethical, and other analyses.
Naturally, this article is neither complete nor comprehensive in scope. How could it truly exemplify my theory if it were otherwise? This was all I could cover in a brief presentation even to a group of bright law students gathered on a Valentine's Day at Harvard. And I probably already had included enough here to bewilder most Baptist readers of the Regent University Law Review who were just then hearing for the first time about Mitt Romney and wondered how a Mormon might approach the law as the president of the United States.
That question, of course, is still up for grabs; and Latter-day Saints are more interested in political and legal issues than ever before. So I hope that readers may find this article still to be stimulating and, as reader Sid Unrau has commented, "well worth reading, contemplating, and building upon, … a valuable start for those who wish to further the subject."
Craig L. Foster, "Misunderstanding Mormonism in The Mormonizing of America"
Abstract: The Mormonizing of America by Stephen Mansfield has been touted as a solid, impartial look at Mormon history and doctrine. Unfortunately, on closer examination, the book is seriously lacking both in substance and impartiality. This article discusses the book's numerous problems.
Review of Stephen Mansfield. The Mormonizing of America: How the Mormon Religion Became a Dominant Force in Politics, Entertainment, and Pop Culture. Brentwood, TN: Worthy Publishing, 2012. 264 pp. $22.99.
Gregory L. Smith, ""Endless Forms Most Beautiful": The uses and abuses of evolutionary biology in six works"
Review of:
Michael Dowd. Thank God for Evolution. New York: W. W. Norton, 2004. 336 pp., with index. $13.95.
Karl W. Giberson. Saving Darwin: How to be a Christian and Believe in Evolution. New York: HarperCollins, 2008. 239 pp., with index. $9.98.
Daniel J. Fairbanks. Relics of Eden: The Powerful Evidence of Evolution in Human DNA. Amherst, NY: Prometheus Books, 2007. 281 pp., with index. $15.86.
Howard C. Stutz. "Let the Earth Bring Forth", Evolution and Scripture. Draper, UT: Greg Kofford Books, 2010. 130 pp., with index. $15.95
David C. Stove. Darwinian Fairytales: Selfish Genes, Errors of Heredity, and Other Fables of Evolution. New York: Encounter Books, 1995. 345 pp., with index. $18.95
William A. Dembski. The End of Christianity: Finding a Good God in an Evil World. Nashville, TN: B&H Publishing Group, 2009. 229 pp., with index. $22.99
Brian C. Hales, "Stretching to Find the Negative: Gary Bergera's Review of Joseph Smith's Polygamy: History and Theology"
Abstract: At an author-meets-critic Sunstone Symposium on August 2, 2013, Gary Bergera devoted over 90% of his fifteen-minute review to criticize my 1500+ page, three-volume, Joseph Smith's Polygamy: History and Theology. This article responds to several of the disagreements outlined by Bergera that on closer inspection appear as straw men. Also addressed are the tired arguments buoyed by carefully selected documentation he advanced supporting that (1) John C. Bennett learned of polygamy from Joseph Smith, (2) the Fanny Alger-Joseph Smith relationship was adultery, and (3) the Prophet practiced sexual polyandry. This article attempts to provide greater balance by including new evidences published for the first time in the three volumes but ignored by Bergera. These new documents and observations empower readers to expand their understanding beyond the timeworn reconstructions referenced in Bergera's critical review.
***
Finally, some of you may find this interesting not only intrinsically but because of its connection to Utah and, perhaps not as indirect as some may think — the Economist article title may even have vaguely picked up on this — to the teachings of the Church of Jesus Christ of Latter-day Saints:
Deseret News: "Sen. Mitt Romney proposes to send monthly cash to families — permanently: Sen. Mike Lee proposes expanding child tax credit"
The Economist: "Suffer the children: A Republican, Mitt Romney, argues for child benefits in America: An early encouraging sign for bipartisan dealmaking"