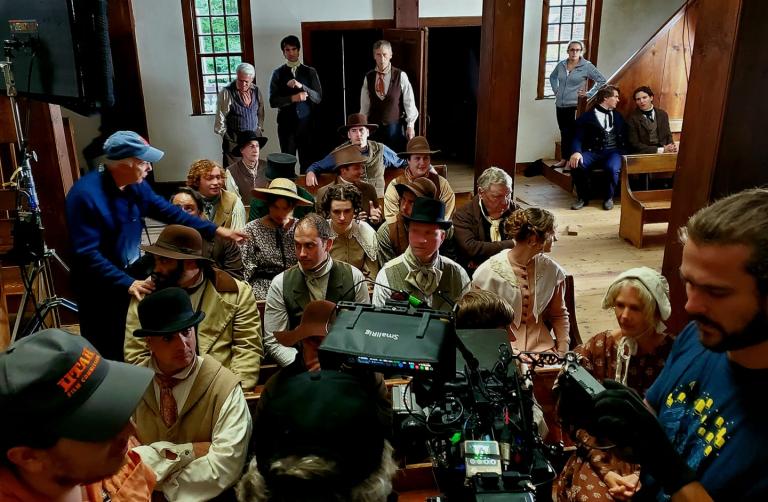 ***
As we approach the theatrical debut of the Interpreter Foundation's dramatic film, Witnesses, some aspects of that debut are coming more clearly into focus.
I've said earlier that Witnesses will begin screening in theaters on 4 June 2021, and I've encouraged you to mark your calendars for that date. But permit me now to refine that announcement just a little bit:
Current practice for movie debuts, I'm informed, has them actually commence on the Thursday night prior to the debut weekend. In any case, that's what's going to happen in the case of Witnesses. Showings will begin at 7 PM on the evening of the third of June — that's Thursday, 3 June 2021. So please mark your calendars for 3 June, 4 June, and 5 June. Opening weekend ticket sales — Thursday evening through, yes, Sunday (though we're not expecting or even hoping for large Sabbath revenues!) — are seen in the movie industry as a very important indicator of a film's prospects, and they can make it far easier (or far harder) for a film to secure movie screens in the ensuing weeks.
Moreover, Witnesses will likely debut in Utah (and perhaps, though I'm not sure of this, in some immediately adjacent areas) before it rolls out to other places beyond the state boundaries. The idea here is that, if the film can generate a "buzz" in the center of gravity for the Latter-day Saint film market — that is to say, if it can garner good word of mouth recommendations — that "buzz" will effectively supplement or multiply advertising expenditures in areas where the Latter-day Saint population is less concentrated and encourage more theaters to devote screens to its showing. In other words, it's possible (though I'm not yet sure) that areas like greater Phoenix and southern California (to say nothing of more distant locations) may see debuts of the film a week or two after it appears along the Wasatch Front, in St. George, and so forth.
***
As I write, the concert film Lamb of God — which I've strongly recommended — is screening in a number of states beyond Utah. I'm told that, according to agreement, the trailer for Witnesses is to be shown before every screening of Lamb of God. If you attend a showing of Lamb of God and the Witnesses trailer is not shown, could you perhaps let me know about that? (Please identify the theater and, perhaps, the screening date and time.) You can write to me at daniel_peterson@byu.edu.
***
Other than the theatrical trailer, we're basically holding off on advertisements and a publicity campaign until we're a bit closer to 3 June. I suppose that it's something like the military order to hold fire, save ammunition, and, for maximum effectiveness, wait until the approaching foe is closer: "Don't shoot until you see the whites of their eyes!" We expect that our advertising and other efforts would be somewhat squandered at this point, and that they will be much more effective during the thirty or forty days immediately preceding the film's debut.
***
We're also planning a special premiere, slightly before the general debut, which may end up being by invitation only. More on that later.
***
Incidentally, it probably needs to be said once again: Certain critics assiduously cultivate the falsehood that I have been, or will be, lining my pockets with the cash that Witnesses may bring in. This is, as I've pointed out many times before, flatly untrue. There is no expectation on my part or on anybody else's part that I will earn a penny of profit from Witnesses. There is nothing in any of the contract documents related to the project that promises or permits me any financial interest in the success of the film. No money will accrue to me from the movie — neither directly nor indirectly. (Nor — I know how certain critics' minds work! — to my wife, my children, my grandchildren, my cousins, my present or future pets, my estate, my heirs and assigns, my neighbors, or any shell company or secret bank account in the Cayman Islands. Neither in cash nor in kind nor in gold bullion nor in doubloons nor in Swiss francs nor in bitcoin nor in corvée labor.) Whether the film project fails miserably or breaks even or earns $800 million, my share of the earnings will remain unchanged, at precisely $0.00.
I realize that that's almost certainly not clear enough for certain folks, but it's the best I can do at the moment.
***
Our film crew is back in Massachusetts today, where they have been shooting material for the Witnesses-related docudrama that will come out a short interval — four or five months, I would think — after the theatrical movie.
***
We've been working pretty hard over the past few days, with lots of emails and conference calls, and we are very near to signing a contract for the distribution of Witnesses in both DVD and streaming form. This is exciting to me, not least because it should help in making the film available to people beyond the United States who have expressed interest in our project.
***
I want to take the opportunity now, while I'm at it, to thank all of those who have made this project possible. There was a time, candidly, when I thought that we might not make it. But we have. Many donors, large and small, stepped forward. I thank Ed Snow for his indispensable help with fundraising. Our filmmaking team — at its core, Mark Goodman, James Jordan, and Russell Richins — has been superb, selfless, dedicated, and a pleasure to work with. Steve Densley has helped out at crucial points with legal advice. Our actors are great. The whole thing has been amazing, and I'm deeply gratified that we'll soon be able to share this story (and, after it, the docudrama that will shed a great deal of light on it) with what I hope will be a large and interested audience.