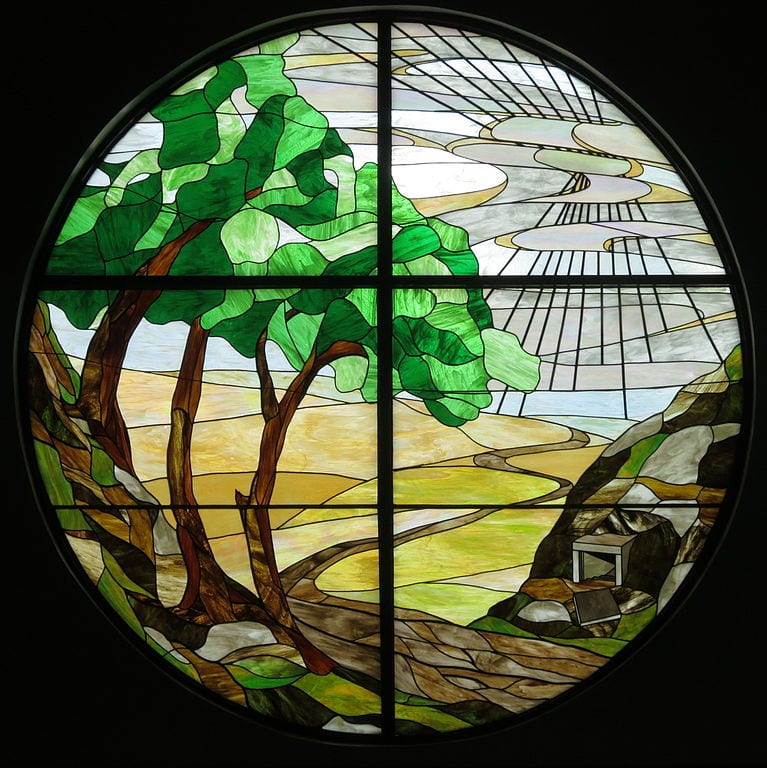 ***
You may not yet have seen these two new items on the webpage of the Interpreter Foundation. But that doesn't mean that they're not there:
Come, Follow Me — D&C Study and Teaching Helps Lesson 15, April 5–11: D&C 30–36 — "You Are Called to Preach My Gospel"
Audio Roundtable: Come, Follow Me Doctrine and Covenants Lesson 15 "You Are Called to Preach My Gospel" D&C 30-36
The Interpreter Radio Roundtable for Come, Follow Me Doctrine and Covenants Lesson 15, "You Are Called to Preach My Gospel," on D&C 30-36, featured Steve Densley, Matthew Bowen, and Mark J. Johnson as the discussants. This roundtable has now been extracted from the 28 February 2021 broadcast of the Interpreter Radio Show, where it may be heard at no charge and blessedly free of commercial interruptions. The complete program may be heard at https://interpreterfoundation.org/interpreter-radio-show-february-28-2021/. The Interpreter Radio Show can be heard Sunday evenings from 7 to 9 PM (MDT), on K-TALK, AM 1640, or you can listen live on the Internet at ktalkmedia.com.
***
Many of you, I expect, will enjoy this Meridian Magazine column or article by my friend Robert Starling:
"Are Baptists Christians? – – A Case for Latter-day Christianity"
Some of you will perhaps be aware that I myself have long had a strong interest in the issues that he's addressing:
Offenders for a Word: How Anti-Mormons Play Word Games to Attack the Latter-day Saints
***
A reader here who comments on the blog from time to time as dCyl has kindly called my attention to a fine performance of yet another very appropriate piece of music for the Easter season:
"Bach – St Matthew Passion BWV 244 – Van Veldhoven | Netherlands Bach Society"
Plainly, Bach's St. Matthew Passion (Matthäus-Passion) is a horror and an abomination that belongs squarely in the Christopher Hitchens Memorial "How Religion Poisons Everything" File©:
"Thinking about J.S. Bach: As it turns out, it's hard to ignore the composer's views on doctrine"
***
When my wife and I lived in Cairo, one of our neighbors and friends was the American pastor of the non-denominational church that served the many expatriates who lived in our neighborhood, south of Cairo. One year, he invited us to his Easter sunrise service. Since our LDS branch met on Fridays at that time, we were able (and happy) to go. (Eventually, though, we began doing branch felucca rides — boat rides — on Easter Sunday mornings, our own Easter sunrise services.)
Anyway, I can barely express how disappointed I was in his remarks. They were all about the rising of the morning sun after darkness, the return of spring, and the rebirth of spring flowers. If he said anything at all about the Risen Son, I honestly don't remember it. From many conversations with him, I'm quite confident that he was a genuine Christian believer. I can only assume that, since he served as the pastor of an interdenominational church with a wide variety of congregants — mostly but not entirely American — he was trimming his theological sails in order to avoid giving offense.
Which sets me up to introduce one of my two favorite Easter poems (the other being a brief item by A. E. Housman that I reproduced here a few days ago). It's the late poet and novelist John Updike's "Seven Stanzas at Easter." Updike (1932-2009) was a two-time winner of the National Book Award and a two-time winner of the Pulitzer Prize for fiction.
In order to understand the poem completely, you need to know the noun remonstrance (re-MON-strance), which denotes "a forcefully reproachful protest":
Make no mistake: if he rose at all
It was as His body;
If the cell's dissolution did not reverse, the molecule reknit,
The amino acids rekindle,
The Church will fall.
It was not as the flowers,
Each soft spring recurrent;
It was not as His Spirit in the mouths and fuddled eyes of the
Eleven apostles;
It was as His flesh; ours.
The same hinged thumbs and toes
The same valved heart
That—pierced—died, withered, paused, and then regathered
Out of enduring Might
New strength to enclose.
Let us not mock God with metaphor,
Analogy, sidestepping, transcendence,
Making of the event a parable, a sign painted in the faded
Credulity of earlier ages:
Let us walk through the door.
The stone is rolled back, not papier-mache,
Not a stone in a story,
But the vast rock of materiality that in the slow grinding of
Time will eclipse for each of us
The wide light of day.
And if we have an angel at the tomb,
Make it a real angel,
Weighty with Max Planck's quanta, vivid with hair, opaque in
The dawn light, robed in real linen
Spun on a definite loom.
Let us not seek to make it less monstrous,
For our own convenience, our own sense of beauty,
Lest, awakened in one unthinkable hour, we are embarrassed
By the miracle,
And crushed by remonstrance.
In part, Updike's poem reminds me of a declaration from the Prophet Joseph Smith:
"The fundamental principles of our religion are the testimony of the Apostles and Prophets, concerning Jesus Christ, that He died, was buried, and rose again the third day, and ascended into heaven; and all other things which pertain to our religion are only appendages to it." (History of the Church, 3:30; from an editorial published on page 44 in the Elders' Journal, July 1838; Joseph Smith was the editor of the periodical)
***
Over the nine or ten years that I contributed a personal column to the Deseret News, I often wrote a special article for the Thursday just before Easter. Here are some of those Easter columns. Perhaps somebody out there will enjoy one or two of them:
"The mysterious 40-day ministry of Jesus after Easter"
"Can modern people believe in the Resurrection of Jesus Christ?"
"Easter's answer to the 'terrible question': One of the most obvious facts facing human beings is the inevitability of death"
"The gospel truly brings joyful news"
"Christ's resurrection was a witnessed fact, not a later fantasy"
"A great 'cloud of witnesses' at Easter"
"Thomas Jefferson, Benjamin Franklin and C.S. Lewis on the hope of Easter"
And here are some relevant specimens from the biweekly column that my late (and much missed) friend and colleague Bill Hamblin and I used to write for the Deseret News:
"The challenge of the empty tomb"
"Holy Week aids Easter reflections"
"Choosing the date of Easter and how Western, Eastern celebrations are on the same day this year" (2017)
Finally, I share an excellent article by a different Peterson. He too used to do columns (irregularly) for the Deseret News, and in this column he actually dared — the French term lèse-majesté comes to mind — to cast a bit of doubt on something that I had written in "The Words of Easter," above:
"Think Easter's symbols are all pagan? Many are more Christian than you think"