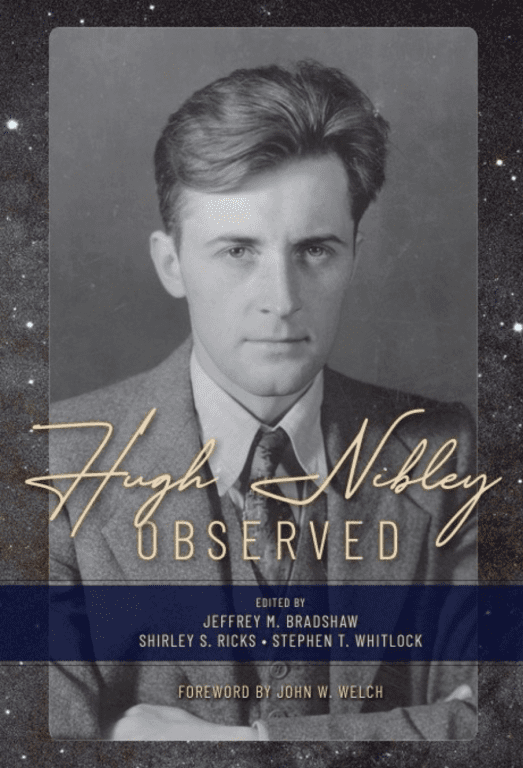 The ever-dying Interpreter Foundation has somehow managed to gasp out yet another book. You can learn a little something about it and about its subject in this short entry on the Foundation's blog, which is the first in a projected series of related blog posts:
"Who Was Hugh Nibley?: Announcing a New, Landmark Book, Hugh Nibley Observed"
***
I want, again, to use this space to encourage all three of my readers to accept vaccination against the COVID-19 virus, if they have not already done so. In this encouragement, I feel confident that I have the support of the First Presidency and the Quorum of the Twelve:
"Vaccinations 'protect health and preserve life,' Latter-day Saint handbook update says"
"This young Utah lawmaker almost died from COVID-19 — now he's sharing his story: ''This is real': Rep. Jon Hawkins urges Utahns to recognize COVID-19's physical, emotional toll"
"Christian nationalism is a barrier to mass vaccination against COVID-19: Some who identify as Christian nationalists believe they will be protected from any disease."
One of the lesser reasons that I hope people will be vaccinated is this: I want movie theaters to open up to full capacity as soon as they can. The Interpreter Foundation's theatrical film, Witnesses, is slated to open on Thursday evening, 3 June 2021, and I want it to succeed. I want it to reach as large an audience as it possibly can. And that will surely require open theaters — the more open the better (consistent with public health and safety).
So please, please, get yourself vaccinated! Help your community! Help the Witnesses film project succeed!
***
And, speaking of the witnesses to the Book of Mormon, here are two pieces from Book of Mormon Central that I think you'll find interesting:
"Why Did Hiram Page Remain Faithful to the Book of Mormon?"
"Why Was Peter Whitmer Jr. Chosen to Witness the Gold Plates?"
***
"A Whirlwind History of Frivolous Lawsuits against Latter-day Saints: Many commentators feigned shock with the recent Huntsman lawsuit. They shouldn't be. Similar "publicity stunt" lawsuits have been going on for a long time."
***
But the work goes on. Here, clocking in at just under forty-five (45) minutes, is the latest video installment of regular report of the Church of Jesus Christ of Latter-day Saints:
"April 2021 Edition of The World Report"
It's available in English, Spanish, and Portuguese.
***
And, finally, here's a tidbit for you out of Alabama, from the inexhaustible cornucopia of the Christopher Hitchens Memorial "How Religion Poisons Everything " File©:
"Young LDS elders helping keep city clean"