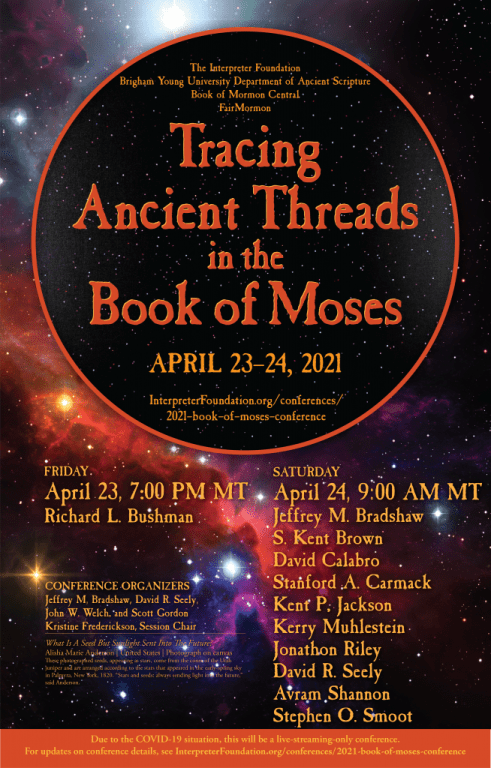 ***
Well, the Interpreter Foundation continues to sputter along, barely surviving, producing nothing. Here are some new items that went up today:
"Hugh Nibley on Revelation, Reason, and Rhetoric"
Included at this link, beyond the brief article, are two videos, both of which are entitled "A Conversation about Hugh Nibley with Shirley S. Ricks." One of them is 23.5 minutes long. The other is a condensed form of the longer version, coming in at just 5.5 minutes in length.
Also this two-minute video: "Where Did the Idea That the Atonement is an 'At-One-Ment' Come From?"
***
And don't miss the Interpreter Foundation conference that's coming up in a week:
"Tracing Ancient Threads in the Book of Moses"
April 23-24, 2021
Due to the COVID-19 situation, this will be a live-streaming-only conference.
For updates on conference details, watch this page
Presented by
The Interpreter Foundation
Brigham Young University Department of Ancient Scripture
Book of Mormon Central
FairMormon
***
Here's a list of Interpreter Foundation books that are currently available or soon to be available:
***
Here are some recent "KnoWhys" from the folks at Book of Mormon Central that you might find of interest. All of them are connected, either directly or indirectly, with the testimonies of the witnesses to the Book of Mormon:
"What Converted Sidney Rigdon to the Book of Mormon?"
"Why Was Peter Whitmer Jr. Chosen to Witness the Gold Plates?"
"Why Did Hiram Page Remain Faithful to the Book of Mormon?"
"Why Was Martin Harris Needed to Pay for the Printing of the Book of Mormon?"
"Why Did the Lord Command the Three Witnesses to Rely upon His Word?"
"Why Did Martin Want a View of the Plates in March 1829?"
All of these should, ideally, put you in mind of the forthcoming Interpreter Foundation Witnesses movie.
By the way, if you haven't yet gone to the Witnesses website (https://witnessesfilm.com/) and indicated that you want the film to come to a theater in your community, please do so. Please do so now. (See the band across the top of the site, where it says "Bring Witnesses to your city this summer.") Don't put this off. It's important. It will be helpful to us even if you live in Utah, but especially if you live outside of Utah. Please do it while you're on the computer right now. I've given you the link. Twice, actually. You have no excuse. All you have to do is click on it to get there. Do it immediately.
Posted from Park City, Utah