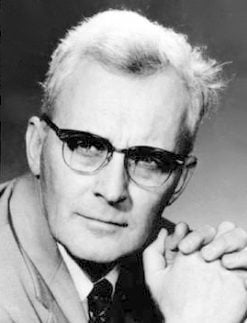 ***
To the probable astonishment of hundreds of millions of people worldwide, an article has gone up today in Interpreter: A Journal of Latter-day Saint Faith and Scholarship. For those who care, this marks the 457th consecutive week — out of the 458.5 weeks since the Interpreter Foundation was launched — in which Interpreter has published at least one new article.
Zina Petersen, "Nibley's Early Education"
Abstract: In this intimate glimpse of Hugh Nibley's childhood, written by his daughter Zina, we read of what it was like for Hugh to grow up as a gifted child with Victorian parents and, in turn, what it was like for Zina and her siblings to grow up as a child in the home of Hugh and Phyllis. These poignant, never-before-told stories reveal why, in Zina's words, "Hugh's uniqueness lay as much in his inabilities as in his abilities, as much in what he refused to learn as what he refused to allow to remain unexamined." And though it was obvious that his mind was extraordinarily sharp, we learn why "it was Hugh Nibley's heart that made the difference. And it was a very good heart."
[Editor's Note: Part of our book chapter reprint series, this article is reprinted here as a service to the LDS community. Original pagination and page numbers have necessarily changed, otherwise the reprint has the same content as the original.
See Zina Nibley Petersen, "Nibley's Early Education," in Hugh Nibley Observed, ed. Jeffrey M. Bradshaw, Shirley S. Ricks, and Stephen T. Whitlock (Orem, UT: The Interpreter Foundation; Salt Lake City: Eborn Books, 2021), 57–76. Further information at https://interpreterfoundation.org/books/hugh-nibley-observed/.]
***
Interpreter Radio Show — March 28, 2021
The 28 March 2021 broadcast of the Interpreter Radio Show is now archived and available at no charge for your listening pleasure and edification. This episode was hosted by Steve Densley, Matthew Bowen, and Mark J. Johnson. In it, they discussed the relationship of the Book of Moses to the Book of Mormon with the Interpreter Foundation's Jeff Lindsay. The second portion of the show was devoted to a roundtable discussing the upcoming Come Follow Me lesson #19 (D&C 46-48). The Interpreter Radio Show can be heard Sunday evenings from 7 to 9 PM (MDT), on K-TALK, AM 1640, or you can listen live on the Internet at ktalkmedia.com. Call in to 801-254-1640 with your questions and comments during the live show.
***
A few weeks ago, I read Sheri Dew's 2019 book Insights from a Prophet's Life: Russell M. Nelson. Last night, I finished Rick Turley's new biography, In the Hands of the Lord: The Life of Dallin H. Oaks. I strongly recommend both books. Enthusiastically. They gave me even greater appreciation and understanding for these two remarkable, estimable men. (I would be less than honest, though, if I failed to admit that, without intending to do so, they always left me with at least some feelings of inferiority and underachievement. President Nelson and President Oaks are astoundingly hard workers and amazingly accomplished.). They also shed considerable light on episodes in the history of the Church during the time that I've been around, which I enjoyed.
***
And now, once again, I share a few links from a previous volume of Interpreter:
Daniel C. Peterson, "On Being a Tool"
Abstract: Members, missionaries, and apologists must never lose sight of the fact that the gospel isn't merely about abstractions and theoretical principles. It's also, and most importantly, about people, about people with their own life stories, fears, hopes, and questions. Thus, if we want to be optimally effective, we must listen to people, understand them, and craft our message to reach them individually, where they are. The Interpreter Foundation is committed to helping with this task, but it cannot replace personalized instruction and caring.
Robert A. Rees, "Joseph Smith, the Book of Mormon, and the American Renaissance: An Update"
Abstract: This is a follow-up to my article, "Joseph Smith and the American Renaissance," published in Dialogue: A Journal of Mormon Thought in 2002.1 My purpose in writing that article was to consider Joseph Smith in relation to his more illustrious contemporary American authors — Ralph Waldo Emerson, Henry David Thoreau, Nathaniel Hawthorne, Herman Melville, and Walt Whitman. In that article I tried to demonstrate that in comparison with these writers, Joseph Smith did not possess the literary imagination, talent, authorial maturity, education, cultural milieu, knowledge base, or sophistication necessary to produce the Book of Mormon; nor, I argued, had he possessed all of these characteristics, nor was the time in which the book was produced sufficient to compose such a lengthy, complex, and elaborate narrative. This addendum takes the comparison one step further by examining each writer's magnum opus and the background, previous writings, and preliminary drafts that preceded its publication — then comparing them with Joseph Smith's publication of the Book of Mormon. That is, each of the major works of these writers of prose, fiction, and poetry as well as the scriptural text produced by Joseph Smith has a history — one that allows us to trace its evolution from inception to completion.
David H. Bailey and Jeffrey M. Bradshaw, "Science and Mormonism"
Editor's Note: In celebration of the long-awaited publication of the expanded proceedings of the 2013 Interpreter Science and Mormonism Symposium — Cosmos, Earth, and Man (Orem and Salt Lake City: The Interpreter Foundation and Eborn Books, 2016), we share an expanded version of the introduction to that volume in this issue of the journal. The second Interpreter Science and Mormonism Symposium, subtitled Body, Brain, Mind, and Spirit, will be held at Utah Valley University in Orem, Utah in the Classroom Building, Room 101, from 8:30 am-3:30 pm on March 12, 2016. For more information about the book and the upcoming symposium, see MormonInterpreter.com.
Abstract: From the beginning, Latter-day Saints have rejected the notion that science and religion are incompatible. In this article, we give an overview of studies that have surveyed the professional participation of Mormons in science and the views of American academics and scientists on religion in general, Mormons in particular, and why many thoughtful people in our day might be disinclined to take religion seriously. We conclude with a brief survey of current LDS perspectives on science. Our brief survey demonstrates that it is not only futile for religion and science to battle each other; it is also unnecessary.
Eric D. Rackley, "Latter-day Saint Youths' Construction of Sacred Texts"
Abstract: The texts that religious youth negotiate are often deeply embedded in their sociocultural practices, which can have profound influences on their religious literacy development, construction and manifestation of religious identities, and the development of their faith. Yet, although 85% of American youth claim a specific religious tradition, literacy research has not explored how these youth construct their views of sacred texts. In this two-year qualitative study of the literacy practices of nine Latter-day Saint youth, interviews and observations were used to explore what texts these youth considered sacred and how their views of these texts were informed by their religiocultural beliefs, values, and practices. Analyses indicate that views of sacred texts were informed by the regularity with which the youth engaged with these texts and their specific personal experiences with them. This work breaks new ground in the study of religion as social practice by exploring how religiocultural ways of doing and being influenced the development of young people's construction of sacred texts. Implications for religious instruction are provided.
Stephen O. Smoot, "Telling the Story of the Coming Forth of the Book of Mormon"
Review of MacKay, Michael Hubbard and Gerrit J. Dirkmaat, From Darkness unto Light: Joseph Smith's Translation and Publication of the Book of Mormon, Provo, UT, and Salt Lake City: Religious Studies Center, Brigham Young University and Deseret Book, 2015. pp. 256 + xvii, including notes and index. $24.99
Abstract: The book From Darkness unto Light: Joseph Smith's Translation and Publication of the Book of Mormon by Michael Hubbard MacKay and Gerrit J. Dirkmaat is an outstanding resource for anyone interested in early Latter-day Saint history and the coming forth of the Book of Mormon. It provides a compelling narrative about the recovery, translation, and publication of the Book of Mormon that utilizes the most cutting-edge historical scholarship available today.
Matthew L. Bowen, ""My People Are Willing": The Mention of Aminadab in the Narrative Context of Helaman 5-6"
Abstract: Aminadab, a Nephite by birth who later dissented to the Lamanites, played a crucial role in the mass conversion of three hundred Lamanites (and eventually many others). At the end of the pericope in which these events are recorded, Mormon states: "And thus we see that the Lord began to pour out his Spirit upon the Lamanites, because of their easiness and willingness to believe in his words" (Helaman 6:36), whereas he "began to withdraw" his Spirit from the Nephites "because of the wickedness and the hardness of their hearts" (Helaman 6:35). The name Aminadab is a Semitic/Hebrew name meaning "my kinsman is willing" or "my people are willing." As a dissenter, Aminadab was a man of two peoples. Mormon and (probably) his source were aware of the meaning of Aminadab's name and the irony of that meaning in the context of the latter's role in the Lamanite conversions and the spiritual history of the Nephites and Lamanites. The narrative's mention of Aminadab's name (Helaman 5:39, 41) and Mormon's echoes of it in Helaman 6:36, 3 Nephi 6:14, and elsewhere have covenant and temple significance not only in their ancient scriptural setting, but for latter-day readers of the Book of Mormon today.
Matthew L. Bowen, ""See That Ye Are Not Lifted Up": The Name Zoram and Its Paronomastic Pejoration"
Abstract: The most likely etymology for the name Zoram is a third person singular perfect qal or pôʿal form of the Semitic/Hebrew verb *zrm, with the meaning, "He [God] has [is] poured forth in floods." However, the name could also have been heard and interpreted as a theophoric –rām name, of which there are many in the biblical Hebrew onomasticon (Ram, Abram, Abiram, Joram/Jehoram, Malchiram, etc., cf. Hiram [Hyrum]/Huram). So analyzed, Zoram would connote something like "the one who is high," "the one who is exalted" or even "the person of the Exalted One [or high place]." This has important implications for the pejoration of the name Zoram and its gentilic derivative Zoramites in Alma's and Mormon's account of the Zoramite apostasy and the attempts made to rectify it in Alma 31–35 (cf. Alma 38–39). The Rameumptom is also described as a high "stand" or "a place for standing, high above the head" (Heb. rām; Alma 31:13) — not unlike the "great and spacious building" (which "stood as it were in the air, high above the earth"; see 1 Nephi 8:26) — which suggests a double wordplay on the name "Zoram" in terms of rām and Rameumptom in Alma 31. Moreover, Alma plays on the idea of Zoramites as those being "high" or "lifted up" when counseling his son Shiblon to avoid being like the Zoramites and replicating the mistakes of his brother Corianton (Alma 38:3-5, 11-14). Mormon, perhaps influenced by the Zoramite apostasy and the magnitude of its effects, may have incorporated further pejorative wordplay on the Zoram-derived names Cezoram and Seezoram in order to emphasize that the Nephites had become lifted up in pride like the Zoramites during the judgeships of those judges. The Zoramites and their apostasy represent a type of Latter-day Gentile pride and apostasy, which Nephi, Mormon, and Moroni took great pains to warn against.
Joseph Grenny, "Why Did You Choose Me?"
Abstract: By seeing the example of a county prosecutor, I learned that we are never more like the Savior than when we willingly and vulnerably enter the self-created pain of another person's life.