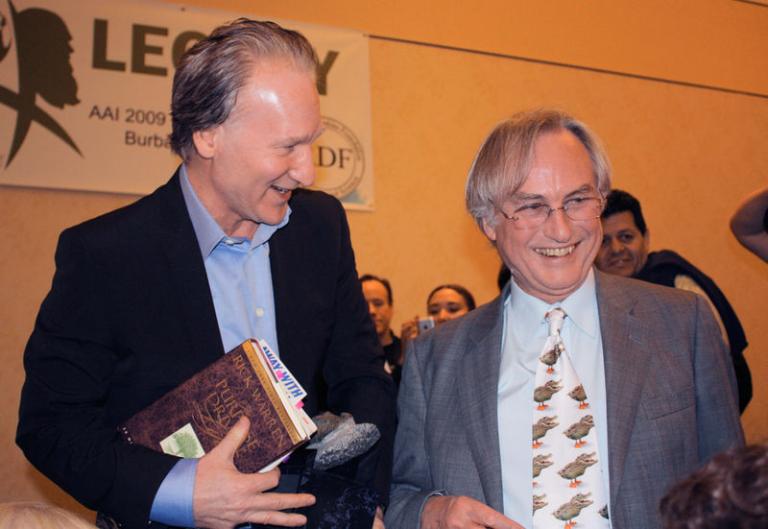 ***
Here's some striking news involving two very vocal atheists. Unusually, I find myself siding with them:
"Bill Maher's Audience Cheers As He Trashes Young People With Far-Left Views: 'Your Ideas Are Stupid'"
"Richard Dawkins loses 'humanist of the year' title over trans comments: American Humanist Association criticises academic for comments about identity using 'the guise of scientific discourse', and withdraws its 1996 honour"
***
I've had nothing to say about the recent case of the sex-therapist Natasha Helfer Parker, but I found these items valuable:
"Excommunication as a Protection Against Spiritual Violence: When someone is harming others' faith, is it "spiritual violence" to excommunicate them? Or not to?"
"What Natasha Helfer Parker and Her Defenders Get Wrong About Mental Health and Religion"
"Are Latter-day Saint Therapists Meeting Client Expectations? When therapists advertise they are Latter-day Saints, clients expect them to provide services within the boundaries of Church guidelines. All too often, this is not the case."
***
Does this next week seem to be stretching out ahead of you virtually forever, promising nothing of interest? Perhaps I can help. Here are links to some articles from a past issue of Interpreter:
Daniel C. Peterson, "Reflecting on the "Marks of Jesus""
Abstract: Loss, pain, and suffering are too often, it seems, co-sojourners through our lives. To one degree or another, we all become familiar with these elements of a life lived in an imperfect world. It is inevitable — and virtually universal — that such companions foster questions about the meaning of life and whether there is a God who is the author, director, and finisher of that meaning. For those who conclude that God is real and has part in our lives, suffering can have or acquire eternal significance, enhanced by the personal realization that God, too, suffers and has suffered. In the Christian paradigm, God shares our suffering and we, in turn, share in His. In the depths of our sorrow we have, literally, a "co-sufferer" sharing our journey. As Christians, we are called upon to take upon ourselves the name of Christ. This act not only gives us a new name, but may require us to bear loss, pain, and suffering as did Christ — to acquire the "marks of Jesus" in our own lives. Indeed, for some, such bearing may be a key part of becoming what God plans for us to become.
Brian C. Hales, "Dating Joseph Smith's First Nauvoo Sealings"
Abstract: In the October 2015 issue of The Journal of Mormon History, Gary Bergera presents a richly illustrated article, "Memory as Evidence: Dating Joseph Smith's Plural Marriages to Louisa Beaman, Zina Jacobs, and Presendia Buell" (95–131). It focuses on a page from the "Historian's Private Journal," which Bergera dates to "specifically September or thereabouts" of 1866 (99). Wilford Woodruff's handwriting on that page describes Joseph Smith's plural marriage sealings and dates his marriage to Louisa Beaman to "May 1840," to Zina Huntington on "October 27, 1840," to Presendia Huntington on "December 11, 1840," and also to Rhoda Richards on "June 12, 1843." The first three dates on the historian's document are important, as Bergera explains: "If accurate, Woodruff's record not only pushes back the beginnings of Joseph Smith earliest Nauvoo plural marriage by a year but it also requires that we reevaluate what we think we know — and how we know it — about the beginnings of LDS polygamy" (95–96). The key question is whether the information on that page can be considered "accurate" in light of other available documents dealing with these plural sealings. During the remaining thirty-four pages of the article, Bergera presents an argument that 1840, not 1841, is the most reliable year for the Prophet's earliest Nauvoo plural unions. This essay examines why his analysis of the records appears to be incomplete and his conclusions problematic.
Jared Riddick, "A Pilgrim's Faith"
Review of Russell Stevenson, Black Mormon: The Story of Elijah Ables. (self-published, 2014), 140 pp., 14.95.
Abstract: The history of the African-American community and The Church of Jesus Christ of Latter-day Saints has been a confused one since the Church's early days. Few blacks joined the fledgling group, and those that united with the Saints met with a mixed reception. This short biography by historian Russell Stevenson is the story of one of these pioneering souls, Elijah Ables, who was also the first black priesthood holder.
Neal Rappleye, ""Idle and Slothful Strange Stories": Book of Mormon Origins and the Historical Record"
Abstract: From the very beginning, Joseph's story about the origins of the Book of Mormon seemed wild and unbelievable. Today, however, Joseph's account enjoys a high degree of corroboration from (1) eyewitness accounts confirming Joseph's possession of actual metal plates and other artifacts, with some even corroborating the involvement of an angel in providing access to the record; (2) eyewitness reports on the process of producing the text; and (3) evidence from the original manuscript. This evidence is reviewed here, and the implications it has for the Book of Mormon's origin are considered.
Matthew L. Bowen, "The Scalp of Your Head: Polysemy in Alma 44:14–18"
Abstract: The fear that Moroni's soldier's speech (Alma 44:14) aroused in the Lamanite soldiers and the intensity of Zerahemnah's subsequently redoubled anger are best explained by the polysemy (i.e., multiple meanings within a lexeme's range of meaning) of a single word translated "chief" in Alma 44:14 and "heads" in Alma 44:18. As editor of a sacred history, Mormon was interested in showing the fulfilment of prophecy when such fulfilment occurred. Mormon's description of the Lamanites "fall[ing] exceedingly fast" because of the exposure of the Lamanites' "bare heads" to the Nephites' swords and their being "smitten" in Alma 44:18 — just as "the scalp of their chief" was smitten and thus fell (Alma 44:12–14) — pointedly demonstrates the fulfilment of the soldier's prophecy. In particular, the phrase "bare heads" constitutes a polysemic wordplay on "chief," since words translated "head" can alternatively be translated "chief," as in Alma 44:14. A similar wordplay on "top" and "leader" in 3 Nephi 4:28–29, probably again represented by a single word, also partly explains the force of the simile curse described there.
Jeffrey M. Bradshaw, "Now That We Have the Words of Joseph Smith, How Shall We Begin to Understand Them? Illustrations of Selected Challenges within the 21 May 1843 Discourse on 2 Peter 1"
Abstract: In this article, I explore some of the opportunities and challenges that lie before us as we try to reach a better understanding of the prophetic corpus that has come to us from Joseph Smith. I turn my attention to a specific instance of these opportunities and challenges: the 21 May 1843 discourse on the doctrine of election, which Joseph Smith discussed in conjunction with the "more sure word of prophecy" mentioned in 2 Peter 1:19.
Taylor Halverson, "Reading 1 Peter Intertextually With Select Passages From the Old Testament"
Abstract: Literary studies, especially intertextual approaches, are relevant for exploring how scriptures are constructed and interpreted. Reading 1 Peter intertextually reveals the thoughtful way that Peter selected suitable, relevant, and applicable Old Testament scripture to encourage faithfulness for his audience. Peter draws from Isaiah 40 in 1 Peter 1:24-25 to preach comfort; Isaiah 40 is one of the hallmark Old Testament chapters focused on comfort. 1 Peter 2:2-3 quotes from Psalm 34 which is a hymn dedicated to the salvation that God's servants experience when they faithfully turn to Him during times of distress and persecution. And when 1 Peter 1:16 invites people to be holy, that call is grounded in the meaning and significance of a portion of the ancient Israelite Holiness Code, Leviticus 19. In summary, Peter demonstrates his scriptural mastery by dipping his pen into some of the most appropriate Old Testament passages available to support his message of faith and encouragement to his audience.