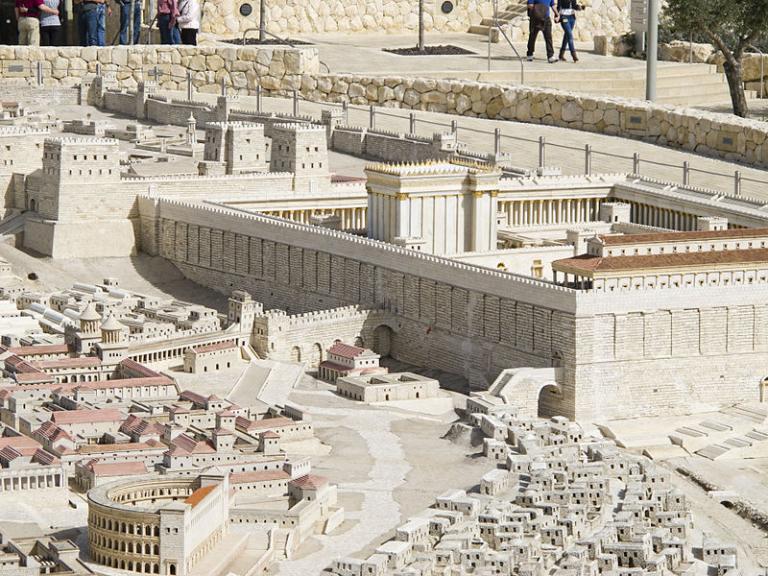 ***
First, though: This article, by Professor S. Kent Brown, was just published in Interpreter: A Journal of Latter-day Saint Faith and Scholarship:
"Jesus' First Visit to the Temple"
Abstract: In this rich and detailed description, S. Kent Brown paints an evocative, historically contextualized account of Jesus Christ's first visit to the Jerusalem Temple since his infancy, when at age twelve he traveled with his family to attend Passover.
[Editor's Note: Part of our book chapter reprint series, this article is reprinted here as a service to the Latter-day Saint community. Original pagination and page numbers have necessarily changed, otherwise the reprint has the same content as the original.
See S. Kent Brown, "Jesus' First Visit to the Temple," in The Temple: Symbols, Sermons, and Settings, Proceedings of the Fourth Interpreter Foundation Matthew B. Brown Memorial Conference, 10 November 2018, ed. Stephen D. Ricks and Jeffrey M. Bradshaw (Orem, UT: The Interpreter Foundation; Salt Lake City: Eborn Books, 2021), 235–66. Further information at https://interpreterfoundation.org/books/the-temple-symbols-sermons-and-settings/.]
***
Last night, I called attention to an article in the online industry newsletter Deadline (aka Deadline Hollywood):
"Faith-Based 'Witnesses' Debuts With Commanding $155K Weekend; 'Bố Già' Continues Specialty Box Office Dominance"
I've been faulted for using the sensationalistic adjective commanding. But, of course, commanding wasn't my word; it's from the newsletter's own headline. (Reading is so hard!) And the Deadline Hollywood story has now been picked up by at least two additional outlets:
News Block: "'Witnesses' leads the specialized box office with an impressive debut"
WCNN (Atlanta): "'Witnesses' Leads Specialty Box Office With Commanding Debut"
Notice my exaggerated use, in their headlines, of the words impressive and commanding. I'm so vain. I probably thought that song was about me.
Today, Monday, would be an excellent day to attend a screening of Witnesses. It's Family Night tonight! Take extended family! Take friends! And many theaters offer discounts on Tuesdays, right?
***
In connection with the Witnesses film, some critics of the Restoration have sought to resuscitate the venerable "deer Jesus" story in order to discredit Martin Harris. I commented on that story in this column, published in Meridian Magazine back on 4 May 2021:
"Martin Harris: Skeptic or Gullible Dupe?"
For a certain type of person, though, the "deer Jesus" yarn will live on, lovingly cherished and cultivated from generation to generation. And, for some of them who have no problem baselessly slandering living people, there's obviously no moral impediment to slandering the dead: Martin Harris, says one, wasn't so much a witness as he was witless. (Nudge, nudge. Get it?)
Whether or not Martin Harris saw weird visions, however, a small handful of critics definitely do. Several months back, a few of them were able to behold a battery-microphone pack on the back of one of our actors, even though we didn't use battery microphones. Now, gazing intently at the food served up by Lucy Mack Smith to her family during a scene in Witnesses in which Martin Harris visits the Smiths, a member of the same small coven of visionaries affirms that he could clearly see the rice, water chestnuts, broccoli, and other vegetables of an anachronistic Chinese stir fry. I thought that our producer, associate producer, anddirector might be amused by this visionary claim, and they were: "That's a hoot," said one, "especially because it was, I believe, from a Campbell's (or similar) can. Didn't know that Chinese stir fry included a gravy base with potatoes, etc." Said the other: "That is wonderful Dan, thanks for sharing! I'd have to check with our art dept., but I believe it was actually Dinty Moore beef stew from a can. (Avoided by the crew.)" And then the third added that "It was Dinty-Moore (or a close relative). That really is hilarious — and more than a little sad. How would it be to be that obsessed with tearing down the church?"
***
And, finally, here are some links to articles that were published in a prior volume of Interpreter:
Daniel C. Peterson, "The Power is In Them"
Abstract: The Interpreter Foundation has spent five years dedicated to publishing quality scholarship regarding the gospel, history, and scripture of The Church of Jesus Christ of Latter-day Saints. The result is a body of work both to be proud of and to stand upon as we move forward. Profound appreciation is given to those who have contributed to this effort, and an invitation is extended to be part of future explorations and exhortations of the Gospel of Jesus Christ.
Duane Boyce, "A Lengthening Shadow: Is Quality of Thought Deteriorating in LDS Scholarly Discourse Regarding Prophets and Revelation? Part One"
Abstract. Many mistakes that occur in scholarly endeavors are understandable. The truth is often difficult to discover, and this makes errors inevitable and expected. And, of course, some mistakes are so insignificant that to complain of them would be mere pedantry. But this is not true of all errors. Some are both obvious and of such significance to their topics that they are egregious. With respect to the gospel, there is reason to be concerned that this is occurring to some degree on the topic of prophets and the Lord's revelations to them. Erroneous claims and arguments are not difficult to find, including some published under the auspices of reputable and mainstream entities. Is it possible that such errors are becoming common, and commonly accepted, in Latter-day Saint scholarly discourse? To help answer this question, it is useful to consider, among others, works by Terryl Givens, Patrick Mason, and Grant Hardy. This paper will do so in three Parts.
Duane Boyce, "A Lengthening Shadow: Is Quality of Thought Deteriorating in LDS Scholarly Discourse Regarding Prophets and Revelation? Part Two"
Part One considered multiple examples, primarily from Terryl Givens and Patrick Mason, that begin to suggest a positive answer to this question. This installment, Part Two, considers examples from Grant Hardy that also suggest an affirmative answer.
Duane Boyce, "A Lengthening Shadow: Is Quality of Thought Deteriorating in LDS Scholarly Discourse Regarding Prophets and Revelation? Part Three"
Part One considered multiple examples, primarily from Terryl Givens and Patrick Mason, that begin to suggest a positive answer to this question, and Part Two did the same with regard to examples from Grant Hardy. This Part considers several additional instances that can be treated more briefly and then provides a general conclusion to the two-part question that has guided this exploration.
Richard D. Gardner, "Consecration Brings Forth Zion, Not Just Disaster Relief: An Examination of Scholarly and Prophetic Statements on the Law of Consecration"
Abstract: Active members of the Church of Jesus Christ of Latter-day Saints covenant to obey the law of consecration, and although I have long felt we discuss it too little, more Saints seem to be taking notice. Various historical and doctrinal opinions have been expressed on the law and on the "united order," including some insightful and some unusual opinions by Kent W. Huff in his book Joseph Smith's United Order.1 Using this book along with the contributions of several other scholars and Church leaders as a basis for discussion, I explore the history, meaning, and future of the "united order" as part of the larger law of consecration. Starting as an eleven-man organization in charge of Church business and operating under consecration principles, the united order — actually called the united firm — transformed into the Corporation of the President of the Church of Jesus Christ of Latter-day Saints. According to historians, most Church members did not even know of its existence, let alone participate in it. Traditional understanding is that the firm's consecration model provided the pattern for the Saints to follow. An alternative interpretation, described by Kent Huff, is that the Saints' only real attempt at a formal consecration effort was for disaster relief. In fact, according to Huff, the Saints in general did not deed their property to the Church as we've learned in Church history classes. He further argues that even the former-day Saints in the City of Enoch, the early Christians in Jerusalem, and the Nephites right after Christ's visit didn't really have all things in common in the way most of us have imagined. I disagree with this interpretation and provide evidence against it, but I [Page 124]appreciate the historical information and several philosophical insights that Huff provides. Other scholars and historians challenge the widely-held notions that 1) tithing is a lower law, given because the Saints failed to live the full law of consecration, and that 2) a formal form of consecration (the united order) will eventually return. I advocate instead for the traditional understanding of the law of consecration and stewardship as taught by Church leaders, believing it is the path toward both freedom and equality the world is looking for, and I explain why I believe it — or a similar program — will eventually be reinstated.