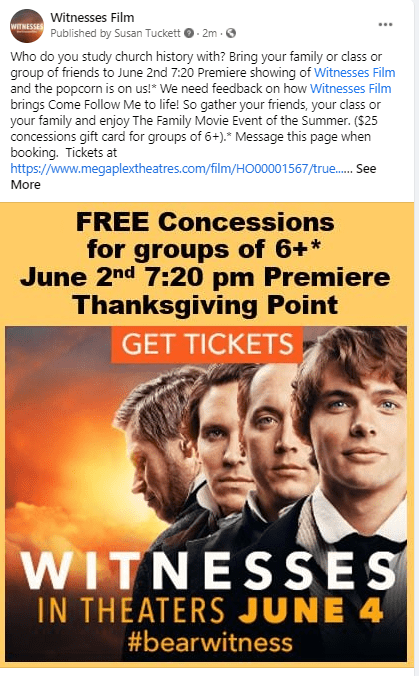 ***
This announcement is important enough and fun enough and (in a sense) urgent enough that I thought I should give it its own blog entry. And I'll give you the text from the image above in slightly larger font:
Who do you study church history with? Bring your family or class or group of friends to June 2nd Premiere showing of Witnesses Film and the popcorn is on us! We need feedback on how Witnesses Film brings Come Follow Me to life! So gather your friends, your class or your family and enjoy The Family Movie Event of the Summer. ($25 concessions gift card for groups of 6+.) Message this page when booking. Tickets at
https://www.megaplextheatres.com/film/HO00001567/true?fbclid=IwAR23ynMdj_xYtt9TuPSh5BWE8f3oHOo1WM0575aG8bjtc15MjTl1w0bWFiw
#bearwitness (https://www.facebook.com/hashtag/bearwitness)
As I understand it, we have three (or maybe four) theaters at Thanksgiving Point for the Wednesday night (2 June) premiere. All but one of them are pretty well gone — which surprises me just a bit, because we haven't openly publicized the screening on 2 June, Wednesday night, very much — but seats remain in that last one. Accordingly, not wanting to leave available seats unfulfilled, our distributor came up with this idea. I had no part in it, but I like it.
So, if you're in the vicinity of the Megaplex theaters at Thanksgiving Point in Lehi, Utah — at the north end of Utah County, just to the west of the I-15 freeway — or if you could be or if, for this, would make it a point to be — please try to attend this premiere screening. And bring family or friends. Free popcorn if you bring enough of them!
If you're not in the area but you know someone who is, please let him or her or them know about this.
It is recorded in the American Cyclopaedia and the Encyclopaedia Britannica, that I, David Whitmer, have denied my testimony as one of the three witnesses to the divinity of the Book of Mormon; and that the other two witnesses, Oliver Cowdery and Martin Harris, denied their testimony to that Book. I will say once more to all mankind, that I have never at any time denied that testimony or any part thereof. I also testify to the world, that neither Oliver Cowdery or Martin Harris ever at any time denied their testimony. They both died reaffirming the truth of the divine authenticity of the Book of Mormon. I was present at the death bed of Oliver Cowdery, and his last words were, "Brother David, be true to your testimony to the Book of Mormon." . . . 'He that hath an ear to hear, let him hear;' it was no delusion! What is written is written, and he that readeth let him understand. (David Whitmer, 1887)