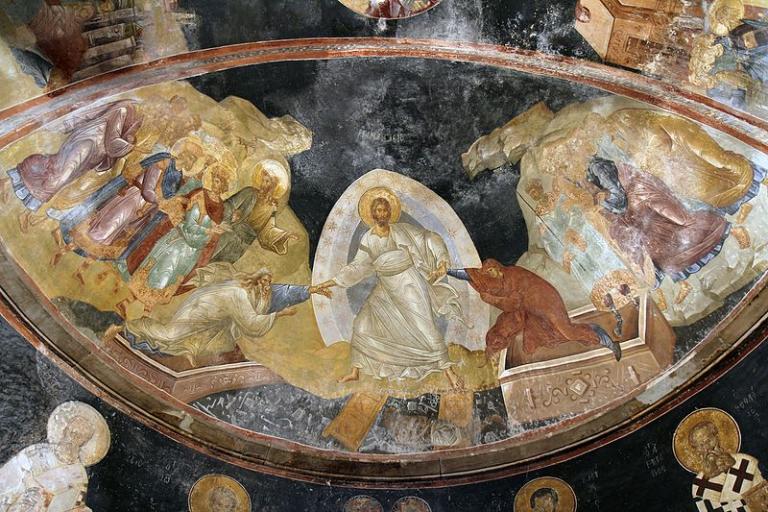 ***
This "new" reprint article by David M. Calabro appeared just a few minutes ago in Interpreter: A Journal of Latter-day Saint Faith and Scholarship:
"Early Christian Temples and Baptism for the Dead: Defining Sacred Space in the Late Antique Near East"
Abstract: This paper examines similarities between the account of the sacrifice and epiphany of the first parents in Moses 5:1–15 and analogous accounts found in apocryphal literature of the late antique and medieval periods. Apocryphal texts considered include primarily the Greek Life of Adam and Eve (also known as the Apocalypse of Moses) and secondarily the Conflict of Adam and Eve with Satan, the Cave of Treasures, the medieval Jewish Sefer Raziel, and Islamic collections of Qisas al-Anbiya' ("Stories of the Prophets"). The focus is not only on the content of the narratives, but also on structural elements such as voice and narrative flow. Based on this examination, David argues that some of these texts have a common type of origin, being both revelatory and oriented to a ritual context, while others belong to different types associated with different historical contexts. He shows how this typological approach could inform dialogue between scholars of Restoration scripture and those researching the origins of other traditions' sacred texts.
[Editor's Note: Part of our book chapter reprint series, this article is reprinted here as a service to the Latter-day Saint community. Original pagination and page numbers have necessarily changed, otherwise the reprint has the same content as the original.
See David Calabro, "Early Christian Temples and Baptism for the Dead: Defining Sacred Space in the Late Antique Near East," in The Temple: Symbols, Sermons, and Settings, Proceedings of the Fourth Interpreter Foundation Matthew B. Brown Memorial Conference, 10 November 2018, ed. Stephen D. Ricks and Jeffrey M. Bradshaw (Orem, UT: The Interpreter Foundation; Salt Lake City: Eborn Books, 2021), page numbers forthcoming. Further information at https://interpreterfoundation.org/books/the-temple-symbols-sermons-and-settings/.]
***
In this connection, you might also enjoy an article by Professor Hans A. Pohlsander, who passed away on 26 June 2021, slightly more than a week ago:
"A Rescue for the Dead: The Posthumous Salvation of Non-Christians in Early Christianity"
***
I think that I may have failed to call attention to this short piece, which went up on the Interpreter Foundation website on Saturday, while I was driving home from Jackson Hole, Wyoming:
Book of Moses Essays #62: Moses Witnesses the Fall: (Moses 4): What Was the Nature of Satan's Premortal Proposal? (Moses 4:1–4)
***
And, just in case the three pieces listed above aren't quite enough to keep you occupied and entertained while you're waiting for grilling time this evening or while you sit there, bobbing up and down, hoping to get a chance to take your ski boat out of the lake, here are links to some articles from a previous volume of Interpreter:
Noel B. Reynolds, "The Gospel According to Mormon"
Abstract: Although scholarly investigation of the Book of Mormon has increased significantly over the last three decades, only a tiny portion of that effort has been focused on the theological or doctrinal content of this central volume of LDS scripture. This paper identifies three inclusios that promise definitions of the doctrine or gospel of Jesus Christ and proposes a cumulative methodology to explain how these definitions work. This approach reveals a consistently presented, six-part formula defining "the way" by which mankind can qualify for eternal life. In this way the paper provides a starting point for scholarly examinations of the theological content of this increasingly influential religious text. While the names of the six elements featured in Mormon's gospel will sound familiar to students of the New Testament, the meanings he assigns to these may differ substantially from traditional Christian discourse in ways that make Mormon's characterization of the gospel or doctrine of Christ unique. The overall pattern suggested is a dialog between man and God, who initially invites all people to trust in Christ and repent. Those who respond by repenting and seeking baptism will be visited by fire and by the Holy Ghost, which initiates a lifelong interaction, leading the convert day by day in preparation for the judgment, at which she may finally be invited to enter the kingdom of God.
Editor's Note: This article was published originally in an international theological journal and is reprinted here as a service to the LDS community with minor revisions, updates, and edits included. See Noel B. Reynolds, "The Gospel according to Mormon," Scottish Journal of Theology 68:2 (2015), 218-34. doi: 10.1017/S003693061500006X
Jeff Lindsay, "Joseph Smith's Universe vs. Some Wonders of Chinese Science Fiction"
Abstract: Chinese science fiction works recently have received increasing attention and acclaim, most notably Liu Cixin's The Three Body Problem. Liu's epic trilogy, available in Chinese and English, has received international honors and recognition for its vision, its daring application of advanced physics in a novel, and its highly original ideas about our life in the cosmos. Another Chinese physicist and science fiction author, Jiang Bo, also explores related issues but in a much more distant and wide-ranging trilogy, The Heart of the Milky Way series. Both works have interesting treatments of concepts relevant to Gospel perspectives, particularly the cosmic implications and teachings in the revelations given through the Prophet Joseph Smith. In the end, the questions they raise and the possibilities they present raise cosmic questions worthy of consideration by seekers of truth and urge us to consider what this cosmos is and where it is going. There are two ultimate possibilities: "Darkness, everything darkness" from the tragic "dark forest" model of Liu Cixin or the model of a benign universe crafted by a loving Heavenly Father. The latter, the cosmos of light, eternal progress, and endless joy is the universe of Joseph Smith and is profound enough to be seriously pitted against the alternative offered by China's brilliant physicists. Their writings treat the physics and metaphysics of the cosmos from a materialist perspective; if materialism rules, then it is tooth and claw, "everything darkness" in the end (though Jiang Bo offers hope of renewal and progress for some after his chaos and final grand calamity at the heart of the galaxy). Joseph Smith's cosmology gives us compelling reasons to see it otherwise and rejoice in the miracle of the actual universe we are in. Along the way, he offers some profound insights that should at least raise eyebrows and stimulate thinking among the physicists and philosophers of our age. These insights, contrary to claims of some critics, are not simply plagiarism or [Page 106]crude reworkings of common ideas from his day, but represent profound and original breakthroughs in thought, solving significant problems in the world's views on life and the cosmos.
[Editor's Note: As stated in the formal mission statement of the Interpreter Foundation, we try to draw upon a "wide range of ancillary disciplines" (including literature and culture) to help illustrate the truths of the gospel and the reality of the Restoration. Even so, some may never have considered how one particular literary genre — science fiction — can fit into such an effort. Indeed, some may scoff at the genre entirely and presume it has no place in academic discourse. Owing to the fact that science fiction attempts to create future worlds and that those worlds necessarily reflect a "world view" consistent with the cultural views of the authors, it can be helpful to at least consider those views. When you further consider that Joseph Smith described and promoted a future world that he credited to revelation and interaction with the divine, we can learn new insights by comparing the man-made views of our potential future with the revealed views of our future. In this paper, author Jeff Lindsay does just that, comparing our place in the universe as viewed through the lens of cutting-edge science fiction with our place in the universe as viewed through the lens of the founding prophet of the Restoration. We found this effort both intriguing and interesting. My hope is that you will consider this somewhat "out of the box" approach both enjoyable and worthwhile.]
Kent P. Jackson, "Dehumanization and Peace"
Abstract: Those who follow world events are painfully aware that peace in the Middle East — and particularly in the Holy Land — seems eternally elusive. From a distance we watch events unfold which we are not able to fully comprehend because of that very distance. There are individuals who are burdened with the devastating reality of living with war and perpetual turmoil in the Holy Land. One of those is Sahar Qumsiyeh, a Palestinian Arab Latter-day Saint who grew up in the West Bank near Bethlehem. Her story of how she converted to Mormonism and learned how to find peace in a troubled world is recommended reading for every Latter-day Saint.
Review of Sahar Qumsiyeh, Peace for a Palestinian: One Woman's Story of Faith Amidst War in the Holy Land (Salt Lake City: Deseret Book, 2018). 176 pp. $15.99.
Shirley S. Ricks, "Peace in the Holy Land"
Abstract: Living in the Holy Land as a Palestinian Latter-day Saint has created unique challenges and perspective for Sahar Qumsiyeh. In order to attend church meetings in Jerusalem from her home near Bethlehem, Sahar was required to travel under unsafe and stressful circumstances for hours through military checkpoints to cover the few miles' distance (as the crow flies). Sahar's story, Peace for a Palestinian, varies dramatically from our own and reminds us that true discipleship requires sacrifice, which in turn brings blessings.
Personal response to Sahar Qumsiyeh, Peace for a Palestinian: One Woman's Story of Faith amidst War in the Holy Land (Salt Lake City: Deseret Book, 2018). 176 pp. $15.99.
Gregory L. Smith, "What is Mormon Transhumanism? And is it Mormon?"
Abstract: Some sources have described Mormonism as the faith most friendly to the intellectual movement known as Transhumanism. This paper reviews an introductory paper by the past President of the Mormon Transhumanist Association. A syllogism that purports to show that Mormonism is compatible with — or even requires — Transhumanism is analyzed. The syllogism's premises are shown to misunderstand or misrepresent LDS scripture and doctrine. The proffered Transhumanist conception of "human nature" and the perspective offered by LDS scripture are compared and found to be incompatible. Additional discrepancies between the Transhumanist article's representation of LDS doctrine and the actual teachings of LDS scripture and leaders on doctrinal matters (the Premortal Council in Heaven, the relationship between substance dualism and LDS thought, and the possibility of engineering or controlling spiritual experiences) are examined. The article does not accurately reflect LDS teachings, and thus has not demonstrated that Transhumanism is congenial to LDS scripture or doctrine.
Tarik D. LaCour, "Race: Always Complicated, Never Simple"
Abstract: The concept that race has evolved rather than remaining static is not well understood, both outside and within The Church of Jesus Christ of Latter-day Saints. In Religion of a Different Color, W. Paul Reeve shows how the concept of race evolved from painting Mormons as nonwhite in the 19th century to "too white" by the beginning of the 21st century.
Review of W. Paul Reeve, Religion of a Different Color: Race and the Mormon Struggle for Whiteness (New York: Oxford University Press, 2015). 352 pp. $36.95 (hardcover), $24.95 (paperback).
***
And, finally, some general religion news that you might find interesting:
"Faith leaders say religious liberty is not synonymous with discrimination: "My plea today is that all religions work together to defend faith and religious freedom in a manner that protects people of diverse faith as well as those of no faith," said Elder Quentin L. Cook."
"Scouting membership numbers collapse: AP totally ignores role of religion in this drama"