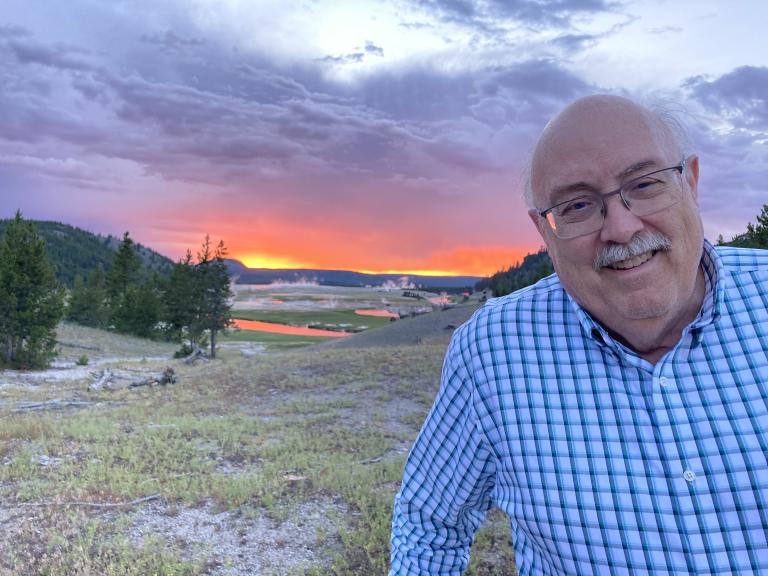 ***
Well, yesterday (Wednesday, 30 June 2021) was my last day as a member of the active faculty at Brigham Young University. As I understand it, my retirement became effective at midnight, Utah time. (Which, coincidentally, is equivalent to midnight Montana time.) Happily, since I wasn't scheduled to teach during the spring term and had no remaining committee assignments, I've been free to be up here at Yellowstone National Park. We had a good day yesterday along the Grand Canyon of the Yellowstone and Yellowstone Lake and several beautiful rivers and among various meadows, geysers, fumaroles, and paint pots. We saw numerous elk and bison and innumerable geese and ducks, as well as one deer (a doe, a female deer), and three chipmunks. Most of the elk were cows and calves, of course, but we also saw several bucks, including two quite large specimens with really impressive antler racks, one of them directly beside the road. One large bison bull crossed the road right behind us. I saw him only at the last moment as he was coming rather quickly down a slope toward us, and I wondered for a few seconds whether he might even collide with our car. A good day.
Today was a day for reflection, too. Just a few years ago, I was utterly appalled at even the thought of retirement. Suddenly, though, about two years ago, retirement lost its repulsiveness. And now the time seems fully right. But it's still a bit sad. I fell in love with Brigham Young University when I was about fifteen. I earned my undergraduate degree at BYU. I've been a member of the BYU faculty for the past thirty-six years. It's astonishing to realize that, in some ways, it's coming to an end.
I've always been acutely aware of the transience of things. Beautiful gardens remind me of how quickly flowers fade. Historic palaces and mansions remind me of how briefly their builders inhabited them. And, since my very first reading of Jacob 7:26, it has stayed in my mind:
And it came to pass that I, Jacob, began to be old; and the record of this people being kept on the other plates of Nephi, wherefore, I conclude this record, declaring that I have written according to the best of my knowledge, by saying that the time passed away with us, and also our lives passed away like as it were unto us a dream, we being a lonesome and a solemn people, wanderers, cast out from Jerusalem, born in tribulation, in a wilderness, and hated of our brethren, which caused wars and contentions; wherefore, we did mourn out our days.
I'm not lonesome or hated by my brethren. I experienced an extraordinarily painful bout of academic politics in 2012, the most acute and unexpected betrayal I've ever personally known, but I have always been blessed with many friends, and I've gotten along well with the vast majority of those around me. Moreover, although I'm more serious than I may often outwardly seem, I wouldn't consider myself particularly solemn. Beyond that, I wasn't born in tribulation and I haven't been "cast out." I've been involved in far more contention than I would have liked, but I'm pretty serene and I'm very, very seldom angry. However, I can say that, in a manner of speaking, the time has passed away with me "like as it were . . . a dream." It's astonishing and unexpected to be so old, to be so far along in life.
A few months ago, I rewatched the 1969 film Goodbye, Mr. Chips. I hadn't seen it since my first encounter with it back during my freshman year at BYU or thereabouts. But I was very fond of it then, and I liked it the second time, as well. Tonight, I've thought of one of the songs from it, written and sung by Petula Clark:
In the morning of my life I shall look to the sunrise.
At a moment in my life when the world is new.
And the blessing I shall ask is that God will grant me,
To be brave and strong and true,
And to fill the world with love my whole life through.
(Chorus)
And to fill the world with love
And to fill the world with love
And to fill the world with love my whole life through
In the noontime of my life I shall look to the sunshine,
At a moment in my life when the sky is blue.
And the blessing I shall ask shall remain unchanging.
To be brave and strong and true,
And to fill the world with love my whole life through
(Chorus)
In the evening of my life I shall look to the sunset,
At a moment in my life when the night is due.
And the question I shall ask only I can answer.
Was I brave and strong and true?
Did I fill the world with love my whole life through?
But it's not Petula Clark's rendition of which I'm thinking. It's Peter O'Toole's much less showy and rather less musical one at the end of the film, as his long tenure as a classics teacher at Brookfield School comes to its end and he reflects back upon his years there.
However, the conclusion of my active career at Brigham Young University on 30 June 2021 wasn't the only cause for meditation on Wednesday. My father passed away on 30 June 2003, just a few weeks short of his ninetieth birthday. It's been eighteen years, but it doesn't seem that long to me. I still miss him, and I think about him very nearly every day. I thought about him while traveling around Yellowstone. I have only a few vague memories of the first time that he and my mother brought me here, but they're warm ones.
I won't, of course, be entirely severing my ties with BYU. As an emeritus professor, I'll still have some privileges there and some connections, and I'm delighted with that. Moreover, I haven't fully lost my distaste for the idea of retirement. I will continue, so long as health permits (and, by the way, I have no particular concerns on that score), to be very active on a number of fronts. (In the short term, for instance, there's still quite a bit to be done on the Witnesses film project. But that's just a part of what I have in mind. The major reason for my wanting to retire is my hope and desire to write. I have a host of projects that I want to get underway.) One entertaining critic has been predicting for several months now that, once I'm no longer on the payroll of BYU and paid to do apologetics — it's been quite futile, apparently, for me to point out, over and over and over again, that I've never been paid to do apologetics — I'll back away from such things.
Well, we shall see, shan't we?
In the meanwhile, I'm extremely excited to announce the launch of a series of blog entries on the Interpreter Foundation website. It's something to which I've been looking forward for many months:
Kyler Rasmussen, "Estimating the Evidence: Episode 0: On Quantifying Skepticism"
[Editor's Note: This episode introduces a series of 23 essays—each an episode—summarizing and evaluating Book of Mormon-related evidence from a Bayesian statistical perspective. See the FAQ at the end of this episode for details on methodology.]
Posted from West Yellowstone, Montana